Friday Happy Hour: Le Magnifique Planteur de la Martinique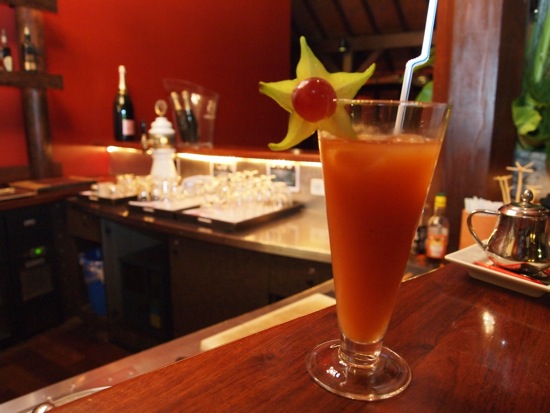 It's Thanksgiving Day tomorrow here in the U.S., and while I have a lot to be thankful for, I can't help but feel a bit rueful. The problem: I haven't been anywhere in the Caribbean in 61 days.
It's petty, I know, but if you've been reading this blog for a while you know that I'm kinda' passionate about my home region. ALL OF IT. This passion is what drove Patrick and I to start Uncommon Caribbean in the first place. Sharing stories of our adventures in off-the-beaten-path destinations, as well as our "uncommon" discoveries in the most popular islands helps to keep our minds in the region long after our trips are done. But, I'm sure you'd agree that there's no substitute for being there.
Being there recharges my batteries like nothing else. The longer I stay away, the more I get the two G's – grumpy and glum.
I was actually supposed to be in Martinique last week. It was to be my second trip to the Isle of Flowers this year. I was anxious to get back to Le Petibonum and looking forward to checking out a new beach bar called Lili's, but the trip was postponed at the last minute. A little extra time with my family is always great, but it's even better without those two G's.
Ingredients:
½ cup white rum (rhum agricole blanc)
1 1/2 cup orange juice
1 1/2 cup pineapple juice
1 1/2 cup guava nectar
3 tbsp fresh lime juice
3 tbsp Grenadine syrup
1 tsp Angostura bitters
6 fresh pineapple rings
6 orange slices
6 cinnamon sticks
6 Maraschino cherries
So, in honor of my postponed trip, I'm dedicating this special Wednesday edition of the Friday Happy Hour to my #1 drink of choice while traveling in Martinique, Le Planteur.
Now every island has their own version of Planter's Punch, but in my experience, the most unique blend is found in Martinique. Of course, this has a lot to do with the distinctive flavor of Martinican rum (or rhum as it's known there) born of a unique rhum agricole method of production (read more about it here). The rhum agricole gives Le Planteur a nice, warming bite, that combined with the various fresh fruit juices involved can help to cure what ails ya'.
No, really. Any time I've had even the slightest head cold in Martinique, a taste or two of Planteur and I'm good to go.
Making your own batch of Planteur couldn't be any easier. Just take all the ingredients listed here and combine 'em in a large container. Stir it up and voila! You'll have a taste of Martinique so delicious it just might make you feel like you're there.
As for me and my two G's, we're heading to a Thanksgiving dinner tomorrow with friends where the main culinary attraction will be a Jamaican Jerk-fried turkey. A little of that, plus a little Planteur should take care of those G's… At least for the next two weeks. After that, I'll be back in Grand Bahama!
Cheers + Happy Thanksgiving!
Related Posts