Friday Happy Hour: Rhum Neisson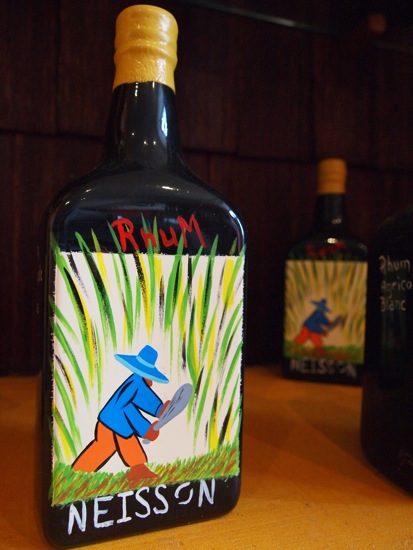 A bottle of rum is a great souvenir of any trip to the Caribbean, every sip providing vivid reminders of sunny, carefree days, endless relaxation, and uniquely exotic adventures.
The bottles pictured here, of course, offer a little bit more.
I found these at the Rhum Neisson distillery in Martinique. The colorful hand-painted labels on each bottle, no two exactly alike, make these bottles a nice piece of artwork as well. Neisson rums also have regular labels, of course, but these are really special mementos that will still look good on your shelf long after they're empty.
You shouldn't sleep on what's inside, though… These bottles are considerably more than just a pretty face.
That's because Neisson, one of the last independent family-owned rum producers on the island, employs the same celebrated rhum agricole technique in producing its distinctive blends that has made all Martinique rums famous.
The rhum agricole technique begins with freshly squeezed sugar cane juice taken directly from cane stalks instead of the molasses by-product of sugar production used most everywhere else. This unique process yields rums that are more comparable with fine cognacs than something you'd ever think of mixing with Coke.
So, how good is it? Well, Martinique rums are the only rums in the world to have earned the prestigious French designation Appellation d'Origine Contrôlée (AOC), previously reserved primarily for the finest wines in France.
Yeah, I'd say that's pretty good.
Still, the folks at Neisson aren't satisfied with good. Nope, they take the renowned rhum agricole process a few steps further.
Like the painted labels, Neisson blends are handcrafted artisanal rums with a lot of the cane used in their production still cut by hand. Neisson's sugarcane is also always "cut green" (not burned) and immediately delivered to the factory after being cut. The cane is then crushed and into production within 3 hours of being cut, ensuring optimal quality.
Having grown up with a molasses-based rum like Cruzan, I was very surprised at the richness and truly different flavor of Rhum Neisson and Martinique's other rhum agricole blends. To me, it's almost like the rhum agricole brands shouldn't be called rums at all, but rather adopt some other separate and completely distinctive category such that their flavors are miles away from what most people know as "rum."
No matter what you call it, rhum agricole blends in general, and Rhum Neisson in particular, are well worth a try. Neisson is available in the U.S., but you're not liable to find these hand-painted bottles at your local liquor store. To get these, head down to Martinique and take a drive up the island's scenic Caribbean coast to the town of Le Carbet. The Neisson Distillery is small, but easy to find just astride the main road that heads into town.
A votre sante!
Related Posts