Habitation Saint-Étienne Rhum Agricole XO Sherry Finish 2002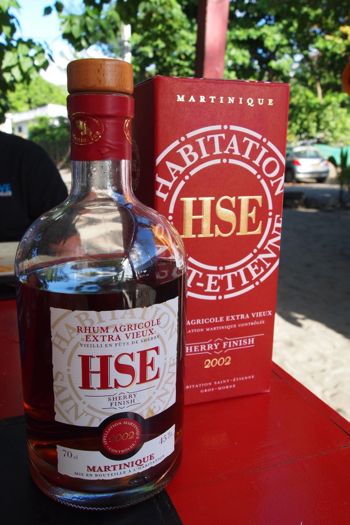 As much as I love the Noble Spirit, I can't say that I've ever traveled anywhere expressly to sample a particular brand of rum. That's not to say that rum doesn't always somehow find its way onto my itinerary. It's just that I generally have so many other things planned on my trips that rum tends to be an ancillary add-on – more icing on the cake than main course.
Next time I board a plane to Martinique, though, all that will change. This exceptional rhum agricole from Habitation Saint-Étienne is why.
My favorite of the three beautiful rhums I was privileged enough to sample courtesy of Chef Hot Pants during my last visit to Martinique, Habitation Saint-Étienne XO Sherry Finish 2002 is a triumph of masterful rum-making, combining the celebrated traditions of one of Martinique's most esteemed distilleries with a Scottish twist to create something truly special.
Habitation Saint-Étienne (HSE) carries a long tradition of excellence in rhum dating all the way back to the 19th century. The HSE plantation was formerly a sprawling sugar estate, but everything changed in 1882 when new ownership in the person of Amédée Aubréy brought along a shift in focus. Sugar was out and rhum was in, to the delight of Martinican rum-lovers. Aubréy passed away in 1909, but his family kept the brand going and growing to the point where by the 1960s, HSE had established a leadership position within the local market.
Then everything changed again…this time, for the worst.
HSE suffered in subsequent decades, its decline spurred primarily by the ill-effects of hurricanes David (1979) and Allen (1980). By 1988, production ceased all together. No doubt, some must've feared that HSE rhums would be lost forever at the time, but thankfully the shut-down was short-lived as Yves and José Hayot, owners of Le Distillerie du Simon, purchased the HSE brand and began production anew in 1994.
Today, HSE rhums are still centrally-produced at Le Simon, but all the special touches and family secrets continue to be applied at the original Habitation Saint-Étienne, ensuring that the special heritage of these special rhums live on.
If this new XO Sherry Finish is any indication, I'd expect HSE's special heritage to not only live on, but prosper beyond the brand's heyday in the 60's.
The first thing that struck me about this fine rhum was its strong and bold aroma, the scent of smoky oak coming through nicely along with what seemed like chocolate or toffee. The smell was inviting, almost mesmerizing – a wonderful hint at the flavor to come.
On the tongue, HSE Sherry Finish bears a soothing warmth that envelopes the drinker, urging you to slow down and really savor its elegance. Tropical spices and cooked fruit flavors (banana?) amp-up the exotic nature of this unique blend as well. But, what truly makes this rhum unique is Sherry.
Like the Dos Maderas P.X. we told you about last June, this HSE blend is aged, in part, in barrels formerly used to make Sherry. The Sherry casks come from Ian Macleod Distillers of Scotland, one of the largest independent family companies in the spirits world. These guys make everything from blended Scotch whiskeys, aged blends, and malts, to premium gins, rums, vodkas, and liqueurs. Since the mid-1930's, they've stockpiled an expansive cask stock, which they employ in crafting their unique blends.
HSE borrows from the Ian Macleod technique, first aging its rhum for six years in oak barrels according to its own storied tradition, then finishing the rhum in the Sherry barrels from Scotland. The effect, as noted on the rhum's packaging:
The "Sherry Finish" gives this HSE aged rum elegance, delicacy and a touch of exoticism.
Your typical rhum agricole is generally pretty dry. The Sherry employed here adds extra sweetness and character, producing a unique well-rounded flavor that tops my to-do list for my next trip to Martinique.
Santé!
Related Posts