Haunted Caribbean: Spooky Spots Along Martinique's Route de la Trace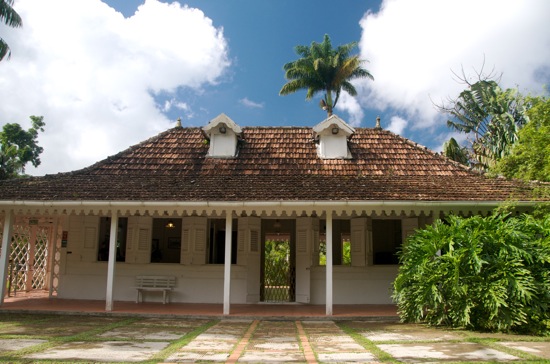 Martinique may not have a haunted cemetery, a Chupacabra, or a White Witch, but it certainly has its fair share of spooky spots worth mentioning with just a few short days left before Halloween.
This isn't one of them.
This old Creole home marks the entrance to the Balata Garden (Le Jardin de Balata), a sprawling botanical paradise nestled high in the hills about six miles north of Fort-de-France. Just about any tropical plant, flower, tree or bush that you can think of can be found at Balata, brought here from all over the world over a period of 20 years through the painstaking efforts of one man – Jean-Philippe Thoze, owner, horticulturalist, landscaper, and quite obviously one of the world's greatest nature-lovers.
Ginger, heliconia, alpinia, anthuriums, spathiphyllum, ixora, bromeliads; there are literally thousands of plant species at Balata, all indexed and arranged neatly along well-marked paths. And when you're not studying the flora here, there is always the spectacular view afforded by Balata's hilltop perch. From here you can see all the way down to Fort-de-France, and all the way up to the Pitons du Carbet, Martinique's answer to the more famous St. Lucia Pitons. It's a truly peaceful and awe-inspiring place.
No wonder the denizens of Martinique's spirit world love the area.
According to local legend, a long-abandoned private home near Balata is haunted. Residents claim to have seen the apparition of an old lady wandering around inside the home for years. Sometimes screams are even heard emanating from the home at night, though none of this has been confirmed.
The road that leads to Balata also has a haunted history. Known as La Route de la Trace, it's one of the oldest roads in Martinique, dating back to the 18th Century when the Jesuit Missionaries decided that a road was needed to connect Fort-de-France with the village of Morne Rouge near the base of Mt. Pelee.
La Trace runs through the heart of the rainforest, offering a showcase of wild flora rivaling that found at Balata. Anthuriums, balisiers, high tree ferns, enormous bamboo groves, climbing vines and hardwood trees like mahogany, rosewood, locust – a quick drive here really shows you why Martinique is known as the Isle of Flowers.
According to local legend, though, you may not want to traverse La Trace at night… lest you run across La Dame Blanche.
Motorists claim to have seen a ghostly figure of a lady dressed in white standing in the middle of the road when driving along La Trace in the middle of the night. When they stop and exit their cars to see who it is, the lady vanishes!
Could it be the same lady that haunts the home near the Balata Garden?
Cue the kittens playing spooky music…
Related Posts