Martinique's La Suite Villa Raises Hospitality to an Art Form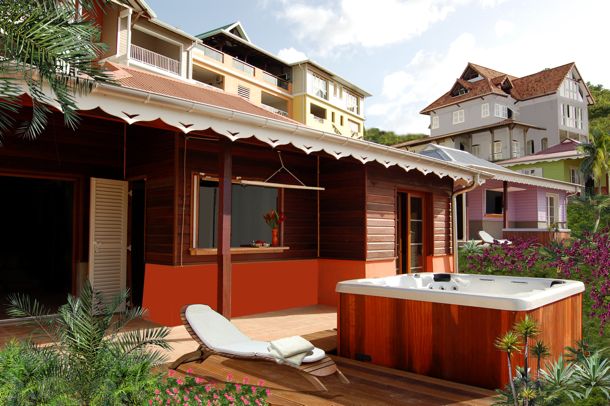 It's not often that you'll find original works of fine art produced by renowned artists adorning hotels in the Caribbean. Even when you do, the price you'll pay to stay at properties showcasing such art makes buying the works themselves a better investment.
At La Suite Villa, though, you get the best of both worlds.
Opened just a couple years ago, La Suite Villa is the latest très chic boutique hotel to make the scene in Martinique. I've visited twice in the past few years, and though I haven't had the pleasure of staying here myself (yet), I can give you plenty of reasons why anyone with an appreciation for art, gastronomy and fun would definitely want to check this place out.
Let's start with the basics. As the name implies, La Suite Villa is comprised entirely of the two types of accommodations most of us like best – suites and villas. In total, there are nine villas and six suites. Villas are available in two- or three-room layouts, so there's room for the whole family, or your group of party pals.
The location is ideal for a party in paradise as well. La Suite Villa sits on a hill right above the Point du Bout district of Trois-Îlets, one of the island's prime hot spots for nightlife and entertainment. It's a very young, trendy area with a bustling marina, a hopping shopping and bar scene, and a smallish white-sand beach lined with happening cafes. Martinique's only golf course and newest casino are also nearby.
All this is nice, but La Suite Villa could really be located in the middle of nowhere and it'd still make a great escape.
The hotel is the creation of Giles Duplan, a former computer engineer with a wonderfully contagious passion for life, love and fabulous things. Seriously, this guy embodies joie de vivre like no other hotelier, and few other people in general, that I've ever met. Even if you don't meet him when you visit, you'll definitely see his passion in the style and décor of his place.
Eccentric and colorful with a healthy dose of elegance, the uniquely ultra-modern meets exotic Caribbean aesthetic here comes together nicely like a Cal Tjader composition. La Suite Villa in one word: fun.
There's also a method to all Gilles' fun that adds to the experience of staying here.
Eating great food is always fun, so Gilles made sure to recruit his in-house chefs from two Michelin-rated Parisian eateries to helm the on-property Le Zandoli Restaurant.
Quality time between the sheets is fun too. Just look at this bed!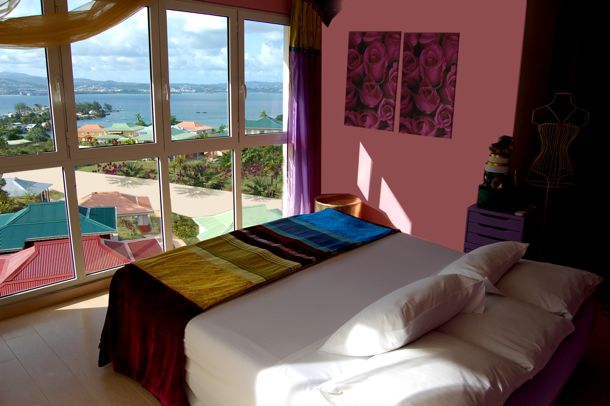 Heavenly? No doubt. Gilles also made sure to position them at an optimal height to enjoy the amazing view, especially the water. I did say he's an engineer, right?
I also said something about fine art too, didn't I? That's another area where Gilles' lust for life shines through.
When outfitting the villas at the property, he noticed that the appliances were all very boring. Think of your refrigerator without any magnets, pictures or kids drawings on it – pretty bland, right? To Gilles, it was ugly. So ugly, in fact, that he called his friend, the celebrated Cuban painter, Ricardo Ponce, to help fix the problem.
Loading the dishwasher in your villa at this property is no tedious chore; it's actually an opportunity to admire an original work of art!
Ponce's quirky works can be found throughout the property. A large mural graces one of the walls, while Ponce's signature style can also be enjoyed once you've finished your meal at Zandoli (he painted the plates too).
La Suite Villa showcases the works of other artists as well. Local painters and sculptors display their works here regularly, and guests can even create their own masterpieces at the small art studio on-site.
Best of all, you can experience all the wonderful art and special touches at La Suite Villa pretty affordably. High season rates on suites start at 280 euros per night (about $380) based on double occupancy. Couples can also step up to a two-bedroom villa in high season beginning at 340 euros per night ($462).
For reservations and more info, visit La Suite Villa online.
Related Posts