Notre Dame de la Salette, Martinique: Uncommon Attraction
Like the rest of the Caribbean, Christianity is the #1 religion in Martinique. It follow, then, that the island's churches constitute the most elaborate houses of worship. In particular, the Saint-Louis Cathedral (est. 1875) and the Balata Church, a replica of the famed Sacré-Coeur Basilica in France, stand out for their grandeur. Then there's the modest Notre Dame de la Salette, which stands out for decidedly more uncommon reasons…
I came across this small Chapel (also known as Sainte-Anne's Church) while exploring Sainte-Anne, a humble fishing village located in southern Martinique. As was the case with the Capilla del Cristo Chapel in Old San Juan, I was initially drawn to Notre Dame de la Salette because of its distinctive architecture. Whereas the ancient appearance of the Cristo Chapel placed it squarely in a long ago epoch, though, Notre Dame de la Salette appeared to belong to several different historical periods.
Uncommon Architecture
The weathered stone facade certainly appears to be in line with the 1824 construction date carved just above the arched entryway. The structure behind it, though, appears to be of a more recent vintage. The steeple looks even newer, like someone just popped it on top there a few weeks ago.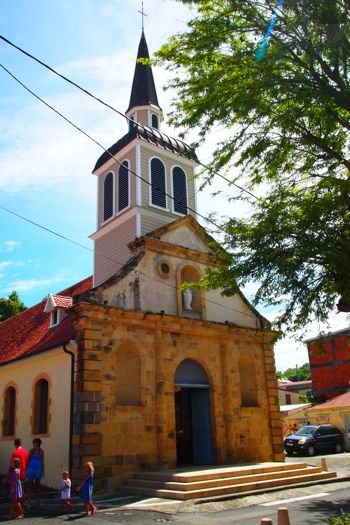 What could've caused such a mishmash of building styles to come together in such a tiny church located in such a small, off-the-beaten-path town? Surely, I thought, this church had seen its share of history. Soon after my trip, I learned that I was right.
My research started with a call to my friend, Alex Dobat. Alex is the owner/dive master at dive and eco-adventure tour operator Natiyabel. As a proud native of Sainte-Anne, he also knows a good bit about the town's history. His explanation for the patchwork architecture:
The Church had been burned by English invaders in 1693. It was rebuilt and destroyed again by a hurricane in 1817.
As intriguing as that bit of history may be, it's just a portion of what makes this attraction so interesting. For the rest of the story, one must simply look to the name, La Salette. It also helps to know a little religious history…
Notre Dame de la Salette Annual September Pilgrimage
As the story goes, on September 19, 1846, at about 3:00 pm, two shepherd kids reported seeing an apparition of the Virgin Mary while cowherding atop a mountain near the town of La Salette in southern France. Various miraculous healings among the sick in the area soon followed.
Despite some initial doubt and controversy, the site has remained a prime spot for Christian pilgrimages for hundreds of years. Crowds numbering in the hundreds and thousands trek to the remote mountain village each and every year on September 19th. Indeed, La Salette ranks among the more prominent attractions for Marian apparitions anywhere in the world.
Mirroring the tradition in southern France, Christian pilgrims from all over Martinique journey to Notre Dame de la Salette in Sainte-Anne each and every September 19th, celebrating a miracle that occurred more than 4,200 miles away in the French Alps, and this very special little Church.
Related Posts