On-Site Martinique: American History in the French Caribbean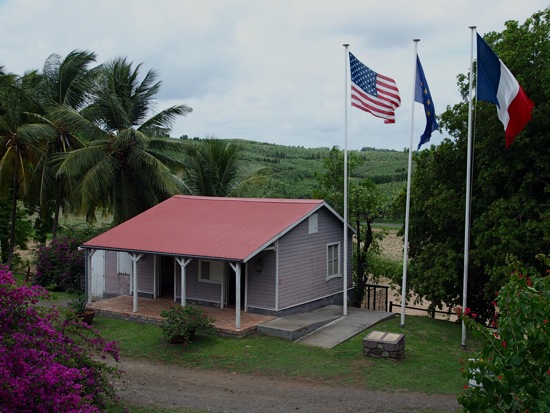 There are very few signs of America in Martinique. You can find U.S. car rental companies and the ever-ubiquitous Coca-Cola, but even the island's few McDonald's restaurants espouse a decidedly French flair, elevating the simple fast food burger to near heights of gourmet gastronomy. This isn't surprising, of course, owing to Martinique's status as an overseas region of France, but it does make the simple cottage pictured here with the Stars & Stripes flying overhead all the more curious.
This is La Case des Presidents, one of several points of interest at Habitation Clement, a mixed-use museum, botanical garden, art gallery, and more located on the grounds of the historic Rhum Clement Distillery.
Arguably the island's most sophisticated tourist attraction, and certainly a must-stop for me every time I'm in Martinique, Habitation Clement offers enough history and information on rum production, local flora and art to keep you busy for several hours. There's even free rum-tasting, which of course is always a plus for Uncommon Caribbean.
We'll share more on some of the other attractions and the rum at Habitation Clement in future posts, but for now let's focus on the American history lesson to be learned here.
Remember the first Gulf War (aka: Operation Desert Storm) back in 1991? As opposed to the endlessly ongoing Iraq War, Desert Storm only lasted a few months, as U.S.-led coalition forces were successful in driving Saddam Hussein's Iraqi Army out of Kuwait. During the weeks and months that followed, a series of talks among the coalition leaders took place in varying spots around the world in an effort to chart a peaceful way forward in the Middle East. One of those places was the humble cottage pictured above.
On March 14, 1991, President Francois Mitterrand of France and U.S. President George H. W. Bush met here for a couple hours. According to a New York Times account, they didn't agree on much, but in keeping with the tranquil natural surroundings, the talks were congenial.
Today, Le Case des Presidents houses archival print and video footage of the summit meeting, providing visitors with a unique perspective on the historic event within the small space in which it occurred. As an American, it's pretty neat to sit in this tiny house, amid lush surroundings, watching a videotape of Marine One touch down in a nearby clearing. Hail to the Chief plays as the President of the United States walks purposely up the same path you just followed to this peaceful place – it's inspiring, no matter what your politics.
Habitation Clement is open daily from 9:00 a.m. to 5:30 p.m., except during the month of September. Adult admission is €7 (approx. $8.63). Kids 7-18 pay €4 ($5). Entry is free for kids under 7.
Rum mixes well with American History at Habitation Clement. If only my college professors had been hip to this…
Related Posts