On-Site Martinique: Discovering Somewhat Secret Anse Tonnoir
Martinique is a beach-lover's paradise mainly because just about any type of beach you can imagine can be found there. In the island's northern section, home to towering Montagne Pelee, the shores are lined with silver-grey volcanic sand. At its most southerly points, Martinique's beaches shine with the brilliance of pure sugar. In the island's mid-section, the two extremes overlap, creating the type of granular color combos more generally reserved for sand art kids toys.
Most of these marvelous shore points are well-marked and easily accessible to visitors. Then, there's this small patch of paradise…
You're looking at Anse Tonnoir, and even if you've frequented Martinique a ton, I'm guessing there's a good chance you won't know it. You won't find Tonnoir on too many tourist maps. I've never seen it in any guidebooks either. Where you will find it, though, is in the town of Sainte-Anne, just beyond the local open-air market, past the row of fisherman's shanties, at the very end of a very nondescript dirt road.
That description makes Anse Tonnoir sound pretty isolated, but in reality, it's not. From the local market, which sits astride the main road through Sainte-Anne, it's only about a two-minute walk. The beach is so tucked away, though, that even upon approaching the first of the fisherman shanties (actually home to the Natiyabel dive shop), you won't see it.
Don't despair. Keep following the road as it curves to the left and you'll soon find your toes caressed by Tonnoir's sweet sand and gentle surf.
I love this little beach, not just for its humble beauty and "right under your nose" seclusion, but also because of the memories it engenders in me.
You see, a few local families are lucky enough to have their properties sit directly on Anse Tonnoir. On my visit here back in November, the beach-going "crowd" consisted of five kids, all likely around 10-years-old. And me. There may have been a dog as well. No one else.
Judging  from the gentle scolding of the woman sitting on the verandah of the pink home pictured at right above, my guess is that they lived right there… mere steps from a perfect little slice of hidden beach heaven.
Watching these kids frolic in and out of the water reminded me of my carefree days playing with my brothers and friends in St. Croix. Did these kids know how lucky they were to live in this spot; to have unfettered access, any time/any day, to this amazing seaside playground?
I'm often whimsically rueful over all the little things I took for granted growing up in the Caribbean, but sitting here and observing these kids I realized my questions really didn't matter. They were living a joy they'd always remember, just as I had been fortunate enough to do many years prior and several miles up the island chain. There's a wonderful naivete to charming encounters like these, a quiet understanding that flies in the face of the type of change that all-too-often ruins special places like Tonnoir in time. It's the kind of thing that makes me want to stay in these moments longer than usual, hoping somehow they'll never end.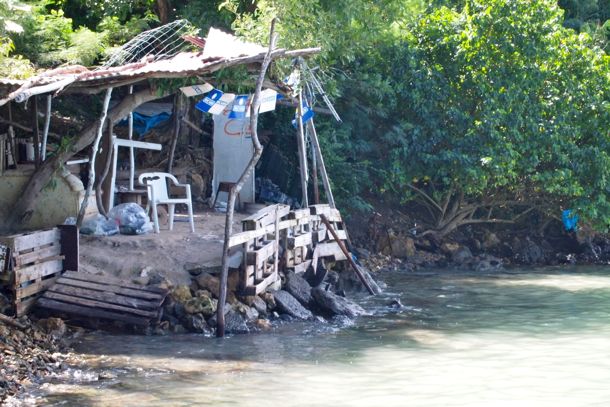 I sat here a long while. Walked the length of the shore to the ramshackle fisherman's shelter at the far end of the beach. Had my toes wrinkled after extensive loitering in the surf.
The kids, their laughter, the beauty and innocence – it was all like being in on some fantastic little secret…one I hope  to experience again before time and tides take their toll.
Related Posts