On-Site Martinique: Enjoying L'art de Rhum at La Suite Villa
In an island like Martinique, that despite being just 436 square miles still boasts 10 different rum distilleries producing God knows how many different types of rhum, you can well imagine that there exist a great many excellent places where one can enjoy the quintessential Caribbean spirit.
On the more casual end of the spectrum, you have sultry seaside gourmet party spots, like Le Petibonum and Lili's. For more traditional West Indian elegance, there's Le Belem at the five-star Cap Est Lagoon Resort & Spa, or Plein Soleil.
Then there's Le Zandoli at La Suite Villa, which offers a unique experience all its own.
As I mentioned when we first introduced you to La Suite Villa back in September, this place is a lively explosion of art, color and whimsical tres-chic touches that all add up to fun. This past November marked my third visit to the hotel since it opened in early-2010. On each successive visit, I was always surprised to see more art and whimsy blended nicely into the decor. This time was no exception, as you can see in the foyer…
On the tables…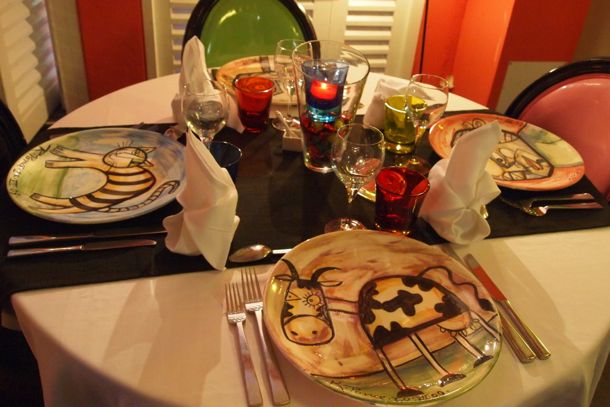 And even in the lights hanging from the ceiling!
La Suite Villa always provides a wealth of fantastic photo-ops. The cuisine at Le Zandoli is pretty amazing too. For me, on this particular visit, though, the rhum was the main attraction.
It's not that the bar at Le Zandoli has the biggest selection: it doesn't.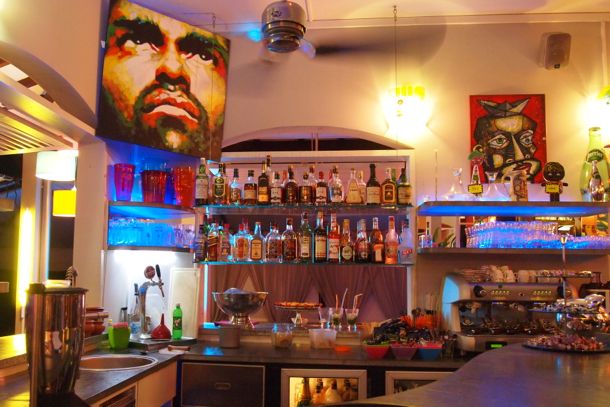 It's not that they have this incredible menu of inventive mixed drinks either. (I didn't order any.)
No, the two things I really liked here were the choice rhums they did have on-hand, and the incredible atmosphere of the place. Old favorites like Rhum Neisson, Saint James and Rhum J.M. were there, but so were a few new to me treasures not virtually impossible to find in the U.S. Brands like J. Bally, Habitation Saint Entienne and the absolutely incredible Cuvée Spéciale de La Flibuste from La Favorite, arguably my new favorite among all rhum agricole blends.
Indeed, the selection was top shelf all the way! Over the course of an extended three+ hours there for dinner and drinks, I tried most of 'em, loved all that I tried, and went back to my hotel as happy as can be.
Like I alluded to earlier, the good vibes weren't just about the great rhum. A night at Le Zandoli/La Suite Villa, perched on a hill high above Trois-Ilets, the lights aboard the many boats anchored in the Bay of Fort-de-France twinkling below, is nothing short of magical. The vibrant art that surrounds only adds to the experience.
After a few drinks at the bar, we were seated for dinner out on the verandah astride an alluring infinity pool. Appetizers were served as I polished off the last drops of Rhum J.M. 1997 in my glass. Suddenly the skies opened up. Rain would drive us back inside… closer to the bar.
I smiled and thought: "Just in time."
Related Posts