On-Site Martinique: Farm Stay Fun at Le Hameau du Morne des Cadets
Manual labor has got to be among the furthest things from the minds of most people traveling on holiday to the Caribbean. Even for active travelers bent on exploring the region's undersea environs and lush rainforests, or competing in her many challenging races and other sporting events, the prospect of visiting one of our sun-kissed shores expressly to work with your hands is not likely to be a welcome one.
On my last trip to Martinique, though, I learned that perhaps it should be.
I learned this amid the scene pictured above, in the rain, in the shadow of Mount Pelée at Le Hameau du Morne des Cadets.
The setting intoxicates all on its own. You're perched high in the hills fronting an absolutely gorgeous view of the infamous grand volcano to the north, the Caribbean Sea just off to the west. A wide, undulating valley separates you, though its impossible not to feel Pelée's presence, seemingly close enough to touch.
All around you is plush greenery; the moist air sweetened by blossoming wildflowers, and at the right time of day, succulent Creole cooking.
At its heart, Le Hameau du Morne des Cadets is a typical family farm, like scores of others just like it found all over Martinique. The owner, known to all as Tonton Leon (Uncle Leon), continues a long-practiced family tradition of farming here, lovingly cultivating various fruits and vegetables together with his wife, kids, cousins, etc. in fields carved directly out of the sides of the hills.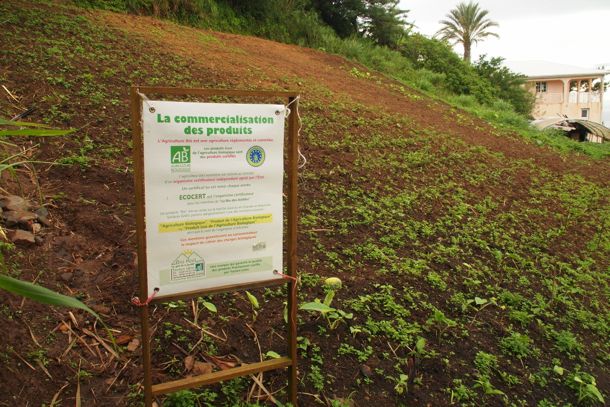 A few years ago, however, Tonton Leon decided that he wanted to share his family's petit paradise with the rest of the world. So, he set about building a collection of colorful bungalows and guest rooms, eventually establishing Martinique's first agritourism farm stay program.
The property offers three, cozy one-bedroom bungalows, plus three bedrooms in the very spacious lodge that sits above the restaurant and dining patio. Accommodations are fairly rustic…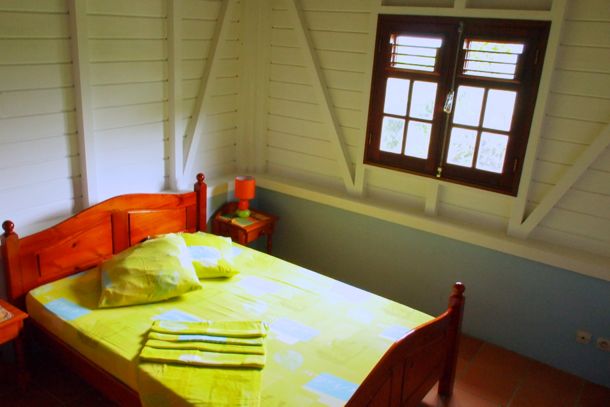 It is a real, working farm, after all, so you won't find TV's and telephones here. There's no air conditioning either, though you won't miss it. The farm's lofty perch yields persistently cool temperatures. During my cloudy, rainy visit it was downright chilly, and I was there for lunch in August!
Speaking of that lunch, if you like real, authentic Creole food, you'll love dining here…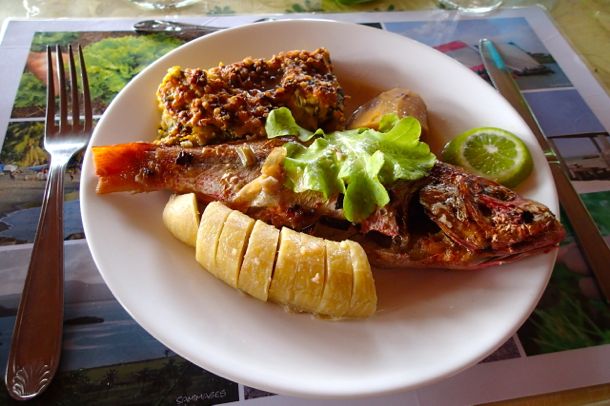 My snapper, complete with head and eyeballs just like I like, melted in my mouth. Everything else on my plate was harvested earlier that same day in the fields surrounding where I sat, yielding the ultimate freshness.
Guests staying at Le Hameau du Morne des Cadets are invited to work the fields alongside Tonton Leon and his family, learning his unique organic farming techniques and a good bit about Martinique – her history, horticulture, music, bio-diversity and more. There are even a series of hiking trails nearby that farm staff are happy to lead you along when you're taking time off from the fields.
For more on rates, reservations and all the fun you can have learning to farm the hills of Martinique alongside Tonton Leon and his family at Le Hameau du Morne des Cadets, visit the property online.
Related Posts