Rhum Clément Select Barrel – The Whiskey Drinker's Rum Agricole
You ever think you don't like something, then find that you do after unexpectedly trying it, or something close to it? Yeah, that may be me with whiskey. Specifically, I'm finding that I may be partial to American whiskey. This is something that I NEVER would've even considered possible before. Rhum Clément Select Barrel, though, is changing my mind…
As longtime UC readers already know, I am a HUGE fan of Martinican rhum agricole. Rhum Clément, in particular, is a big-time favorite of mine. I must confess, though, that I had some serious reservations about Rhum Clément Select Barrel upon seeing it for the first time.
Black, Gold, Beautiful
The bottle is all kinds of classic très chic Clément, of course. A gold outline of the iconic maison de maître (master's house) at Habitation Clément is front and center within an elegant band of black. The famous stylized Clément logo sits just above it, also in gold. The golden signature of the legendary Homère Clément, founding father of the exalted Martinican rhum agricole tradition, adorns a separate band of black across the neck of the bottle.
In short, the Select Barrel packaging embodies all the tell-tale traditional class inherent in the Rhum Clément brand… Mostly.
Clément Curiosities
Notably missing from the label, at least to me, are the magical three letters, AOC. Appellation d'Origine Contrôlée (AOC) is a French certification granted solely to the very finest French wines, cheeses, butters, and other agricultural products. Martinican rhum agricoles are the only rums in the world that carry the prestigious AOC designation. Every other Rhum Clément bottle that I've ever seen prominently denotes the AOC designation. So, what gives with this stuff?
Apparently, it all has to do with aging distinctions unique to Rhum Clément Select Barrel.
When an AOC rhum Isn't an AOC rhum
There are several strict standards that Martinican rhum agricoles must meet in order earn AOC certification.
At the base level, there are agricultural rhums "raised in wood," or Elévé Sous Bois. These rhums must be aged for at least 12 months in wood. Select Barrel, though, is aged a bit longer than a year.
Rhum vieux, or "old rhums," must be aged in wood for a minimum of three years. Select Barrel, though, isn't aged quite that long.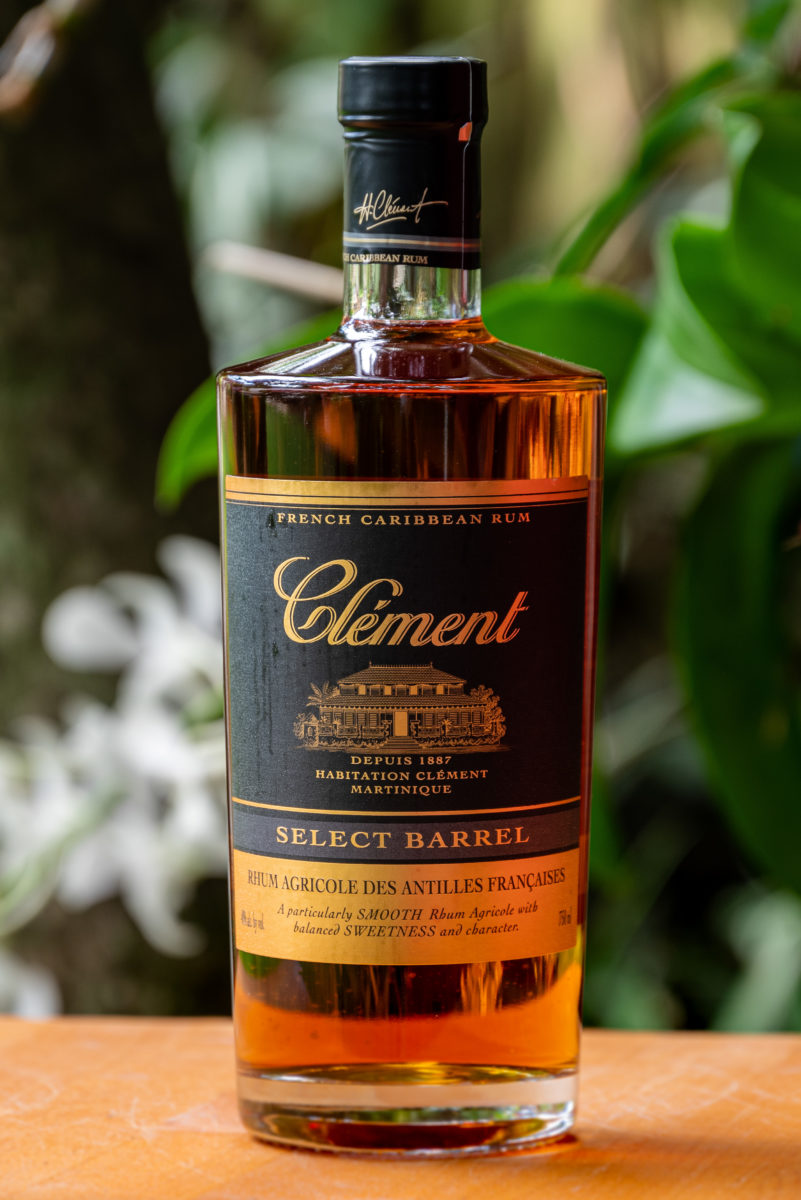 In this way, Rhum Clément Select Barrel is a bit of tweener. It's produced in the same revered fashion as all other Rhum Clément expressions, though, so really it's only not an AOC rhum by slim technicality.
Top Three Reasons to Buy Rhum Clément Select Barrel
While its label may spur a question or two, the actual elixir that is Rhum Clément Select Barrel has become a prime answer to my rhum agricole dreams. There are three main reasons for this.
Rhum Clément Select Barrel is readily available in the USA. Not many Martinican rhum agricoles are. With COVID keeping my usual travels to Martinique on-hold, this is a big deal.
Rhum Clément Select Barrel is affordable. At just under US$40 per bottle, Select Barrel is the lowest-priced aged rhum agricole I think I've ever seen in the U.S.
Rhum Clément Select Barrel is utterly delicious. Vanilla notes stand out the most, though they don't overwhelm. In fact, I find Select Barrel to be nicely balanced. There's some caramel in there too (I think), while pronounced smokey wood flavors give this rhum agricole some added sophistication.
Whispers of Whiskey
It's right there with the wood that I'm told the whiskey ties are strongest. No less than the Queen of Rhum Agricole, Kiowa Bryan, recently told me…
We like to call it our 'whiskey lovers rhum agricole' because the heavily charred barrels it's aged in really soften up the flavor profile and make it approachable and familiar to whiskey drinkers.
As a non-whiskey man myself (at least so far), I'm happy to defer to her expertise in this case. Certainly, though, Rhum Clément Select Barrel has me anxious to dip my toe into the whiskey world. If it doesn't work out, at least I'll still have Select Barrel to love, right?
Where to Buy Rhum Clément Select Barrel
Our amazing friends at SPIRIBAM are the exclusive USA importers for Rhum Clément. For the very best deals on Rhum Clément Select Barrel, visit SPIRIBAM online and be sure to enter promo code "UCRHUM" at checkout to save 10% off your order.
¡Santé!
Related Posts