Rhum Dillon XO Hors D'Age – The Beauty of Patience
Amid the grand constellation of exalted rhums from Martinique, the star that is Rhum Dillon is not the brightest. At least that's the impression I'd developed over my many visits to The Isle of Flowers in recent years. Dillon was always easy to find. The brand is omnipresent at most every bar and restaurant that you might come across anywhere between Les Salines and Grand-Rivière. At the same time, though, no one ever seemed to go out of their way to drink it. Rhum Dillon XO, though, is definitely worth a little effort.
Like all of the celebrated rhums of Martinique, Rhum Dillon boasts a long and storied history. The land upon which Distillerie Dillon sits was originally settled by sugar farmers all the way back in 1690. It did not, however, carry the name Dillon at the time. That would not come until 109 years later in the form of Count Arthur Dillon.
Meteoric Life/Marriage
An Irish-Catholic aristocrat, Dillon's initial claim to fame centered on his role in the American Revolutionary War. Dillon served under General Lafayette. So distinguished was his service that he rose to the rank of colonel at the ripe old age of 16!
Dillon's second claim to fame was acquired through marriage. His wife, you see, was a cousin of Napoleon's wife and famous/infamous favorite/hated daughter of Martinique, Empress Josephine de Beauharnais. It was Dillon's wife, Laure Girardin de Montgérald, who owned the old sugar plantation that would become Distillerie Dillon.
Dillon's marriage into French nobility jumpstarted his political career. In 1789 he was elected to represent Martinique in Parliament back in France. Said marriage and its attendant rise to political power also sped Dillon's path to the guillotine. He was convicted of conspiracy and be-headed in 1794.
What About the Rhum?
While all of this history is interesting, you may be wondering what, if anything, it has to do with rhum? The answer, somewhat fittingly, is nothing as the old sugar plantation owned by Dillon's wife never made rhum while he was around. How/why his name still lives on in the distillery and its products is a mystery to me.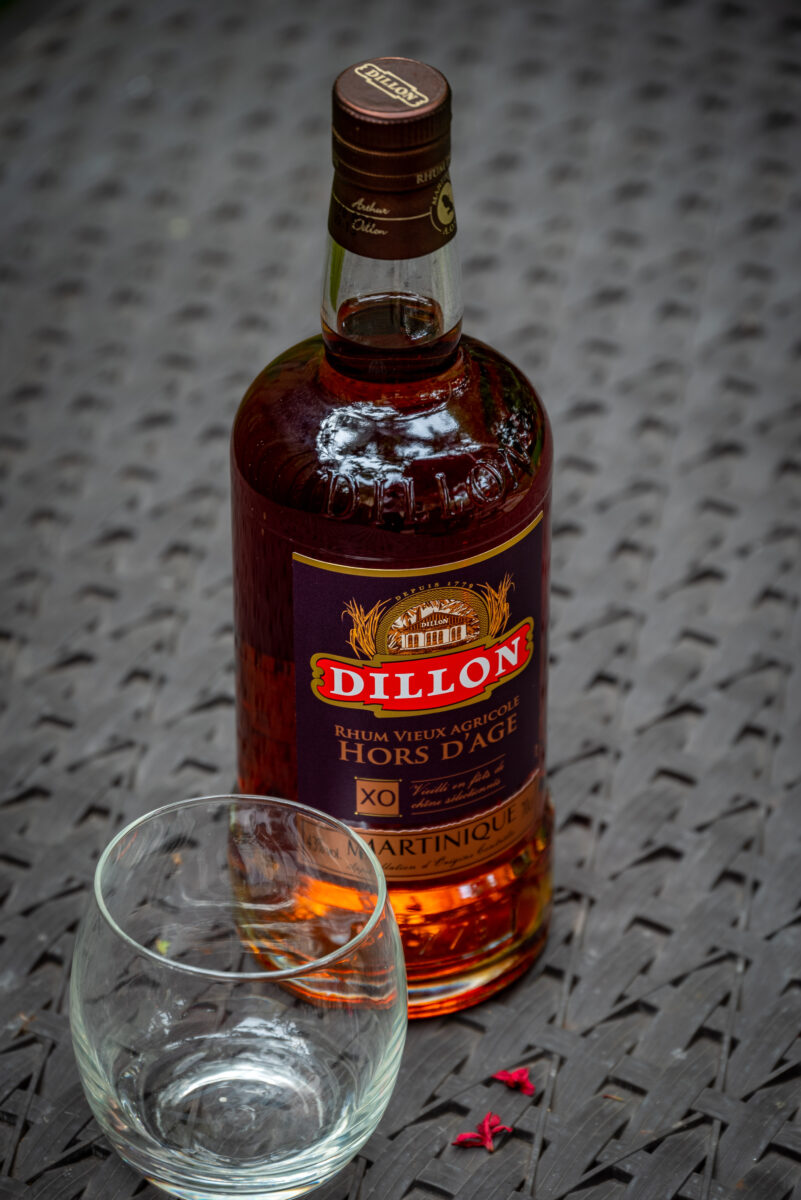 Rhum was not, in fact, produced in any major way at Distillerie Dillon until the 1850s. Even so, successive natural disasters (hurricanes, crop failures, etc.) limited or outright curtailed production all they way up to 1954!
So yeah, there's no legendary Dillon family recipe to Rhum Dillon XO, or any other Rhum Dillon expression.
There is, however, still much to like about Rhum Dillon XO.
Rhum Dillon Difference
Patience is a hallmark of all Rhum Dillon production. This is particularly true of Rhum Dillon XO Hors D'Age. It's aged a minimum of nine years.
Distillation also goes slowly. Like all Rhum Dillon expressions, the XO is first distilled to 65% ABV. It then rests for five months before being reduced.
The finished XO Hors D'Age checks in at 43% ABV, slightly overproof just the way I like.
Also great, the flavor.
Rhum Dillon XO espouses the sultry volcanic surrounds of northern Martinique. That's where the cane that goes into producing every ounce of Dillon is grown and distilled.
(Distillerie Dillon is located in Fort-de-France, but the rhum itself is today produced at the Depaz Distillery in Saint Pierre.)
Woody with nice notes of vanilla and cinnamon, and a subtle burn, Rhum Dillon XO Hors D'Age punches a bit beyond its brand pedigree.
Where to Buy Rhum Dillon XO Hors D'Age
Unlike the fantastic Martinican rhums imported by our friends at Spiribam (i.e.: Rhum Clément and Rhum JM), Rhum Dillon is not widely available across the United States.
Our other friends at Primo Liquors, however, often carry it. Order online here!
Cheers!
Related Posts