Codfish Acras: Taste of the Caribbean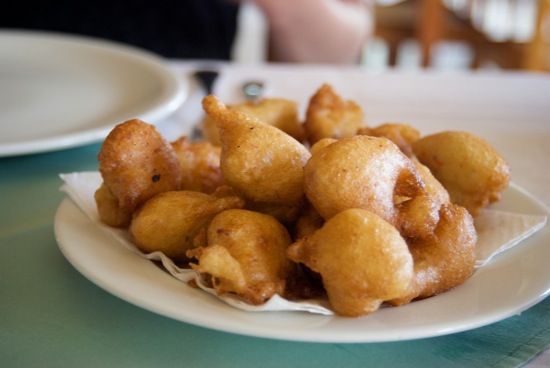 As Patrick makes his way home from St. Lucia today, I'm getting set to head down to Martinique, where I am sure to enjoy the tasty treats pictured above soon after arrival. These are codfish acras, and yes, they're as yummy as they look.
Acras of all varieties are a staple food throughout much of the Caribbean, but in Martinique they seem to be more prevalent than in other islands I've visited. From the fanciest of gourmet restaurants to the dustiest of roadside food stands, acras are everywhere in Martinique, and thankfully so.
Fried and fluffy, acras are an excellent appetizer for virtually any meal. They're also a wonderful snack, especially when paired with an ice-cold Biere Lorraine.
I look forward to enjoying both throughout the week. In the meantime, here's a quick and easy recipe for codfish acras that you can follow to bring a taste of Martinique to your home.
Ingredients
250g of codfish
500g flour
2 eggs
salt
black pepper
1 hot pepper
thyme
garlic
spring onions
water or milk
Directions:
Mix flour with enough water or milk to make a moist dough. De-salt the codfish if necessary, remove the skin and bones, then shred. Mix the shredded fish into the dough along with the eggs. Add salt, crushed garlic, parsley, thyme, chopped spring onions, and piece of hot pepper finely chopped. Stir until the dough is smooth.
Now you're ready to cook.
Drop your doughy mixtures by the spoonful into a pan of hot oil. When cooked, drain, blot on paper towels, and serve hot.
Bon appetit!
Related Posts