Decadent Desserts at Ti Sable, Martinique: Taste of the Caribbean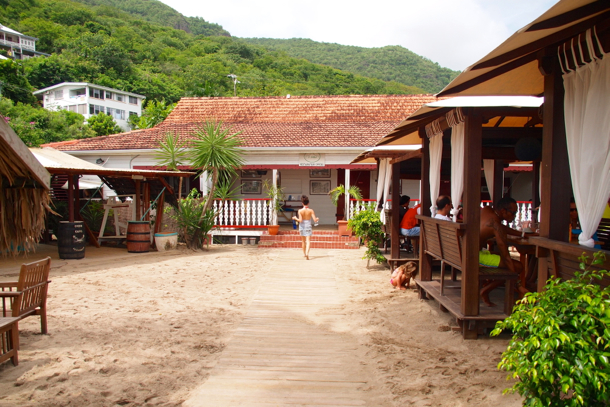 If you're self-conscious about your figure to the point that you'd pass up dessert while liming on the beach, then Ti Sable is probably not for you. True to its name, which translates to "little sand," Ti Sable sits astride the sea, a stylish, rambling collection of alfresco seating surrounding a charming main house built in Martinique's traditional Creole style right in the heart of Le Plage de Grande Anse in Anse d'-Arlet. This place is sexy in a cool, uncompromising way that encourages patrons to play along. You're sexy and you know it here… The desserts just add to your swagger.
I made my second visit here just this past August and was amazed to find that I had missed the desserts altogether on my previous trip, a product, no doubt, of my usual distractions – Biere Lorraine, rhum and the beautifully revealing sights along Martinique's beaches.
Pleasures one and all, indeed, but just look at what I was missing!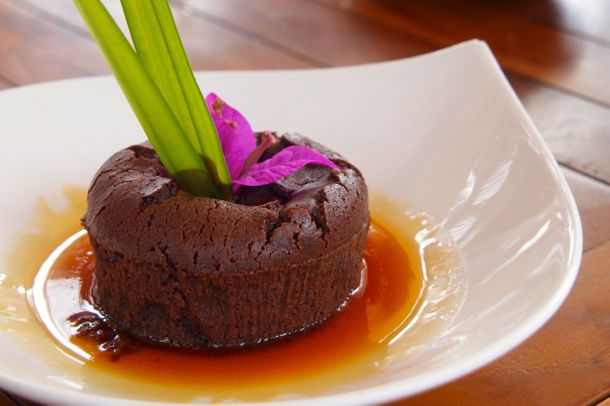 This marvelous chocolate treat hides a ridiculously rich molten choco center that together with the sweet sauce in which it sits will have your head spinning with delight. The artful presentation is nice too, but believe me this beauty is much less about appearance than it is amazingly appetizing.
You get to choose from among five similarly sinful confectionery options like this one on Ti Sable's Les Desserts Maison menu. Each are priced at just 8€, a nice price that may just have you wanting to find yourself at Ti Sable for dessert at least five times during your next trip to Martinique.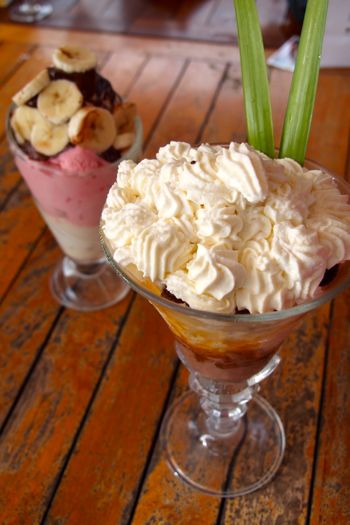 Ahh, but then you'll want to take a gander at the Nos Desserts Glaces menu, and indulgences like these bad boys!
Was that a gasp I just heard?
Yeah, the ice cream and sorbet desserts here take decadence to new heights.
Again, the presentation is guaranteed to make you smile at the mere thought of the sweet and sultry goodness overflowing from those tall, chilly glasses. The friends with whom I was dining confirmed, though, that just like my chocolate-lava cake above, these artful glaces were more substance than style. They're also more substantial in number, counting 11 different menu options starting in price at 5.5€ and topping out at 8€.
Looks like you'd have to extend that stay in Martinique a bit longer to try all the goodies at Ti Sable… A pretty sweet problem to have in a place you'll never want to leave anyway.
For more on Ti Sable, including the full Desserts Maison and Desserts Glaces menus, visit them online.
Related Posts