Ice Cream is Art at Ziouka Glaces, Martinique: Taste of the Caribbean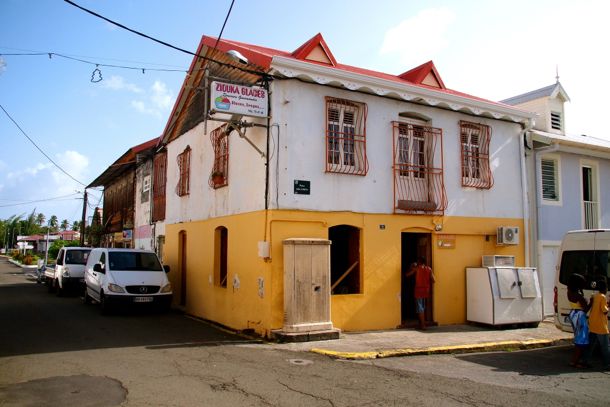 Most foodies flock to Martinique for the fancy French-Creole cuisine on order at the island's healthy collection of fine restaurants. Belem, Brédas, Plein Soleil, Zandoli – the names are legend among les connoisseurs.
Locals in the know will tell you, however, that when it comes to most everyone's favorite summertime treat, this humble corner shop in Le Carbet kicks the shi shi out of everyone else…
I'm talking ice cream, and the very best place to get it in Martinique is Ziouka Glaces. You'll find Ziouka right in the middle of Le Carbet, one block from the sea, about two miles south of Saint-Pierre and maybe three minutes from my all-time favorite gourmet beach shack. Whereas my buddy Guy "Chef Hot Pants" Ferdinand works his wizardry in creating all manner of lunch and dinner fare, Claude Ziouka sticks to the cold and creamy stuff… with utterly incredible results!
Made with 100% all-natural seasonal fruits and vegetables harvested with exacting care by Monsieur Ziouka himself, these ice creams and sorbets are so delicious, smooth and creamy, they may redefine ice cream as you know it. Lychee, guava, cassava, sugar cane, passion fruit, sorrel and rum banana are among the most locally exotic of Ziouka's 20+ flavors, but it's not just the variety that makes these creams and sorbets so special.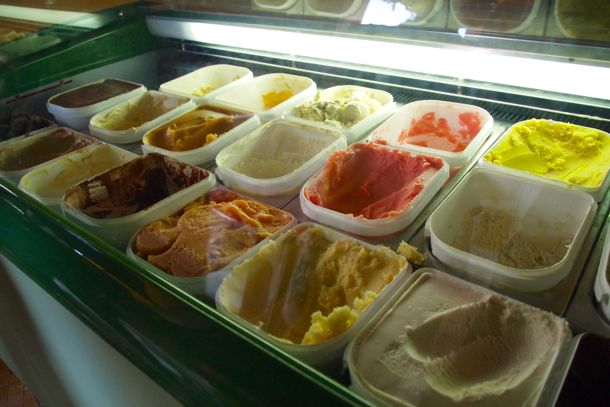 To me, the bigger deal is Ziouka himself. As it says on his cards, signs and placards, Ziouka is an artisan. The way in which he hand-selects his ingredients is one thing, but he also doesn't tell you much about his method, or the essential herbs and spices he uses here and there to elevate the natural flavors in his creations in wonderfully new and inventive ways.
Ziouka approaches ice cream the way a master painter approaches a fresh canvas – anything is possible, and with a little creativity, skill, panache and the occasional serendipity, the end result always comes off as a work of art.
Take, for example, his newest creation, tentatively called "Temptation." It's a decadent mix of chocolate, orange peels and a few other secrets that is simply amazing.
Of course, Ziouka's art draws a serious crowd. I stayed here for about 45 minutes this past Saturday, and the place was jammed the whole time; the line stretching to the door and occasionally beyond it. Nuns from the chapel just across the street mixed in the line with other locals and tourists of all colors, shapes and sizes cued up patiently in the hot little shop waiting for Ziouka to serve them his works of art personally. No one fussed or whined, except for one cute little girl whose over-zealous enjoyment of her afternoon treat brought to life the hilarious crying in Eddie Murphy's "Ice Cream Man" skit from Delirious. Ziouka, seeing the whole thing, happily replaced the little girl's ice cream (although in a cup this time) making everyone happy as, it seems, he always does.
Ziouka Glaces is generally open Tuesdays to Sundays from 9am to 1pm and 3pm to 6pm. I say generally because during the peak summer months of July and August you can only sneak in here between 3pm and 6pm. Why? Well, apparently, Ziouka's master works are in such demand during the hottest months of the year that when he used to keep his regular morning and afternoon hours, he didn't have enough time to make enough ice cream.
Shorter hours mean longer lines, so stop in early because with all the wondrous goodies here, it's no doubt you'll want to stay late.
Related Posts