Le Cuisine de Martinique – in Los Angeles?: Taste of the Caribbean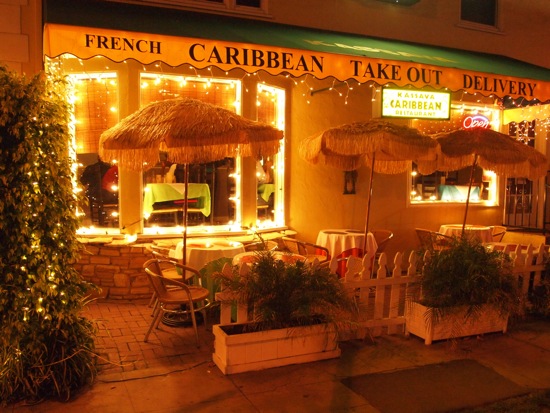 For anyone in search of Caribbean culture and cuisine in North America, Jamaican eateries are a welcome, if not altogether unusual sight. Millions of Jamaicans have migrated to the U.S. and Canada over the years, bringing with them their unique cultural traditions, and the talent to make mouths water.
Even in Los Angeles, some 2,800 miles away from Kingston, good Jerk is fairly easy to find. Upon visiting Beverly Hills last week, though, I was surprised to find that good French-Creole cuisine from Martinique can be had there as well.
Kassava Restaurant, located across from Cedars Sinai Hospital about 5 minutes from Rodeo Drive, actually offers a blend of culinary traditions from three different Caribbean destinations – Martinique, Haiti and (of course) Jamaica. On our visit, though, Kassava was all about the magical flavors of Martinique.
Like all great meals in Martinique, dinner at Kassava starts with crispy codfish acras. Sadly, they were in short supply on our visit, but the even more rare Creole Conch Stew was not. Ultra-tender conch combines here with a wondrous French-Creole sauce, onions and more to create a lobster-style flavor that will put you right back on the shores of Le Grande Anse du Diamant.
Martinique's Biere Lorraine, or any other type of wine or spirit, was no where to be found, but a good selection of non-alcoholic Caribbean favorites – Ting, ginger beer, sorrel, Vita Malt, etc. – were all available. Other delights on the menu that we didn't get to try include Oxtail Ragu, the Madinina Burger, a Martinique Codfish Sandwich and Martinique's national dish, Colombo.
If you're ever in Los Angeles and in need of a true taste of the Caribbean, Kassava is the place to go!
Related Posts