Royal Cocktail Tropical, Finally a French Caribbean Soda I Can Love: Taste of the Caribbean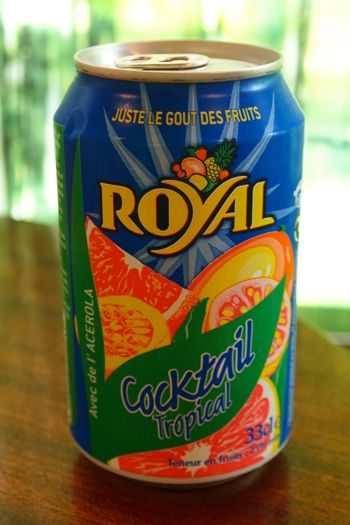 Tisk-tisk, it seems I've touched a nerve.
If you've read them before, then you'll surely understand, not everyone's a fan of my posts to-date on French Caribbean sodas.
Sure, they're written tongue-in-cheek.
Sure, they're based on my own, personal opinions.
Sure, I leave room (albeit not much) for anyone to disagree.
Still, you can't please everyone all the time. In this case, that's especially true of the folks who commented on my L'Ordinaire post via the Facebook fan page for Veille Tourisme Martinique.
You don't need to speak French to understand: these people weren't too happy with me.
Arrogant, stupid, idiot, moron, ignoramus…
These are but a few of the choice (and least colorful) words directed my way… over my taste… in sodas.
I love the passion, of course, but ouch! Really? We are just talking about sodas, right? Maybe we all need to chill out with a cocktail…
Now, normally in such instances as this, said cocktail would contain copious amounts of rhum. (Planteur, anyone?) But, in keeping with the soda theme, let's go with the colorful can pictured above. It's called Royal Cocktail Tropical, and yes, it's one French Caribbean soft drink that I truly love.
That's right: L-O-V-E, so no name-calling, please.
So, why does Royal Cocktail Tropical work for me?
The big thing is that it's really not so much a soda as it is a fabulous fruit punch. Even better, almost all of the fruits that go into making it are grown locally in the fields that surround the Royal fruit juice production plant in Gros-Morne, Martinique.
A nature-lover's paradise filled with excellent hiking trails, rivers and waterfalls, Gros-Morne is lush, mountainous and home to some of the richest farmland in Martinique. In some corners, it's even referred to as Martinique's pantry.
It's here that the folks at Royal have been producing one of the Caribbean's most extensive line-ups of fruit juices for generations, becoming as large and beloved a household consumer brand in Martinique as any. The company sources its fruits from among 15 local farmers in the Gros-Morne area, ensuring optimal freshness by selecting only the very best of each harvest and putting it into production immediately after cultivation. At the same time, Royal guarantees there are no preservatives in their fruit juices. In these ways, Royal truly earns its slogan:
The flavours of Martinique fruits and nothing else!
You really taste Royal's exceptional quality and freshness in its Cocktail Tropical. This stuff just bursts with bold fruit flavors, particularly guava and acerola, which you might know better as the Barbados or West Indian cherry. I may be wrong, but I don't think you can find the intoxicating sweet and sour goodness of acerola hiding in too many soft drinks, a real shame when you consider it packs 32 times more vitamin C than your typical orange.
So, yeah, this Royal soft drink tastes great, is good for you, supports farm jobs in Martinique and forms part of the island's rich cultural identity.
You'd really have to be an arrogant, stupid, idiot, moron, ignoramus not to like it…
Related Posts