Secret Le Senat Restaurant in Schoelcher, Martinique: Taste of the Caribbean
Another lunch in Martinique, another scrumptious and stylishly presented dish – no surprise there, right? We've made the point before: they take food very seriously here. No matter where you decide to dine, you're liable to be treated to cuisine that's both prepared and presented as art.
Still, I was a bit surprised when I was served the attractive lunch above at the secret little spot below…
This is Le Senat, a humble hole-in-the-wall-leading-to-a-beach restaurant/bar that, at first glance, would be very easy to bypass. Easy, that is, if you can find it.
Le Senat is tucked away on a seaside residential street (more of a side street, really) in the town of Le Schoelcher on Martinique's Caribbean coast. The town itself bustles with activity both day and night, serving as it does as a primary suburb of the capital city, Fort-de-France, just to the south.
You wouldn't know this at Le Senat, though. The place espouses a peaceful secret hideaway vibe, making it a favorite of professional office workers in the area who regularly escape here over their lunch hour.
I assumed the role myself last October during the 2013 CTO State of the Tourism Industry Conference (SOTIC), which was being held at a nearby convention center in Schoelcher. The meetings, seminars, and presentations were great, but after several hours of working confinement, I was more than a little anxious for a little local flavor.
Le Senat more than delivered. Even amid a midday downpour that leant a certain dramatic element to the otherwise ramshackle surroundings, the mishmash of wood and plastic seating, frayed canvass or leaky galvanize roofing overhead, sketchy restroom, broken tile along the bar, and exposed cinder block walls somehow coming together beautifully…
The view didn't hurt either.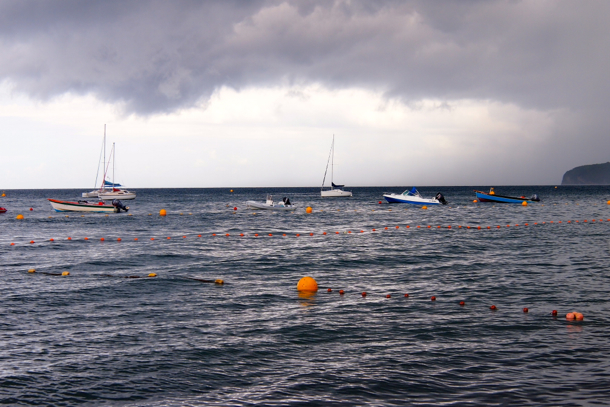 Neither did the food, which was exceptional. My seemingly simple fried fish was wonderfully seasoned with traditional Martinican Sauce au Chien in the little round dish. The red beans and rice only upped the authenticity, warming my soul with familiar flavors I grew up loving in my mom's Trini kitchen, prepared here with the added flair that could only come from Martinique.
I was at home. I was in love in rundown shack of a place I most surely will never forget.
Le Senat is located at #6 Rue Bernard Boromé in Schoelcher. If you can find your way to Anse Madame, then you can find your way here.
The restaurant opens daily from around noon to 3pm, reopening again from 7-11pm, except on Sundays when they're only open for lunch. Expect to pay between 16 and 20 Euros for a lunch comparable to mine, though higher-priced goodies like lobster (39 Euros) are also available in-season.
Bon Appetit!
Related Posts