Ti Toques, Martinique C'est Tip Top!: Taste of the Caribbean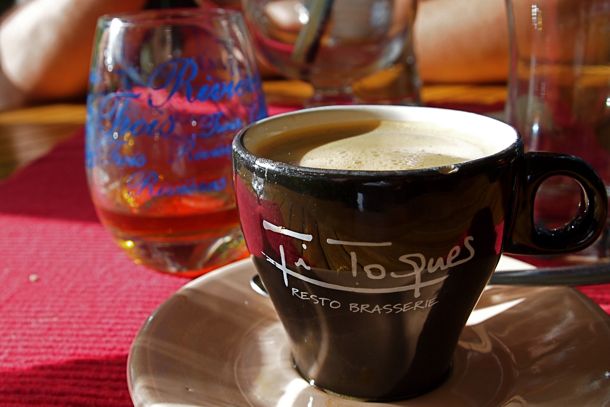 Martinique never ceases to amaze me with the absolutely superb quality of its cuisine, and the absolutely innumerous places where you can find it. Whether it's a roadside BBQ, a shack on the beach, or even a fast food joint, you're virtually guaranteed an exceptional dining experience anywhere on the island. I've traveled here nearly 10 times since 2006, eating at dozens of different places along the way, and never encountered a bad meal (except for one ill-conceived venture to a Tex-Mex place). Yesterday, though, I thought my luck had finally run out.
It was lunchtime and we were in the southern part of Martinique, heading north from Les Salines Beach back to our hotel in Trois-Ilets in the center of the island. Our itinerary called for a stop at a place called Ti Toques, which I didn't know. With my great track-record of meals in Martinique, though, I had no worries. Then we pulled up to Ti Toques. This is what we saw…
I gotta' admit, my heart sank a little. I mean, we had just left Les Salines! In addition to being the finest beach on Martinique, Les Salines is also home to a number of beachside eateries featuring everything from fresh steak and lobster, to fried fish, acras, and more. I definitely prefer my Martinique lunches toes-in-sand, so seeing this decidedly urban facade was a bit of a buzz-kill.
To paraphrase an old saying, though: one definitely should not judge the full book on Ti Toques by its cover! Inside you'll find a warm and welcoming atmosphere, strong cocktails, smiling and attentive staff and a level of cuisine that's miles above its humble exterior. Just take a look at the first thing they set down in front of me…
Acras are the typical appetizer served with almost every meal in Martinique, so it's no surprise to see them here, albeit artfully presented on skewers. The eye-opener for me was the wakame, appropriately highlighted by the starfruit at the right. A true treat from the Far East, wakame is an edible seaweed especially popular in Korea and Japan. After yesterday's lunch, it's now also especially popular with me!
The sweet wakame mixed fantastically with the sumptuous fruits and tangy sauce. I seriously could've been happy eating just this!
But of course, there was more…
With apologies to my wife, who makes a mean baked salmon in her own right, this was easily among the finest salmon meals I've ever had!
The fish itself was succulent and perfectly prepared with just the right amount of pink color and melts in your mouth consistency that denotes perfect salmon to me. The West Indian-style lentils sitting on a round disc of sweet pumpkin also kicked things up a notch or two. The sweetness of the pumpkin mixed with the flavorful lentils and superbly-prepared salmon just… well, it made me feel so… ummm…
Oh, let's allow another image to do the talking…
Yeah, you can say I REALLY loved that salmon dish, and the wonderful appetizer that preceded it. Still, that's not all there is to love about Ti Toques.
Cocktails are another big draw here, as Ti Toques boasts an expansive menu of local and international favorites that are no-doubt a popular attraction for the scores of yachting enthusiasts from all over the world that frequent the famed Le Marin Marina. We kept things local, of course, opting for the Planteur, Biere Lorraine and the Cafe Royal pictured at the head of this post. If we had more time, and less of a buzz, we would've also opted for these…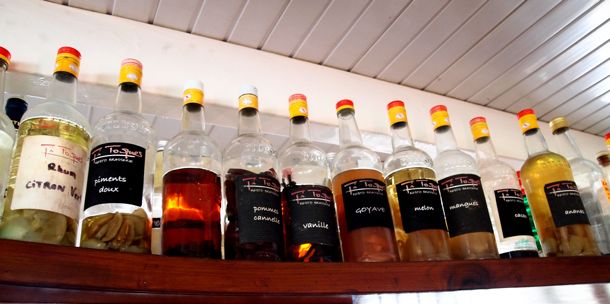 That's right, in addition to serving up some of the finest cuisine in southern Martinique, the fine folks at Ti Toques also infuse their own, proprietary rhum liqueurs! One of our servers told us that the manager makes these special creations himself. Like the ones you'll find in local markets across the island, these infusions are made in re-purposed, old rhum bottles, combining local fruits, sugars, spices and other secret ingredients with rhum agricole to produce one-of-a-kind flavors, benefits (remember this?) and experiences.
Certainly, the next time I find myself in southern Martinique, I'll be giving Ti Toques another try. If these rhum liqueurs are half as nice as the food here, then the return journey will be well worth it!
Ti Toques is located right on the main road that cuts through the village of Le Marin, directly across from the Marina du Marin. They start serving at noon everyday and don't stop until midnight. Takeout service is available as well, though I can't imagine why anyone would want to miss out on the cool, open-air atmosphere and all those rhum liqueurs.
The servers here are also very nice and helpful. Don't worry if you don't speak French, they have plenty of English-speaking staff to take care of you.
For more on Ti Toques, call them at Tel: 0596-74-7232, or email: resto.titoques@yahoo.fr.
Bon Appétit
Related Posts