The Divine Is In The Details Around Fort-de-France, Martinique
Been there, done that.
Taken together and applied to Caribbean travel, they're easily among my four least favorite words; a snarky sentiment that suggests the experiences, sights, sounds, tastes, and wonders in a particular corner of our region are only worth one look.
Maybe I'm biased (just a little ?), or not very perceptive (riiiiight), but I never seem to have trouble finding new to me points of interest at many of the special spots I'm lucky enough to visit over and over again. My most recent reminder of this came just a few weeks ago in downtown Fort-de-France, a city I've visited about two or three times per-year over each of the past seven years as part of my day job.
What could I possibly have left to discover at the famously decapitated statue of Empress Josephine in La Savane, a must-stop every time I'm in the downtown area? How about more headless nobles…
The sculpted relief can be found within the base of the statue. In it, Napoleon (head squarely on his shoulders) is meant to crown his Martinican bride, Josephine. As you can see, though, there's no head (or torso) there to support the crown.
Also missing heads are a number of onlookers. Could they be members of Josephine's family? That discovery will have to wait for another visit.
Just across from Josephine's statue, the Schoelcher Library also revealed a few secrets I hadn't ever really noticed before.
Countless times I'd stopped here to stare up at her intricately arresting facade, though somehow I'd never noticed the words "Republique Francaise" within the inlaid arch.
Also, around the north side of the library pictured at the head of this post, I'd never really taken note of the series of names plates lining the wall.
Were they artists? Politicians? They had to be important in some meaningful way to have their names forever etched here after the library was dismantled piece-by-piece following the 1889 Paris Exposition and reassembled in Fort-de-France in 1893.
This, as loyal UC readers might remember, is around about the same time that the St. Louis Cathedral (also known as The Iron Cathedral) opened its doors just a few blocks away. Another frequent stop for me in Martinique, I'd long been captivated by her ironwork.
Still, I don't ever recall taking special note of the artful wrought iron resting atop the end caps of every row of pews…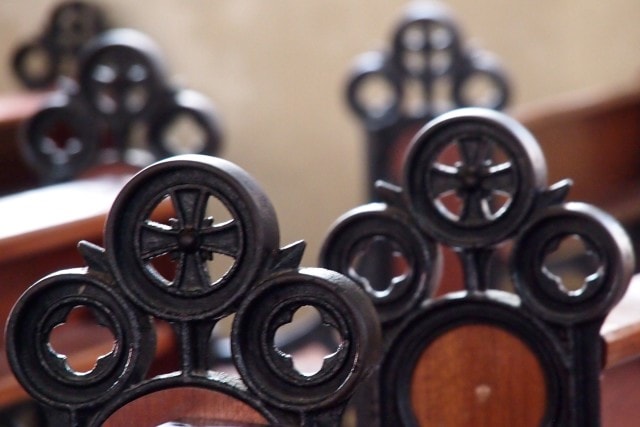 For me, it seems, there's always something new to discover in Fort-de-France.
Related Posts