Martinique's New Underwater Sculpture Park: Uncommon Attraction
The seafloor below these waters just offshore Saint-Pierre, the star-crossed former capital of Martinique, has long harbored various curiosities for uncommon travelers to explore. As noted before, this is a prime destination for wreck diving, the 10 or so ships felled during the catastrophic eruption of Mt. Pelée back in 1902 attracting adventure-seekers to these depths for more than a century.
Historic wrecks aren't the only thing to discover here these day, though…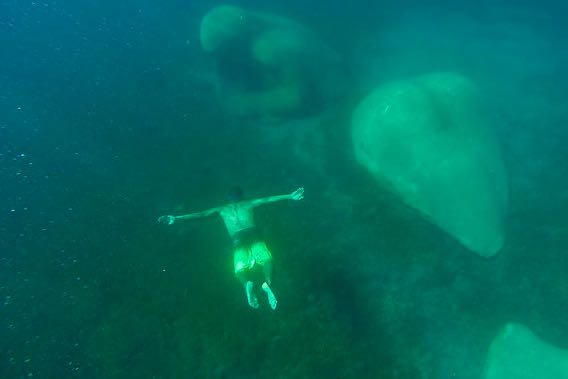 This is Yemaya, the second of a growing collection of underwater sculptures planned for the depths of Saint-Pierre by noted local artist and GREAT friend, Laurent Valere.
If the name sounds familiar to you, well, it should. Laurent is the master talent behind one of the Caribbean's most iconic odes to the slave era, the monumentally moving Anse Cafard Slave Memorial.
For his latest work, Valere doesn't look back so much as he focuses on the future.
Installed in December 2015, Yemaya is a siren measuring 40 feet long. The submerged sculpture consists of three parts, leaving the impression that the body of the creature is partially silted. The curvy features add a touch of sensuality to the seafloor quite by design, the piece designed, in part, to pay tribute to the "Woman of the Sea."
There's more than sexiness going on here, though.
Yemaya and Valere's other undersea work to date, Manman Dlo, are meant to draw attention to the sea, encouraging her preservation.
Speaking of Manman Dlo, Valere's first underwater sculpture was installed back in 2004. "Manman Dlo," which means mermaid in Creole, is a legendary cultural figure in Martinique. According to local myth, sailors were always wary of the Manman Dlo as they were said to overturn ships, the legend, like Valere's work, intending to engender respect for the sea.
Valere's 20-ton interpretation of the Manman Dlo myth is composed of a face and a fin (located a few meters away). Like Yemaya, Manman Dlo appears to be partially buried in the seafloor, though his face is trained up toward the surface, the better to watch all the boats sailing by overhead.
Submerged at a depth of approximately 25 feet, Manman Dlo and Yemaya are located just 98 feet from the shore off the southern entrance to the village of Saint-Pierre. (Valere plans more underwater sculptures in the future.) You only need a mask and a snorkel to admire from the surface, though strong snorkelers and scuba divers won't want to miss an up-close-and-personal intro on the sea bottom below.
To see more of Valere's great work, visit him online.
Save
Save
Save
Save
Save
Save
Related Posts