Naturally & Philosophically Sweet Honey: Uncommon Buy
Rum definitely tops my list of souvenirs from the Caribbean, especially when the bottles are as distinctive as this one, or this one. On a recent trip to Martinique, though, I picked up another sweet, bottled island creation that came as a bit of a surprise to me.
Caribbean Honey
You don't really think of honey as being a big product of the Caribbean. At least I never did, but maybe that's because while growing up in the USVI we had the same Sue Bee and Bee Maid brands that prevail along grocery shelves in the mainland U.S. today.
With their sparse populations and vast tracts of wild vegetation, many Caribbean islands are actually ideally suited for beekeeping. Few places more so than Martinique.
The island's nickname is The Isle of Flowers, after all, so you'd expect it to be a haven for bees. What you wouldn't expect, though, is that the island's leading beekeeper is a former professor of philosophy.
Professeur Beekeeper
His name is Andre Mangatal and it's no stretch to say he's one of the most interesting people I've ever met. I mean, it's not every day that you meet someone who'd give up a nice, cushy (and clean) teaching career to take on the dirty and dangerous job of raising bees in the rainforest. That, however, is exactly what Andre did.
Even more remarkable, he had no idea what he was doing when he started.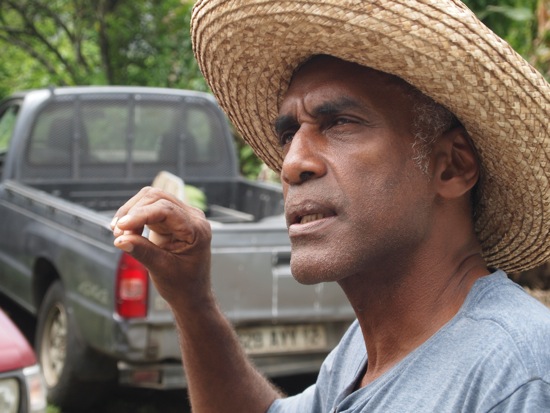 When you visit him today, up at his home deep in the thickly rainforested hills near the village of Le Mont-Vert in northern Martinique, you see a master beekeeper, expertly taming his buzzing minions without the aid of one of those imposing Hazmat-like suits. The man doesn't even wear shoes! Surely he must've apprenticed under some legendary bee-whisperer, right?
Actually, Andre learned everything he knows about beekeeping from books. He also learned how to build his own house and raise crayfish (he raised the ones I ate at Le Petibonum), from books. Yeah, he's smart. Real smart. (I did mention that he was a professor, right?)
Still, the question remains: why would he give up his career to raise bees in the rainforest?
Even when I was studying philosophy in Paris, I knew I would become a farmer.
Natural Obsession
To Andre, it's just that simple. He describes his love of nature as an obsession. It leads him to sit alone, night and day, observing and getting in tune with his natural surroundings. This doesn't render him immune from bee stings. He continues to net his fair share. In some way, though, I think it makes his honey taste all the more sweeter.
You can find Andre's honey for sale in local markets across Martinique. To visit him and experience what it's like to raise bees in the rainforest, contact the Tak-Tak Network. One of the most innovative ground operators in the Caribbean, Tak-Tak specializes in introducing Martinican heritage through interactive excursions. Native dance and music traditions, farming, storytelling, gastronomy and more. Even beekeeping.
To talk-talk to Tak-Tak, call 'em at Tel: 011-596-596-691369.
Related Posts