Uncommon Photo-Op: Grande Anse d'-Arlet, Martinique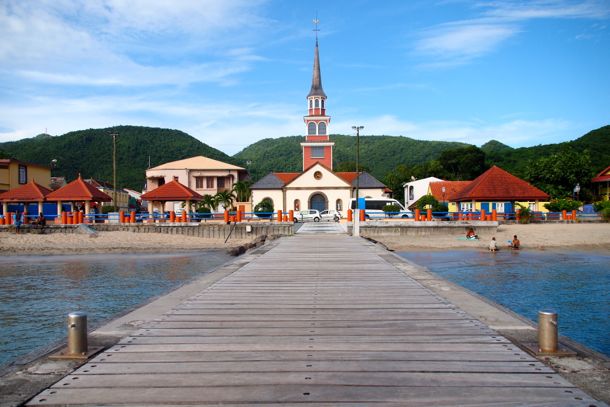 If you've ever picked up a Martinique brochure, or researched travel options to the island online, then you're probably familiar with this scene. This is St. Henry's Church, as picturesque a place of worship as any I've come across on my travels throughout the Caribbean, as captured from the pier that leads out from the town of Anse d'-Arlet in southern Martinique. It's probably the most iconic shot of the island, a photo-op impossible to ignore, even if you've been here before and snapped the same image again and again.
Personally, I love it as much for its beauty as everything it represents. You have almost everything that makes Martinique so special in one frame – the importance of religion in Martinique placed center-stage, framed by the brilliant white sands and calm-cool waters of its southern beaches. The blue sky above bursts with color, matching the church and other buildings below, while lush rolling hills recall Martinique's amazing natural wonders.
About the only thing missing is a bottle of your favorite rhum agricole, though that can always be added for those so inclined.
Look behind you over your right shoulder, and the fantastic photo ops continue…
Anse d'-Arlet is a very popular area for boaters and fishermen, as well as a prime jumping off point for scuba charters in and around Martinique's southwestern coast, so there's always a nice collection of boats of all sizes here. Bobbing ever-so-slightly atop the sea, the smaller boats are like festive ornaments, matching the vibrancy of the town.
Like our very own Frederiksted Pier back home in St. Croix, the pier in Anse d'-Arlet is always busy on hot afternoons with scores of kids braving leap after leap to cool off in the sea. I hope to join them on my next visit… if I can pull myself away from taking more pictures.
Grande Anse d'-Arlet is impossible to miss if you're driving along Martinique's Caribbean coast south of Tros-Ilets. Definitely plan to stop here in the mid-to-late-afternoon hours. That's when I've found the colors to be the most vibrant for photography, and the beach and pier the most lively with locals and visitors limin', swimming, jumping and just having a good time.
Related Posts