Vive Le Renaissance of the Historic Hotel L'Impératrice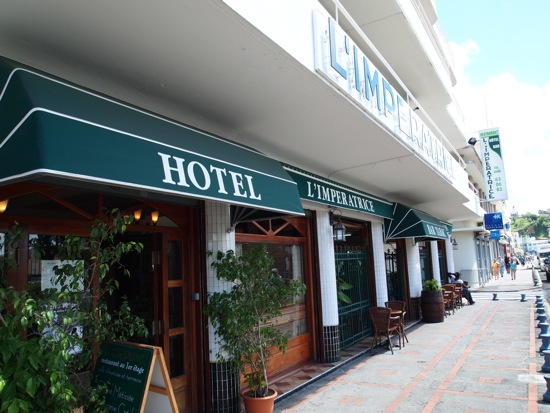 The Caribbean is rarely thought of as a prime destination for the type of city stay vacation so popular over in Europe, but it should be. Throughout the region, you can find a wide array of stylish and contemporary hotels located in the middle of bustling cosmopolitan areas rife with fine art galleries, museums, celebrated restaurants, cafes, nightclubs and other urban treasures. Among the main cities to seek out this type of vacation experience are Old San Juan, Santo Domingo, Kingston, Havana (someday), Port-of-Spain, and Fort-de-France, where last May I visited the Hotel L'Impératrice pictured above.
Located in the heart of Martinique's capital city, Hotel L'Impératrice was originally built in the 1950's and named in honor of Empress Josephine, Napoleon's wife and one of Martinique's most famous figures. For the traveling French elite of the day, this was the place to see, be seen, stay and play. Completely renovated in 2009, the property still retains much of its authentic Old World charm.
The place exudes 50's chic in an ultra cool James Bond sorta way. Maybe it was all the Art Deco design elements, the rhythmic bustling of the city outside, or the guy sitting downstairs, overdressed in a khaki suit, black tie and fedora, but I just had the 007 theme song ringing in my ears the whole time I toured this place.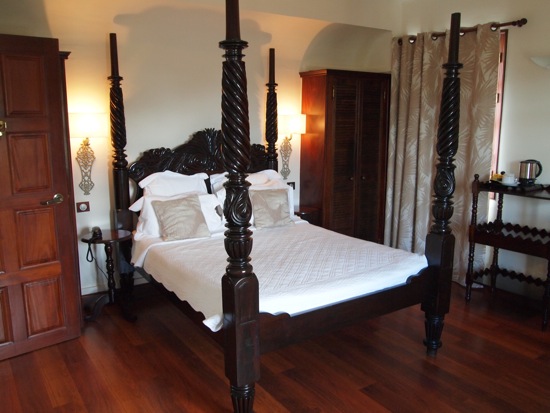 Hotel L'Impératrice has 24 guestrooms, all outfitted with antique furnishings and artifacts in line with its heritage. My favorite: the intricately carved four-poster plantation style beds and crisp white linens in the superior rooms. Pure. Island. Style.
The property is located along La Savane, a sprawling promenade currently undergoing its own face-lift just off the Fort-de-France waterfront. The great thing about this location, in addition to the close proximity of urban treasures I mentioned above, is that the main parade route for Carnival in Fort-de-France passes right in front of the hotel. This, of course, makes L'Impératrice the hotel to stay at if you want to experience the full pageantry of Martinique Carnival.
If I get to be in Martinique for Carnival in a few weeks, as I hope to be, I'll be sure to file an updated report…
In the meantime, for more info on Hotel L'Impératrice, contact them via email at hotel.limperatrice@wanadoo.fr.
Related Posts