What To Do When You're Stranded in Martinique
As scores of travelers up and down the eastern seaboard of the United States are discovering – some perhaps re-discovering – these past couple of days, it's no fun getting stranded along your travels. It is, undoubtedly, easier to understand when the cause of your flight cancellation is a once-in-a-lifetime Superstorm like Sandy, but the whole stranded thing still sucks no matter how you slice it.
If, by chance, you ever get stranded in Martinique, though, the whole affair can be quite nice. I should know as it happened to me just a few short weeks ago. Here are a few tips on what you can expect if your flight from Martinique ever gets canceled, and what you can do to actually enjoy the experience…
1) Don't bank on posh accommodations.
The airlines generally have contracts with hotels located close to the airport to accommodate stranded passengers. Think these hotels will even remotely resemble the cool, chic properties we normally highlight in this space? Yeah, not so much. During my bonus night in Martinique, I bedded down in a business hotel in a nondescript residential area just above Fort-de-France. The view was incredible. The hotel itself, not so much. I dare say I might've thought better of the place had I not just spent the previous two nights at the super swank Cap Est Lagoon Resort & Spa, Martinique's only five-star resort. I had been spoiled by Cap Est, but I wasn't going to let my hotel of convenience spoil my bonus night.
So yeah, you'll want to spend as little time in your hotel as possible. My suggestion…
2) Grab some dinner at Le Foyal.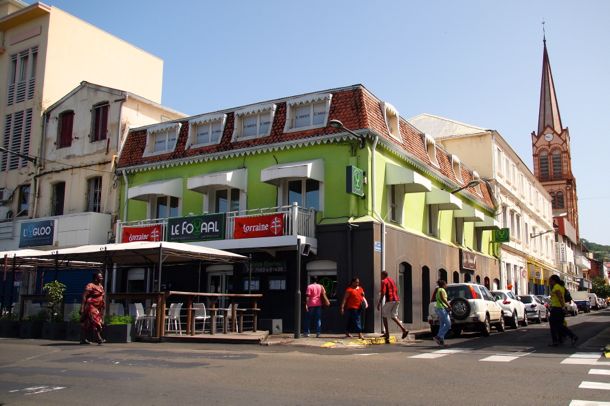 After hours of sitting around an airport terminal watching everyone else's flights come and go, then checking into a hotel you'd only ever stay at against your will, Le Foyal will seem like heaven. It's quite good under normal circumstances as well, especially if you like bar food, cold Biere Lorraine, and a decent selection of rhums. (Like this one, for instance.) It's also open on Sundays, a rarity among restaurants located in and around Fort-de-France that came in especially handy for me as that's the blessed day I happened to be stranded. The next best option was the McDonald's across the street, and I don't think they serve rhum there…
Anyway, a late-afternoon lunch at Le Foyal is a good start, but you won't want to head back to that hotel just yet. Next, you'll want to hop a cab a few miles north to one of Martinique's sexiest party spots…
3) Cure your stranded blues at Lili's Beach Bar.
About a 20-euro cab ride from Le Foyal, Lili's is everything that I thought it would be when I first shared what little I knew about it here. If you're sad about being stranded in Martinique, it's the kind of place that will soon make you forget those blues… though probably not at first.
Lili's is located along a small patch of beach within the grounds of the Hotel La Bateliere in Schoelcher, just north of Fort-de-France. The hotel is currently being re-developed into what will be the first U.S.-flagged hotel on Martinique in a generation. Outward appearances suggest that the work is moving along slowly, making La Bateliere the one hotel that made me glad to be staying where I was.
Lively Lili's, however, was a world apart from the decaying hotel. I arrived just as the sun was setting and a young crowd of locals started trickling in to catch some live music, strong drinks, and a smorgasbord of BBQ favorites that compelled another round of eats. Well, that and a few rounds of shrubb shots. Needless to say, by the time I got back to my hotel, I was good and ready to do about the only thing I'd recommend anyone do at any such airline-affiliated hotels: sleep.
When I woke up the next morning I was plenty happy to be just five minutes from the airport. Granted, it was all the nicer considering all the fun from the previous evening, but looking back on it now I don't think I would've wanted it any other way…
Related Posts