Jarritos Sodas – Viva The Naturally Sweet Sabor de Mexico
For my teenage sons and many of their friends, nothing pairs better with tacos than Jarritos. Not sure if the pairing quite rises to roti and a red levels, but it's certainly preferred by them. Mexico's #1 soft drink, and one of the top exports from our neighbors south of the border, Jarritos drink comes in a rainbow of fizzy fruit flavors. Soda lovers have 12 different Jarritos flavors to choose from in the United States! Only question is, are any of them any good?
Before we delve into the results of our recent taste test, let's explore all that's supposed to make Jarritos so especial…
History of El Jarrito
The story of Jarritos starts out in Mexico City. Specific location: the dining room table of chemist Don Franciso "El Güero" Hill. The year was 1950. The world was in the midst of a boundless age of invention.
Passenger jets, answering machines, videotape recorders, AA batteries, TV remotes, Mr. Potato Head – all were invented in the '50s.
(Editor's note: Seriously, Mr. Potato Head has come a LONG way since his earliest days…)
Vintage Original Mr and Mrs Potato Head commercial 1960's
Not sure if Don Francisco drew inspiration from any of this. Maybe he just liked sodas and thought he could improve upon those readily available in Mexico at the time. Or maybe he wanted to evolve Mexico's famous aguas frescas. Either way, his endless curiosity with the composition, structure, and properties of matter led him to fool around with soda flavors.
From the very beginning, Don Francisco was steadfast in his desire to create sodas that were 100% Mexican and all-natural. He insisted on using real sugar made in Mexico in the production of his sodas. (No corn syrup here.) El Güero's sodas were to be a source of national Mexican pride.
On August 29, 1950, Jarritos was born with the launch of its first soda! The flavor… Coffee?
Yeah, that one didn't go over so well. (You won't find coffee among the rainbow of Jarritos flavors these days.) Undaunted, Don Francisco switched gears, focusing instead on fruit flavors. You know, the kinds of colorfully fruity-sweet sodas most people like.
Even on this score, though, El Güero took an uncommon approach…
Funky Fruit Flavors
Unlike the typical fruit flavors put forth by other soda manufacturers (orange, cherry, grape, etc.), Don Francisco had to be different. As with the sugar, he insisted on using fruits grown exclusively in Mexico. The fruit flavors would be emblematic of his country!
The flavor he chose for his first Jarritos fruit soda… Tamarind?
Had El Güero turned El Loco? I wouldn't be surprised if friends and family around the Hill familia's dining room were thinking as much.
I mean, I like tamarind. For most people, though, it's an acquired taste. Way more sour than sweet, tamarind is about the last fruit flavor I'd ever dream could work in a soda.
Work it did, though, with Jarritos Tamarindo quickly becoming one of Mexico's most popular soft drinks. To this day I don't think I've ever seen, tasted, or even heard of another tamarind soda. That it worked and endures to this day really cements Don Francisco as a true pioneer in the soft drinks world.
He wasn't done innovating, though. In the wake of Jarritos Tamarindo's success, Don Francisco continued to experiment with citric acid and fruit flavors. Some were more atypical than others, of course. With his second release, Jarritos Mandarin, El Güero would strike gold.
Jarritos Mandarin and The Yucatan Secret
As with Jarritos Tamarindo, Don Francisco's mandarin soda was one-of-a-kind.
Had it ever been tried before? Maybe. If it had, it's no wonder no one (as far as I can tell) has tried to emulate it since. Jarritos Mandarin is just that good.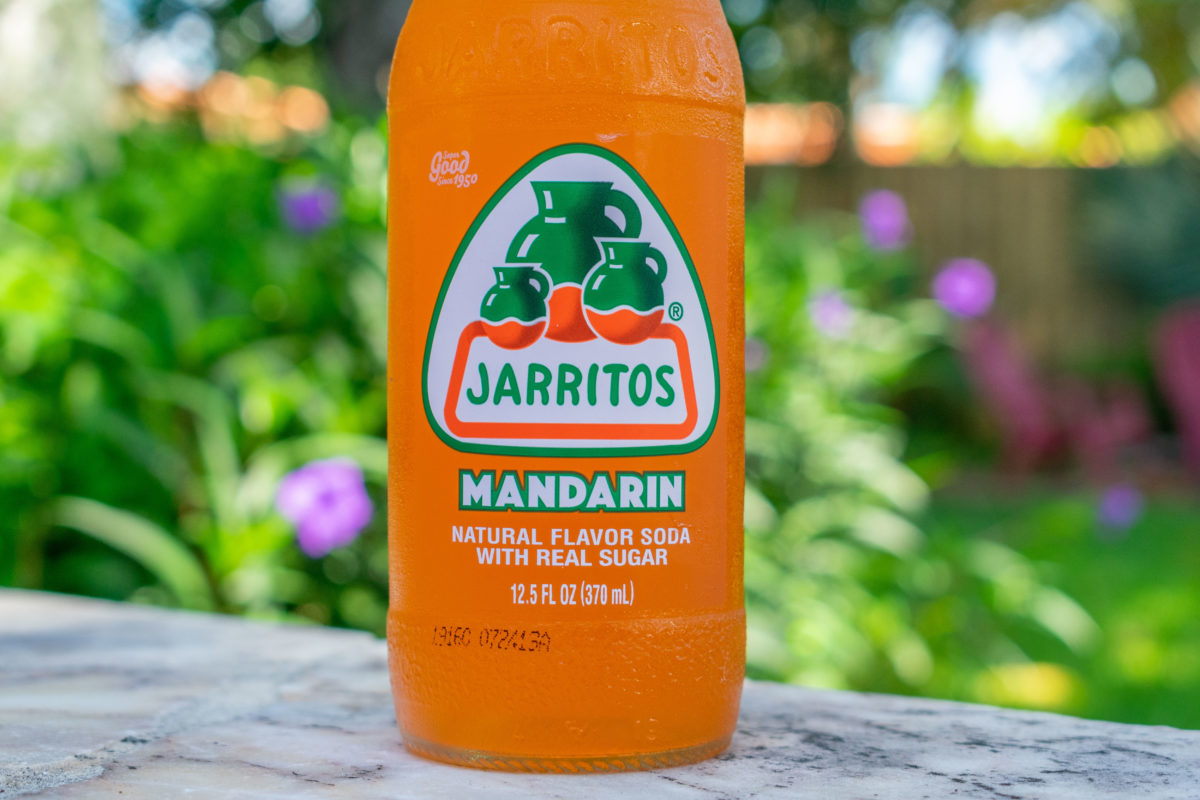 What makes it so good? In addition to Don Francisco's adherence to all-natural flavor (with some few additives like sodium benzoate as preservative), fine Mexican drinking water, and Mexican sugar, this particular soda benefits from a secret.
According to the company, Jarritos operates its very own mandarin groves somewhere in the Yucatan. The location: classified.
Why all the secrecy? Who knows, but if it makes people talk about your product, then I guess that's a good thing from a marketing perspective.
Mexico's National Soft Drink
People in Mexico did much more than talk about the original Jarritos, of course. Fueled in large part by the success of the new mandarin soda, the company expanded rapidly. By 1960, the iconic clear glass bottles filled with brightly-colored Mexican soda were available for purchase in 80% of Mexico!
You might also like: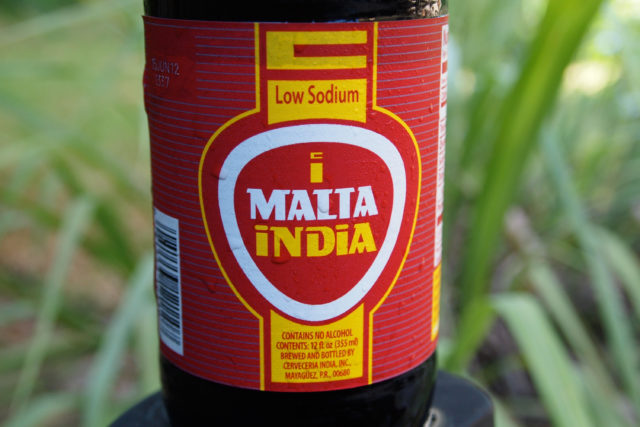 Malta India: Call Me Crazy But I Love This Puerto Rico Drink
Malta India non-alcoholic malt beverage drink has a rich, satisfying flavor when ice-cold, but it's an acquired taste not appreciated by all!
In just 10 years, founder Don Francisco had given his home country a new national soda.
Having conquered Mexican soft drinks, Jarritos then turned its sights on foreign markets. In 1988, the company started exporting bottles of Jarritos to the United States. Today, it is the top-selling Mexican product in the U.S. Hispanic market.
Additional countries would follow – Spain, Canada, Sweden, and Germany among them. Jarritos now carries the flag for Mexico around the world, almost always with its mandarin soda leading the way.
With its outrageously orange hue, Jarritos Mandarin is impossible to miss when you're scanning the cooler at your local Wawa or 7-Eleven for some cool carbonated refreshment. This may factor into it being the #1 most popular Jarritos flavor.
Or maybe it's the trace extra added amount of sugar in each bottle…
Mandarin packs a poquito mas natural sugar than the other three Jarritos flavors I sampled with my kids. (24 grams in the mandarin soda vs. 20 in the other flavors.) Probably not enough to make a huge difference in its addictive quality popularity, but truly the only real point of differentiation among the four bottles.
Well, that and the actual taste of the varying fruit flavors…
Jarritos Flavors Taste Test, Part 1
Twelve different Jarritos flavors may be available for sale across the U.S., but I could only find four near my home in Fort Lauderdale – mandarin (of course), tamarind, pineapple, and fruit punch.
Jarritos Mandarin – As advertised, we all really liked this mandarin-flavored orange soda. The carbonation was a little more dialed down than I expected, which is apparently another distinction shared by all Jarritos sodas. Light, refreshing, and not altogether overly sweet… Nice.
Jarritos Tamarind – I have to admit that I was a tad apprehensive about this tamarind treat. Overall, though, I found the flavor to be quite tasty. A bit processed, perhaps, but appealing nonetheless. Who knew I'd be a fan of tamarind soft drinks?
Jarritos Pineapple – This stuff surprised me. Pineapple sodas are never my favorite, but this one I rather quite enjoyed. Of the four it had the boldest flavor. Like the tamarind, not much of any of it smacked of all-natural, but it was delicious.
Jarritos Fruit Punch – Hmmm… What's that they say about not saying anything at all when you don't have something nice to say? Yeah, that sort of applies here. This makes me question my kids' choice in friends as they all seem to love this stuff. The tell-tale Jarritos low carbonation conspires with some overly sweet and seemingly artificial fruit flavors to make this fruit punch fall flat for me. (No offense, Lucas.)
My wife and teenage sons joined me in conducting this initial sugary study. You can be sure that we didn't all agree on these tasting notes, of course. This, however, is what's ultimately great about Jarritos. No matter what your tastes, if you like sodas, they're sure to make one that's right for you. Plus, they're fun, and as my kids like to say, they pair perfectly with tacos…
Jarritos and tacos Super Good together
Definitely look for Jarritos on your travels throughout Mexico. And don't worry if you can't make it south of the border since you can also find this soft drink from Mexico on store shelves around the world.
We'll share our tasting notes on additional Jarritos flavors – Jamaica, Mexican cola, Jarritos Grapefruit soda, Strawberry, Lime flavor, Guava, Mango, Watermelon, and Lemon Lime – as we sample them!
Jarritos Flavors Taste Test, Part 2
Lime and mango are the two newest Jarritos flavors I've managed to find on store shelves near me in Fort Lauderdale. Will either one become a fixture in my fridge…?
Jarritos Lime – I smelled candy immediately upon opening the bottle. The flavor, though, isn't overly sweet. The crisp citrus bite is nice, particularly on the finish. Like most lime sodas, it's light and thirst-quenching, though the high sugar quotient (28 grams) means you'll want to enjoy these responsibly.
Jarritos Mango – Sweet, sweet, SWEET! With 35 grams of sugar, this mango soda is the candiest of the Jarritos sodas I've sampled thus far. It wasn't to the point that my teeth ached as I drank it, though. The mango flavor was nice, if not 100% natural. A flat, somewhat bland finish, though, left me a bit underwhelmed with this one.
Six Jarritos flavors down, many more to go! Stay tuned for new taste tests in the near future!
Related Posts