On-Site Mexico: Where Swingers Have More Fun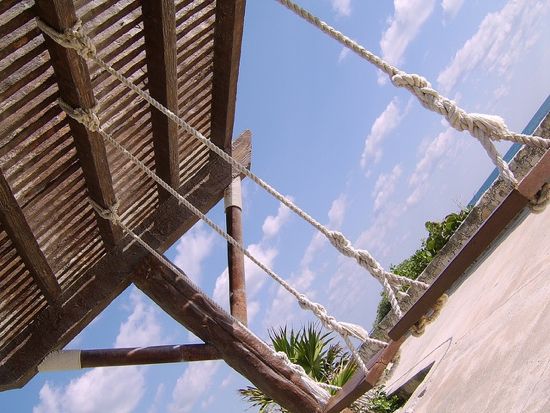 Martinique, Nevis, Tobago, Grenada… I travel to uncommon destinations as a matter of course, both for business and pleasure. With all the amazingly off-the-beaten-path places I frequent, you might guess that my honeymoon destination of choice was some completely remote private island, or a secluded romantic villa high in the verdant hills of a sultry rainforest. I would've thought so too, but a cat-4 hurricane named Lenny scuttled my original plans to start married life in St. John.
Lenny didn't actually hit the island, but just a couple weeks ahead of my late-November wedding date it looked like it would. So, we had to scramble and come up with a new destination. Somewhere exotic. Somewhere unique. Somewhere like…
Cancun?
This brings to mind a good tip: when planning your vacation getaway during hurricane season, always have a good back-up plan. It's just not that easy to throw together an amazingly uncommon and romantic adventure for two on short notice, much less a scant few days left before the biggest day of your life.
So yeah, we took the easy way out, but it's not a decision I regret. Cancun and the rest of the surrounding Quintana Roo area can be cool, especially if you're not staying in the main Zona Hotelera.
We stayed at the Moon Palace, which had recently opened at the time. The resort is located just south of the city, so you're not hostage to the crazy party scene, but you're still close enough to be able to enjoy it if you so choose. You're also a shade closer toPlaya del Carmen, another major party spot in Quintana Roo. My top choice destination in the area, sleepy and secluded Tulum, is about two hours down the road.
No matter where you roam in Quintana Roo, you're bound to encounter one of my all-time favorite things: swings!
Back in elementary school, I was one of those kids who would swing all day, continually pushing the laws of physics in a futile attempt to make a full 360° loop. The swings I've encountered on trips to this part of Mexico probably could not support the vigorous swinging of my youth, but they're perfect for hanging out and relaxing at various scenic spots, like the seaside cliffs at the Blue Tulum Resort pictured above. They also sub nicely for traditional bar stools at many of the area's watering holes. Even the pool bar at Moon Palace had 'em back then, creating many obvious "swinger" jokes between us and the other couples we met during our honeymoon.
Missing out on St. John was a bummer, but starting our married life together as swingers in Mexico was still a lot of fun. After all, it was our honeymoon, so I'm not sure how much of St. John's uncommon pursuits and attractions outside of our bedroom we would've enjoyed anyway…
Related Posts