Pelican Cay, Middle Caicos: Make Your Next Swim an Adventure
While our experience adventuring out to Pelican Cay was without incident, that's sadly not always the case.
The 2019 drowning of three persons here
serves as a reminder to us all to always practice extreme caution in and around the secluded environs we all love so much.
I am NOT doing that!
If you're a married guy predisposed to adventure and shenanigans, then no doubt your wife has hurled such a declaration in your general direction more than a time or two. Personally, I get a little offended if my wife doesn't say something along these lines at least two or three times during our travels.
And so it was with mischievous glee that I asked for a second time that the wife join me in skirting the seas of Bambarra Bay, from the beach to Pelican Cay. (The first time, of course, I was met with the exclamation above.)
We had strayed as far south in Middle Caicos from our sweet surrounds at the all-new Empyrean Villas as we'd go on our mid-summer family escape. To this point the day had seen us beach-hopping, exploring the cliffs and caves at Mudjin Harbour, and marveling at the scenery along the overseas roadway connecting North and Middle Caicos. This would be the ultimate adventure for our trip, I thought. I can understand, though, if you're not all that impressed.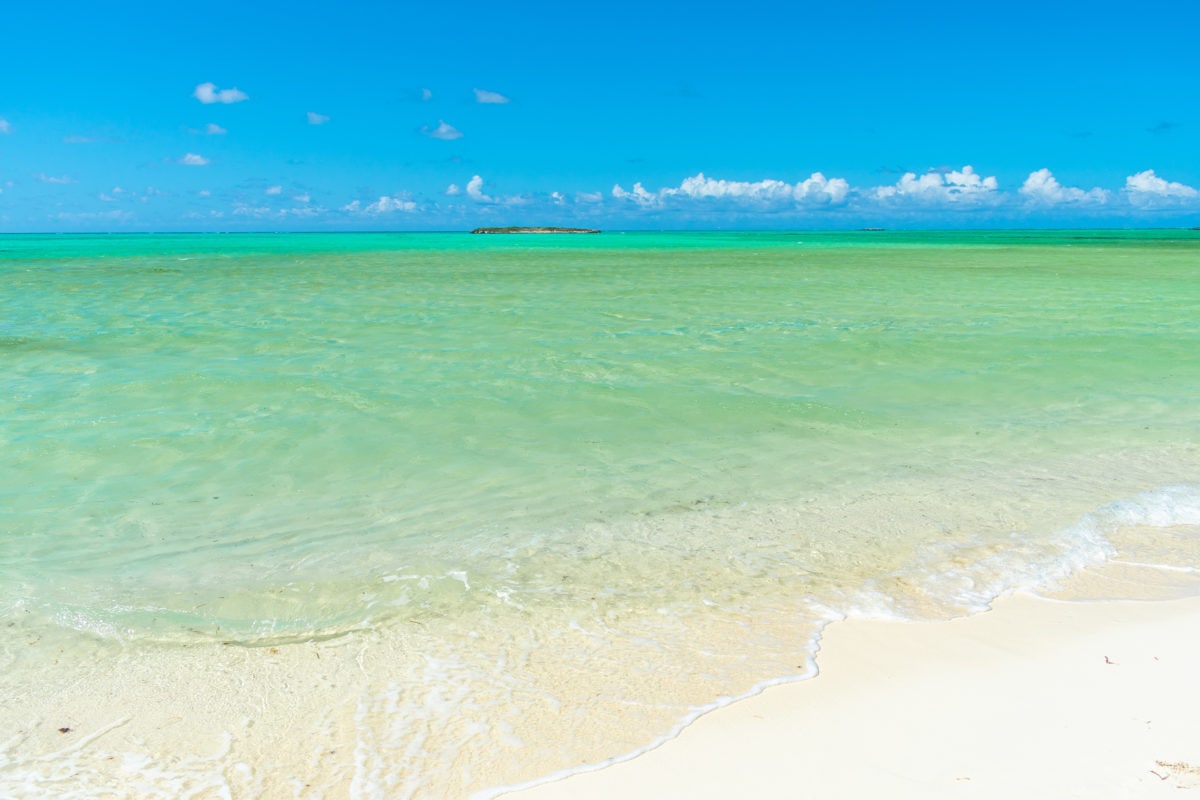 Further Than It Seems…
Granted, in pictures and even at first sight, this adventure looks more Mickey Mouse than MacGyver. In reality, though, it's not that easy.
The difficulty lies in the distance. Pelican Cay appears much closer to the shore than it actually is, or rather feels like it should be.
We should turn back.
So said the wife at about the halfway point. I'd be lying if I said that a small voice inside my head wasn't suggesting the same.
Looking over our shoulder, the beach seemed pretty far away.
The islet, though, didn't really seem to be getting as close as we thought it should be.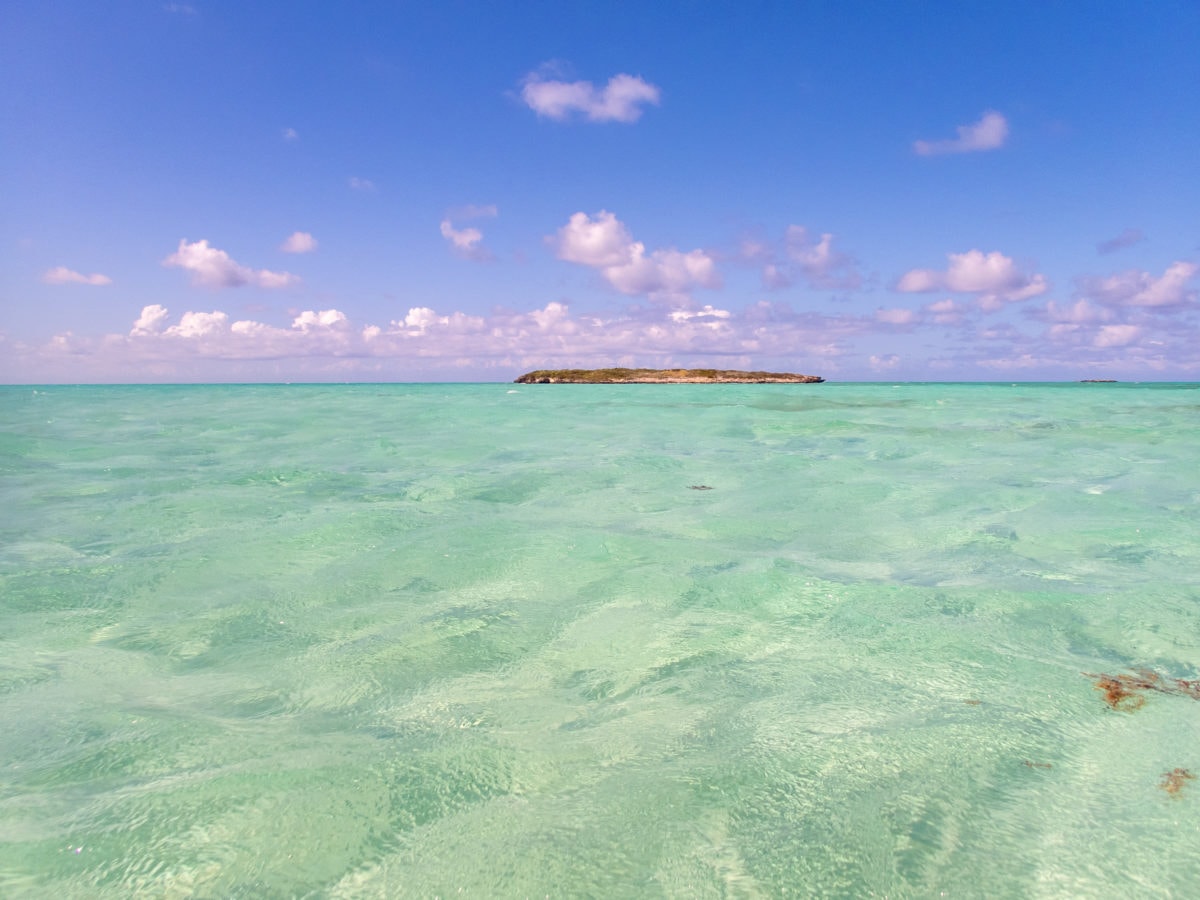 Pelican Cay Mirage
It was like we were on a treadmill, of sorts. Or maybe some giant kept moving Pelican Cay further away from us as we trudged along.
The mirage sensation was in part created by the onshore current at Bambarra. It wasn't rough with strong swells, like the ones at nearby Mudjin Harbour. Instead the current was steady and smooth, growing persistently stronger the further you go out.
At the same time, though, the water between the beach and Pelican Cay isn't deep. This meant that we could stand up to catch our breath from swimming, as needed, with ease.
Are there sharks out here?
I pretended not to hear that last question as we finally arrived in the shadow of Pelican Cay.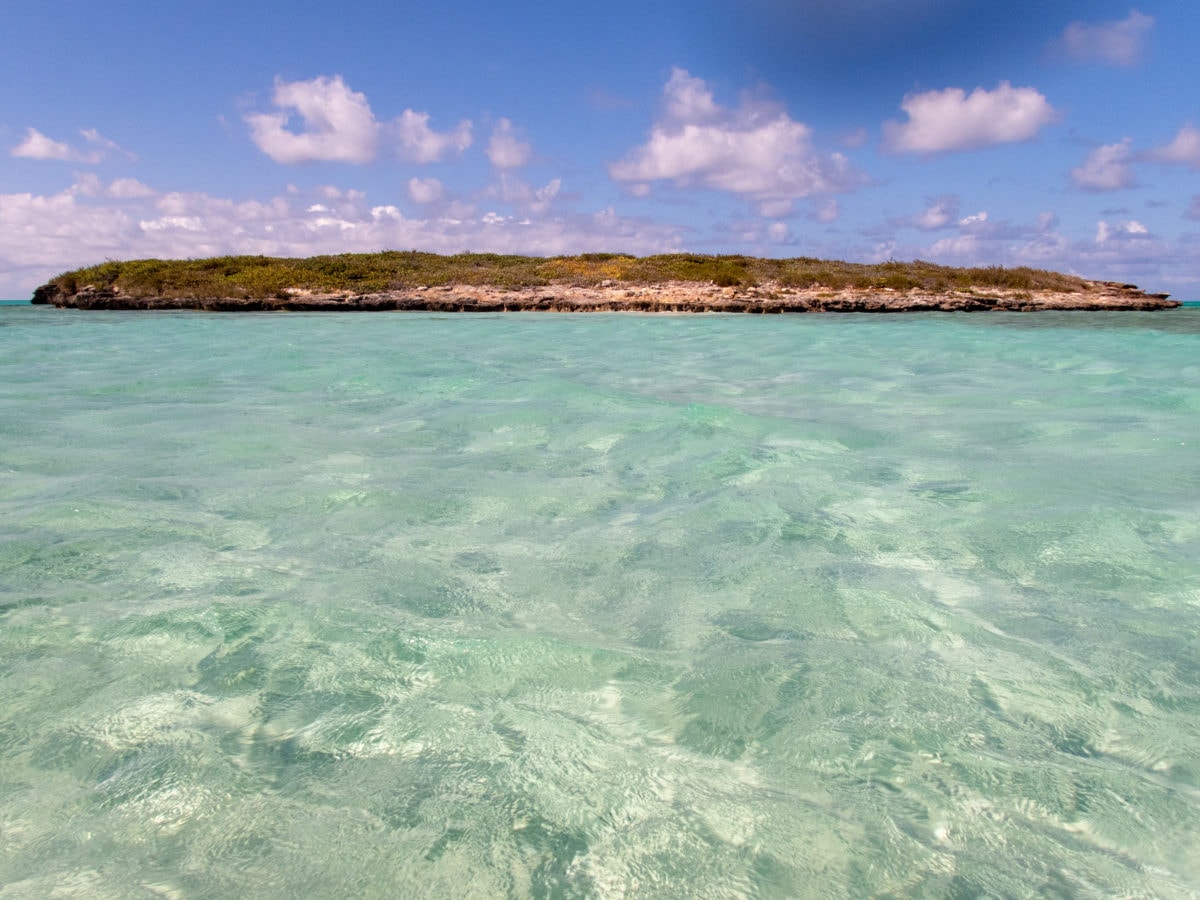 Climbing Ashore Pelican Cay
From here it was one final push through the shallows, taking care to avoid the rocks, before finally, carefully, climbing ashore.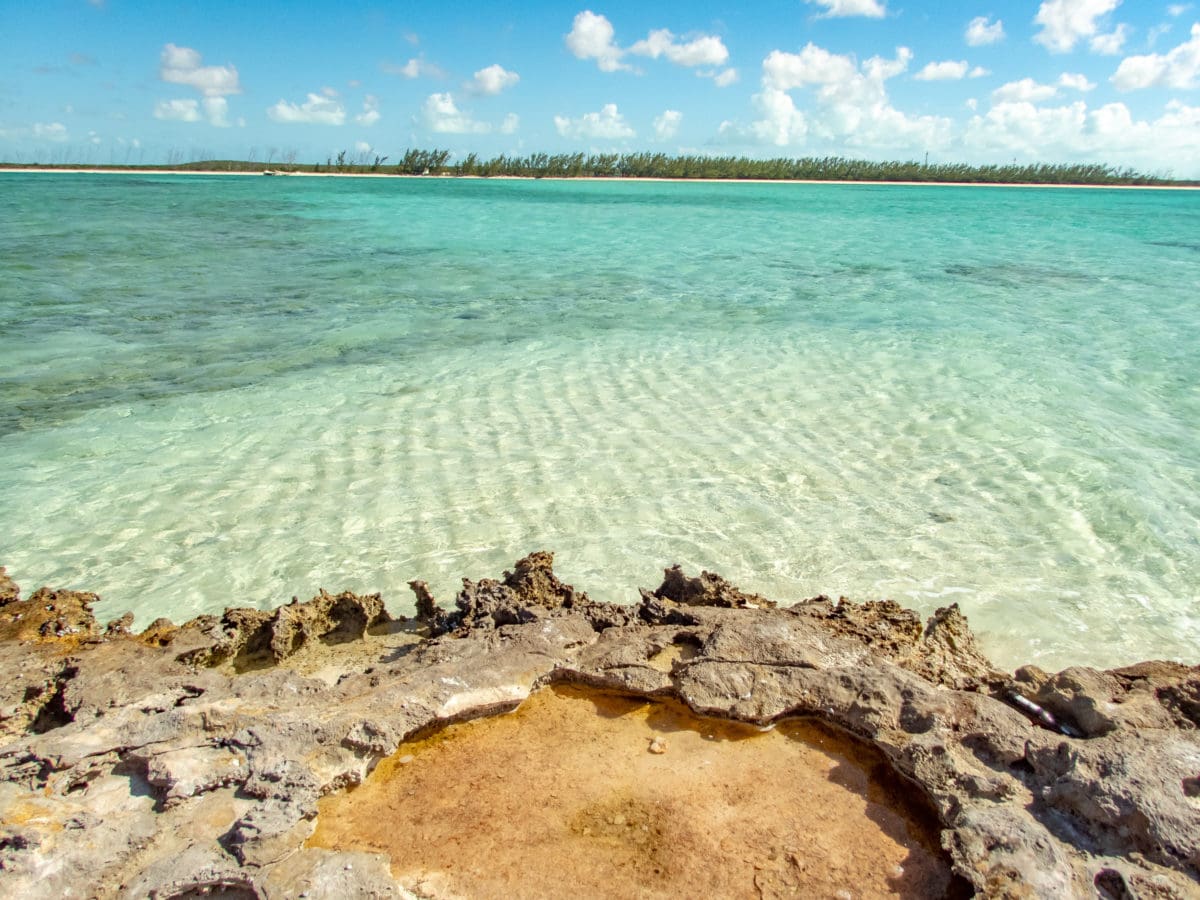 We were tired and could hardly make out our teenage boys back onshore from among the soaring Casuarina trees that line the beach at Bambarra. Seeing the full stretch of the sandy shoreline from here, though, proved well worth the effort.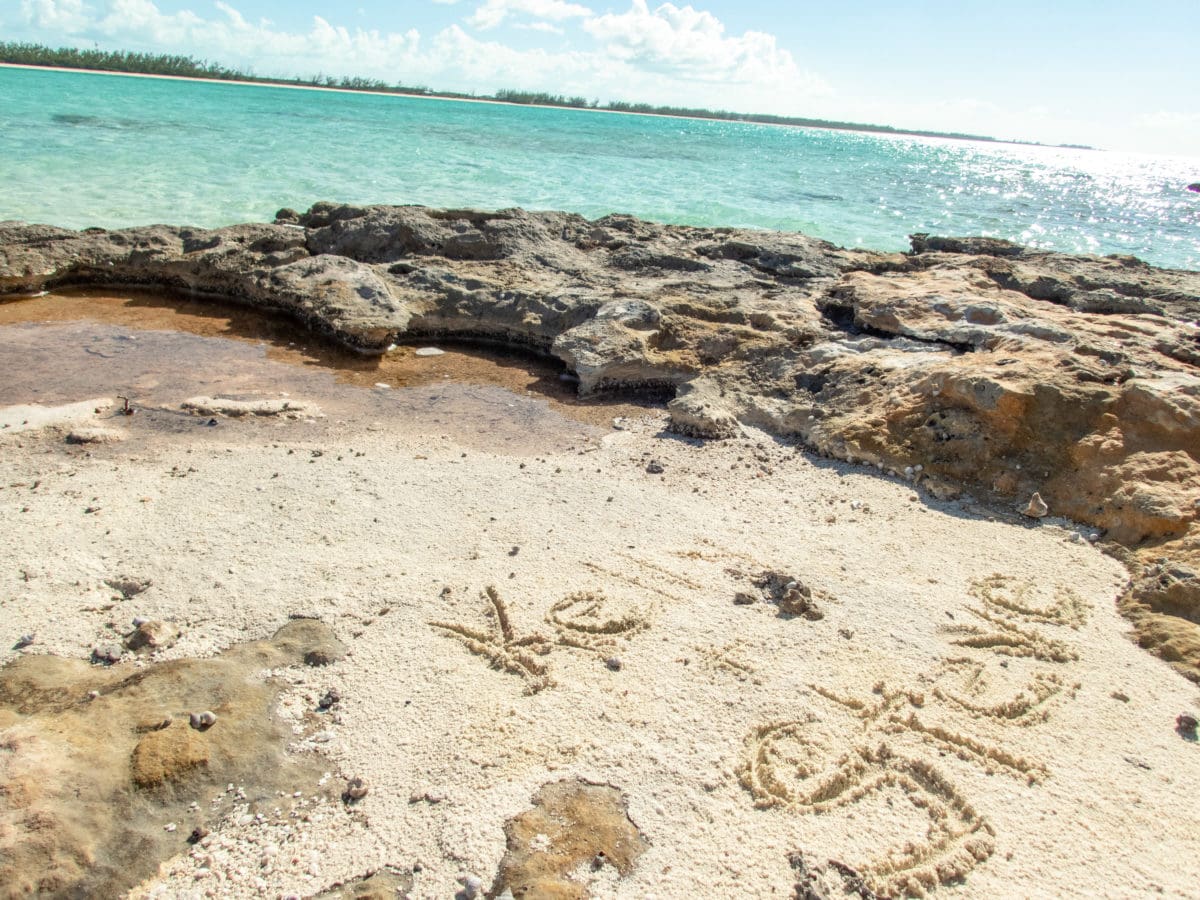 If you're staying at Empyrean Villas in North Caicos (and I highly recommend that you do), venturing to Bambarra Beach and Middle Caicos presents a great day of exploring and beach fun for the whole family. The broad, shallow bay is absolutely ideal for young and/or inexperienced swimmers. The Casuarina trees provide plenty of shade as well. Cool off here after exploring the Conch Bar Bat Caves or enjoying lunch at Mudjin Harbour and truly you won't be disappointed.
Oh, and please note: the actual distance from the shore to Pelican Cay is about a half-mile. And no, we didn't encounter any sharks…
Happy adventuring!
Related Posts