Barton Bay, Montserrat – The Caribbean's Most Uncommon Beach
There are countless beaches in the Caribbean. I've visited hundreds of them; maybe even a thousand, or more. None, though, provide as unique a beach experience as Barton Bay in Montserrat.
Where is Barton Bay?
You won't find this beach listed on too many maps, a fact that automatically speaks to its uncommon nature.
(Search Google Maps. Seriously, it's not there.)
To get to these shores, you must trek to Bransby Point, a small promontory jutting out into the Caribbean Sea. While standing on the Point facing the sea, look off to your left. That beautiful stretch of ebony volcanic sand below is what you're looking for.
Beachin' Beneath an Active Volcano
Notably, Barton Bay lies just (and I do mean just) outside of Zone V. As we noted in a previous story outlining how safe it is to visit Montserrat despite the island being home to the Caribbean's only visible active volcano, Zone V is the area most potentially at-risk to volcanic activity stemming from the Soufrière Hills volcano.
This, of course, makes Barton the closest beach to an active volcano that you can enjoy without restrictions anywhere in the Caribbean. Great views of Soufrière Hills smoking in the distance aren't the only draws here, though.
Exploring Bransby Point
Bransby Point itself offers its own special thrills and curiosities. Tread carefully out toward the tip of the point and revel as the salt spray from waves crashing on the rocks rises to meet you.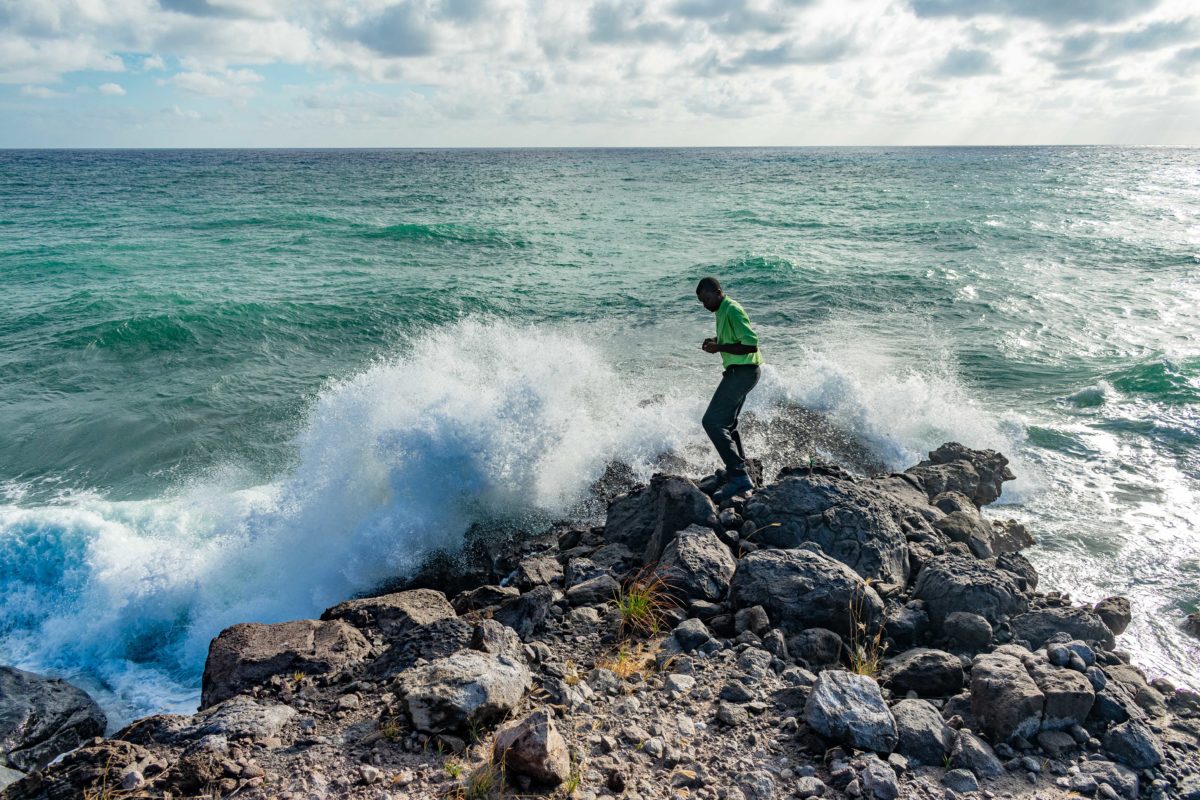 Further back atop the point, a low arcing stone wall armed with ancient cannons hint at an old British fort that once dominated the headland.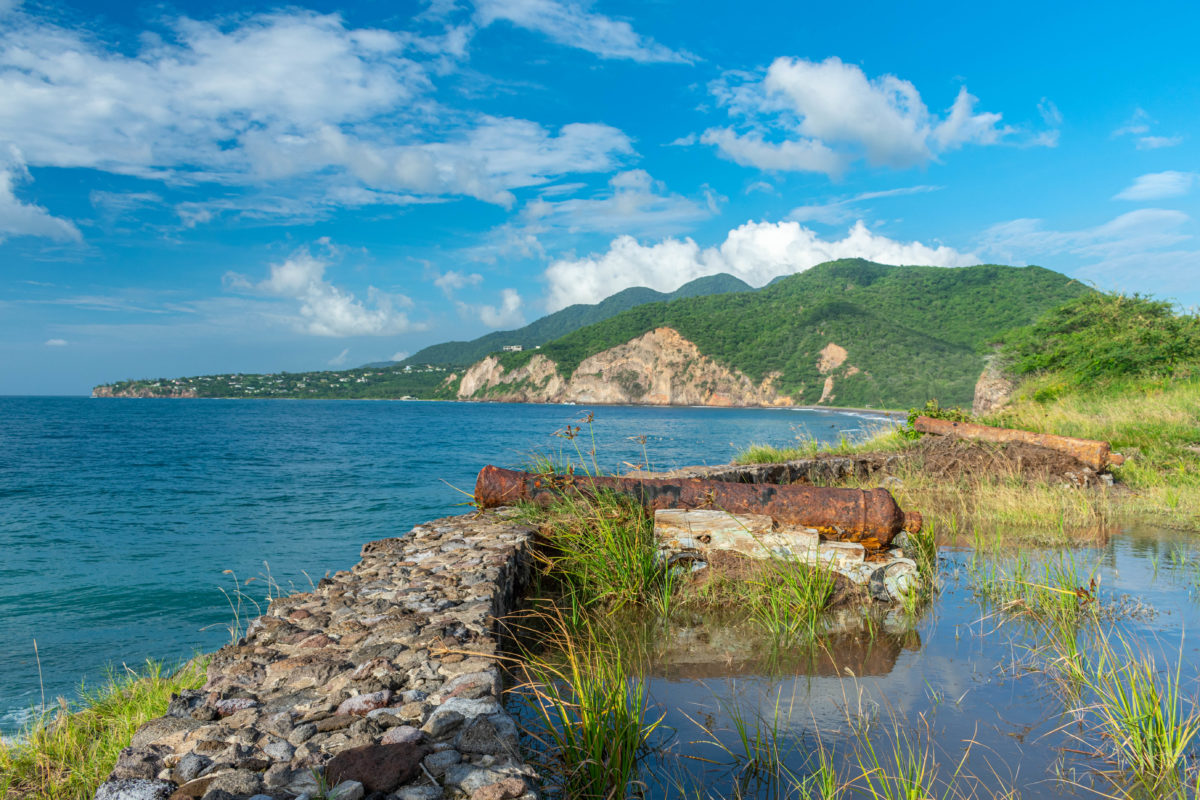 The area, which remained wild and overgrown for years, was just recently cleared, revealing this valuable piece of Montserratian history.
Montserrat Natural Arch
Beneath the Point, a natural arch strikes a dramatic pose amid the pounding surf.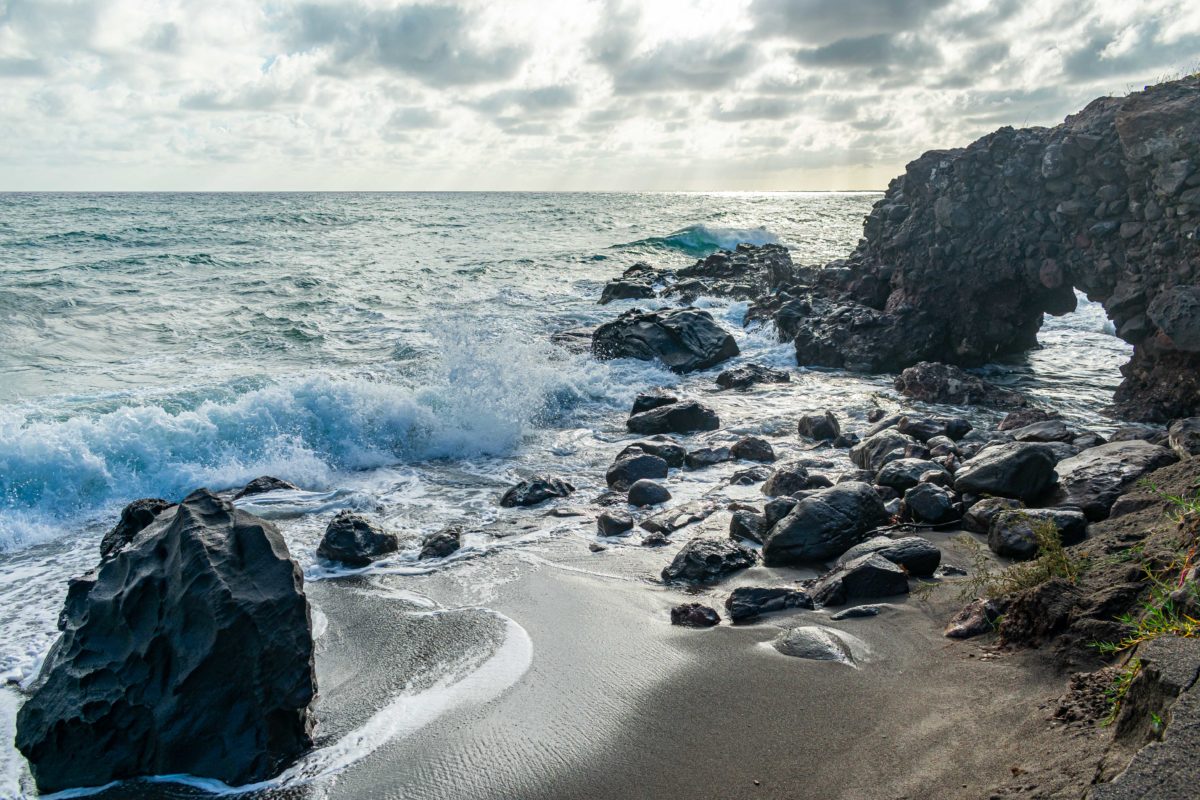 See the rock at right in the photo? To me it almost looks like it could've been blasted from the base of the headland, creating the arch present there today.
A little further south down the beach, there also once existed a geothermal wonder: the Montserrat Hot Water Pond. The small body of water, heated from volcanic fissures stretching beneath the island, once laid just behind the sand here. Volcanic ash stemming from the late-1990s eruptions of Soufrière Hills covered the Hot Water Pond years ago, though efforts are currently being undertaken to restore it.
Swimming at Barton Bay
Sadly, we didn't get a chance to take a dip in the waters here, though we definitely would've if we had more time. The water was a little rough, so small and/or novice swimmers will likely want to jump in elsewhere. (Woodlands Beach and Little Bay offer much calmer seas.)
The waves were not quite bodysurfing quality, but they appeared plenty fun for an afternoon of bobbing around, something I surely won't miss next time.
(Note: As elsewhere across Montserrat Island, there are no lifeguards at Barton Bay. Any and all swimming here should be enjoyed with reasonable caution for tides, surf, rocks, etc.)
For such a small stretch of sand, there's a lot to discover, marvel at, and enjoy at Barton Bay Beach.
Truly, in all of the Caribbean, there's no other beach quite like it.
For more on how best to travel to and enjoy visiting our Volcano Paradise, Montserrat Island, be sure to check out our Montserrat Travel Guide.
Related Posts