I'm Running Around an Active Volcano… What are You Doing for Thanksgiving?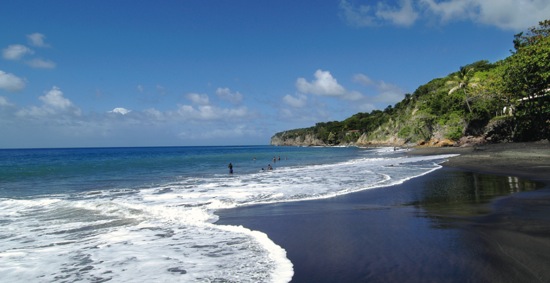 Editor's note: A couple weeks ago, Patrick shared a post on how his training is coming along, err, not coming along for the upcoming Montserrat Half Marathon. Today, we have an update from Patrick's running mate, Dave Keener….
It's true. This Thanksgiving, there will be an empty chair at my Uncle Tom's house in Morris County, New Jersey. My friend Patrick and I will be on our way to the island of Montserrat to take part in the 2nd annual Volcano Half-Marathon.
I love telling people here in New York that I'm running a half-marathon in Montserrat. First, there is the look of admiration, realizing they stand before a real man of adventure in an age with so few heroes. Then, there is confusion, as they consider whether to admit they have no idea where Monstserrat is.
I didn't know where Montserrat was either, and I certainly hadn't considered it as a vacation destination. My favorite vacations have been to our state and national parks here in the U.S. – hiking, paddling and riding in places like Utah's Arches and Capitol Reef, Monument Valley, Acadia in Maine, the Black Hills and Badlands of South Dakota, the Florida Everglades, and Canada's Cape Breton Highlands. All I knew about Montserrat was that the Beatles producer George Martin had a studio there. But when Patrick asked me to join him, I said yes right away. An active vacation on an active volcano? Sign me up. If the volcano erupts, I'm already in my running gear.
Over the past month, I must admit I have taken the term half-marathon as an excuse to half-train. But this week, I ran 10 miles around Prospect Park. So, I am confident that I will finish the race. Now I'm just wondering whether Patrick will be running with me. When I first heard about his injury, I confess I felt abandoned. Then I remembered that Patrick's going to abandon me at the crack of the starting gun. The next time I'd see him, he'd probably be behind a glass of rum at the finish line. If there's a glass for me, all will be forgiven.
With just a few short days remaining before Patrick and Dave set off on their Montserrat adventure, many questions remain… Will Patrick actually run? Will Dave complete the course? Will the volcano spur them to achieve world record times? Is the rum in Montserrat any good? We'll be sure to share the answers as we have 'em!
Related Posts