Reasoning with the Mysterious Montserrat Rootsman
There's a special kind of intimacy that's inherent to uncommon travel. Everything we do, after all, is rooted in meeting amazing people. We vibe with them, and in turn, uncover easy avenues for you to enjoy authentic Caribbean travel experiences. This intimacy is deep; disarming. So much so that the fast friends I make along my travels sometimes share more with me than I imagine they might otherwise. Then there are people we meet like the Montserrat Rootsman. People who share a lot, while revealing very little.
Mystery (Rasta)man
Some know him as Murphy. That, however, is not his real name.
From a youth, maybe about seven or eight, I give meself the name Murphy. I had a little white hat… It mark 'Murphy Paint' on the hat… The name stick up to now.
Some know his bush rum, a bombastic blend of strong booze and natural herbs cultivated by the Montserrat Rootsman himself. Like its purveyor, though, the exact ingredients of the Rootsman's bush rum are a mystery.
If you hear a little part of my history, you'll never believe…
Everyone in Montserrat knows his place: Rootsman Beach Bar.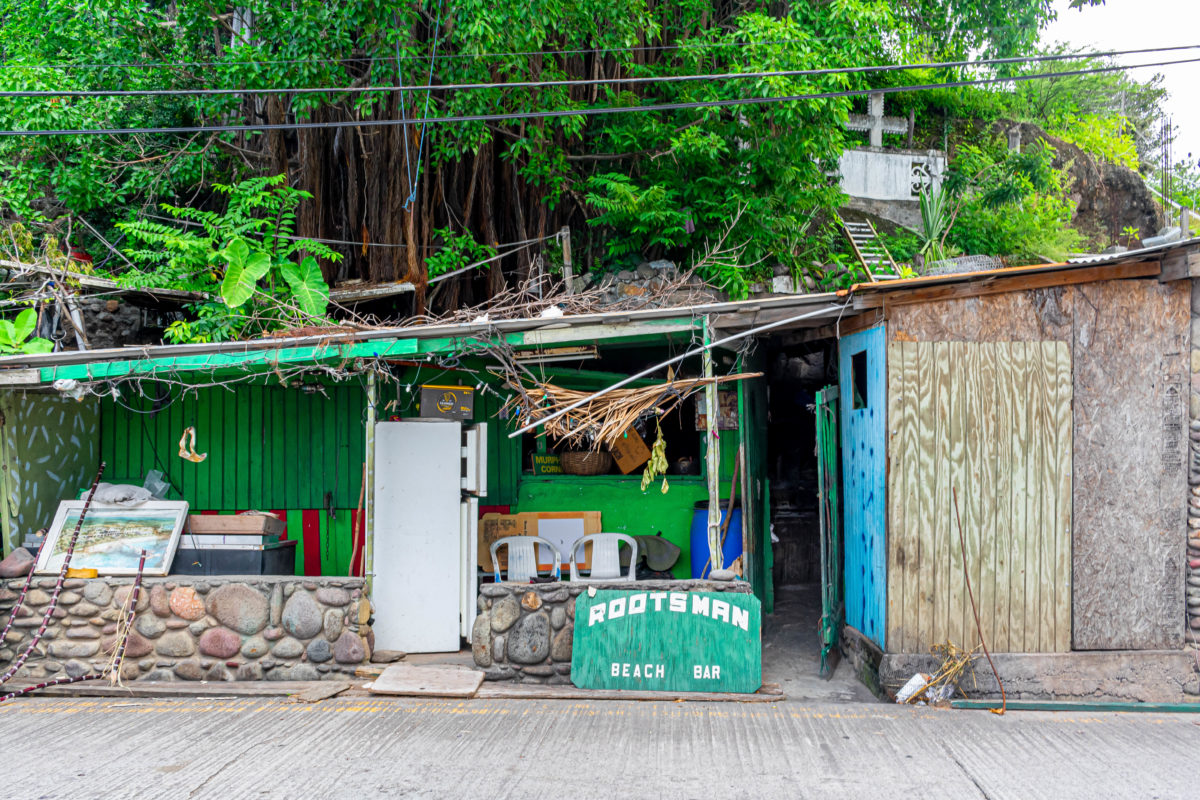 Ideal (Perhaps Overly So) Location
The beach bar is equal parts bar, grill, organic garden, and private home. I should also note, though, that it's technically not on any beach.
Its location – the intersection of Brades Road, Davey Hill Road, and Robert W. Griffith Drive – is directly across the street from the sands of Carr's Bay. This, of course, makes Rootsman Beach Bar impossible to miss.
As noted previously, Carr's Bay serves as a veritable "hot spot" in overwhelmingly quiet Montserrat. The sights, smells, and sounds here espouse the essence of the real West Indies in ways both good and…well, not so much.
Outward appearances suggest that the Rootsman Beach Bar might occupy the latter category. It would be stretching things a bit to call it ramshackle. At the same time, though, I wouldn't feel good about labeling any man's home a dump.
Let's just say that it oozes the type of character that would scare the pants off of Mr. Clean.
Why Visit Rootsman Beach Bar
So, what drew me to the Montserrat Rootsman..?
Well, aside from what I'd heard about his legendary bush rum, I was also intrigued by the man and what I'd heard about his "unbelievable" history.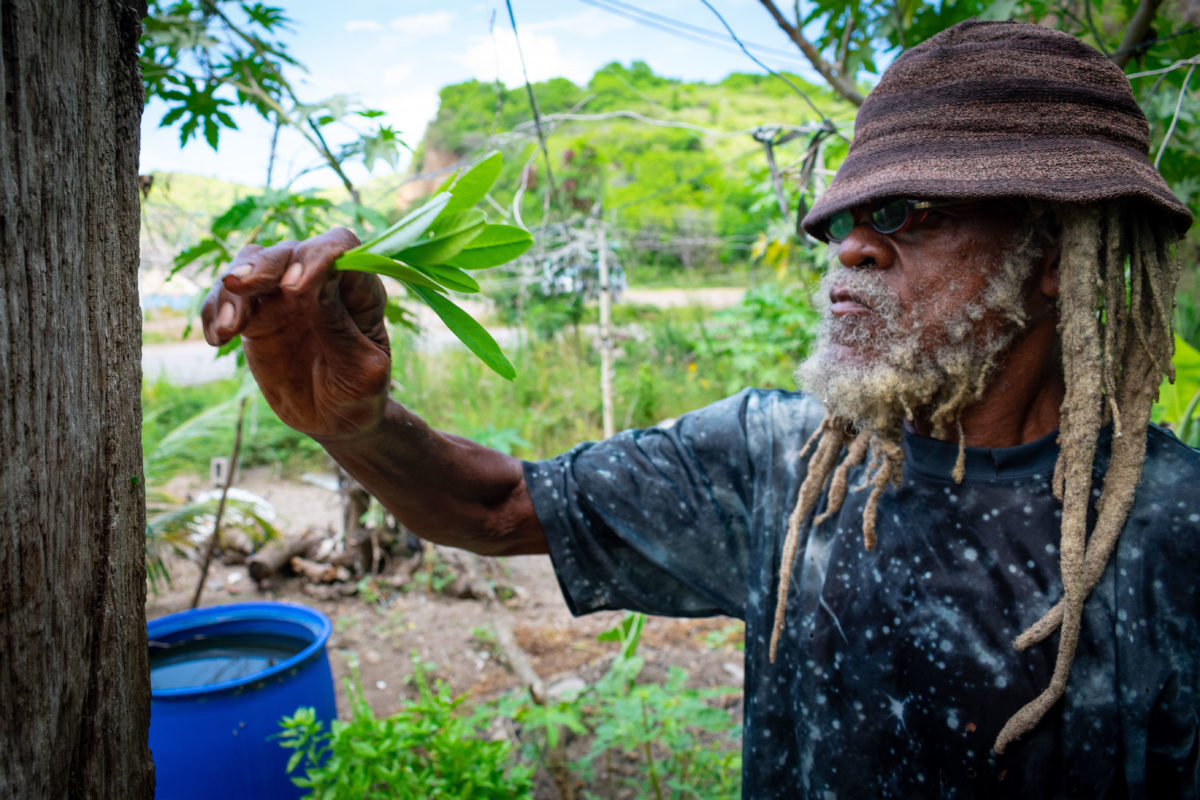 Lime in Carr's Bay for even a brief spell, and you're bound to pick up some melee about "Murphy." Most of what I heard centered on his home/beach bar, its absolutely ideal location for tourism development, and an apparent push by local powers that be to take full advantage of its potential. A push so strong, in fact, that it's said that the Montserrat Government had already built a "big house" for him to move into. A move that would pave the way for developers to take over the Rootsman Beach Bar site.
He disputed none of it, intermittently grousing about the supposed development plans, boasting about the two daughters he raised right there by himself, and sharing bites of some of the most incredible smoked fish I've ever tasted.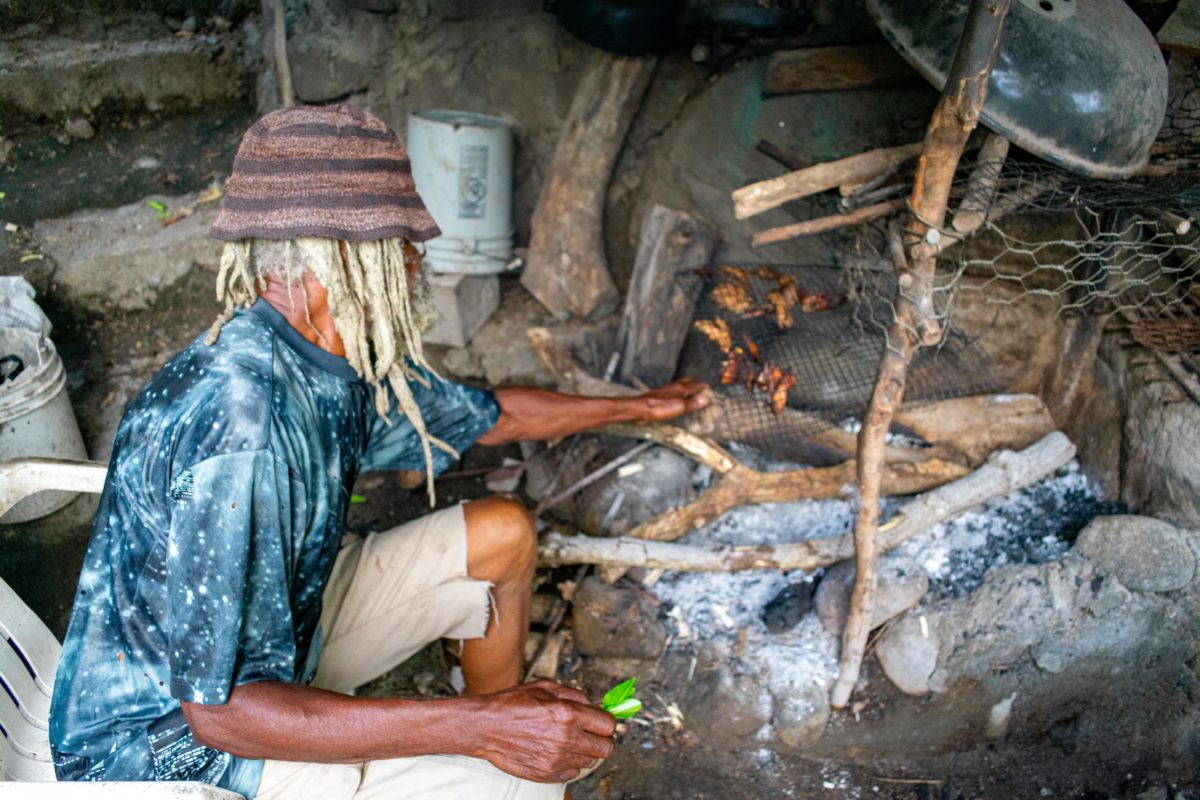 His BBQ: a makeshift mishmash of wire and wood over homemade charcoal. His cooking tools: his hands.
Improvised. Old school. Incredible.
You going to run me outta here and bring somebody else to do business… And I do what?
He was pushing 78 years-old when we met in September 2019. Forty-four of those years he'd invested in building Rootsman Beach Bar into what it is today.
To be sure, what that it actually is would likely not appeal to most visitors to Montserrat. (It was borderline for even me!) At the same time, though, it's interesting to consider who gets to decide…and who ultimately may not.
If You Go…
Rootsman Beach Bar is located in Carr's Bay at what is arguably the busiest intersection in all of Montserrat. If you go, definitely try the bush rum and enjoy bussin' a lime with one of the island's most interesting characters.
Related Posts