Shericka's Pig Tail and Chicken Saturday Soup, Montserrat
Saturday Soup is as time-honored, savory, and delicious a culinary tradition as we have in the Caribbean. This may seem a little odd to those from colder climes. I mean, it's already hot outside most of the time, most everywhere in our islands. How is it that a warm bowl of soup became the preferred meal of choice for scorching Saturday afternoons? For answers, I turned to Shericka.
We met on a Saturday in late-September. The time: three minutes past 12PM. I was in the midst of exploring the colorful surrounds and characters of Carr's Bay.
Carr's Bay, The Times Square of Montserrat
If you truly love the sights, sounds, smells, and flavors of the real West Indies, and you don't know Carr's Bay, well… you should. The confluence of roadways, rum shops, ramshackle food stands, and scenic seascapes here make Carr's Bay a prime limin' spot in Montserrat.
(A small cemetery astride one of the rum shops gives added meaning to raising spirits.)
Dominoes slam down here all day and well into the night. Booming laughs burst out frequently above a bass-heavy soundtrack of soca and reggae. Most every car that passes honks "hello," each mechanical missive returned with a shout of acknowledgement.
It all plays out amidst a tangle of tropical fruit trees – mostly mango, tamarind, breadfruit, papaya – each adjusting the general aromatics according to their seasonal fruit cycles.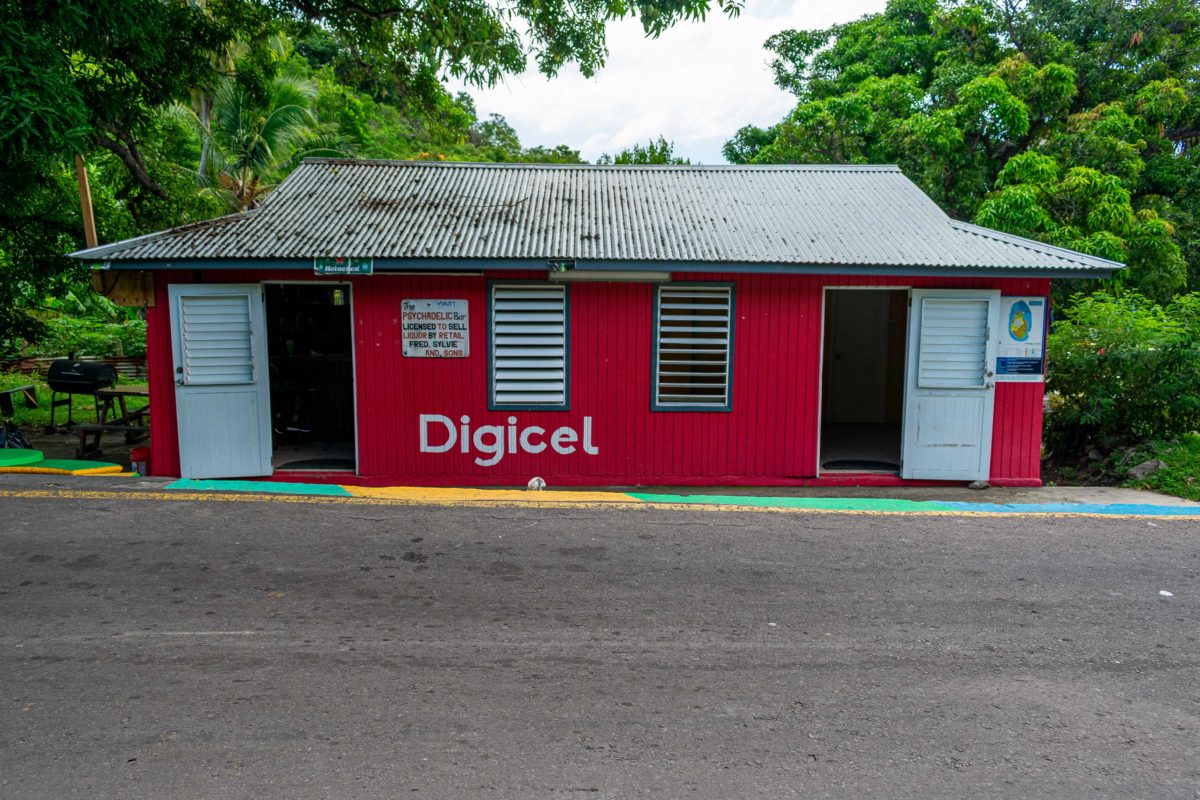 To be sure, Carr's Bay is alive with the true spirit of the Caribbean, and vibrantly so. It's fitting, then, that Shericka makes her magic here each and every weekend.
Sweet Shericka from Jamaica
Originally from Jamaica, Shericka has made herself into a fixture of the local food scene in Montserrat in recent years. The absolutely enticing smell of her Saturday Soup cooking over a traditional coal pot drew me to her.
Remember, it was just after noon. My belly was growling. The smell of the soup triggered long-ago memories of my mom's Trini-style Saturday Soup from my youth. But, how could I be sure that Shericka's soup was worth a try?
People come from like 8:00. They come and eat and they go. And when they get hungry again, they come from up the road and come back.
This twice-a-Saturday habit, Shericka told me, was typical of her customers. How could I refuse!
A Taste of Shericka's Pig Tail and Chicken Saturday Soup
Shericka's version of Saturday Soup is built on a base of pig tail and chicken. There are LOTS of ground provisions and savory spices in there as well. The consistency is thick, filling, and supremely satisfying.
Shericka's pig tail and chicken Saturday Soup is also very affordable. The large portion goes for only EC$15. The small is just EC$10.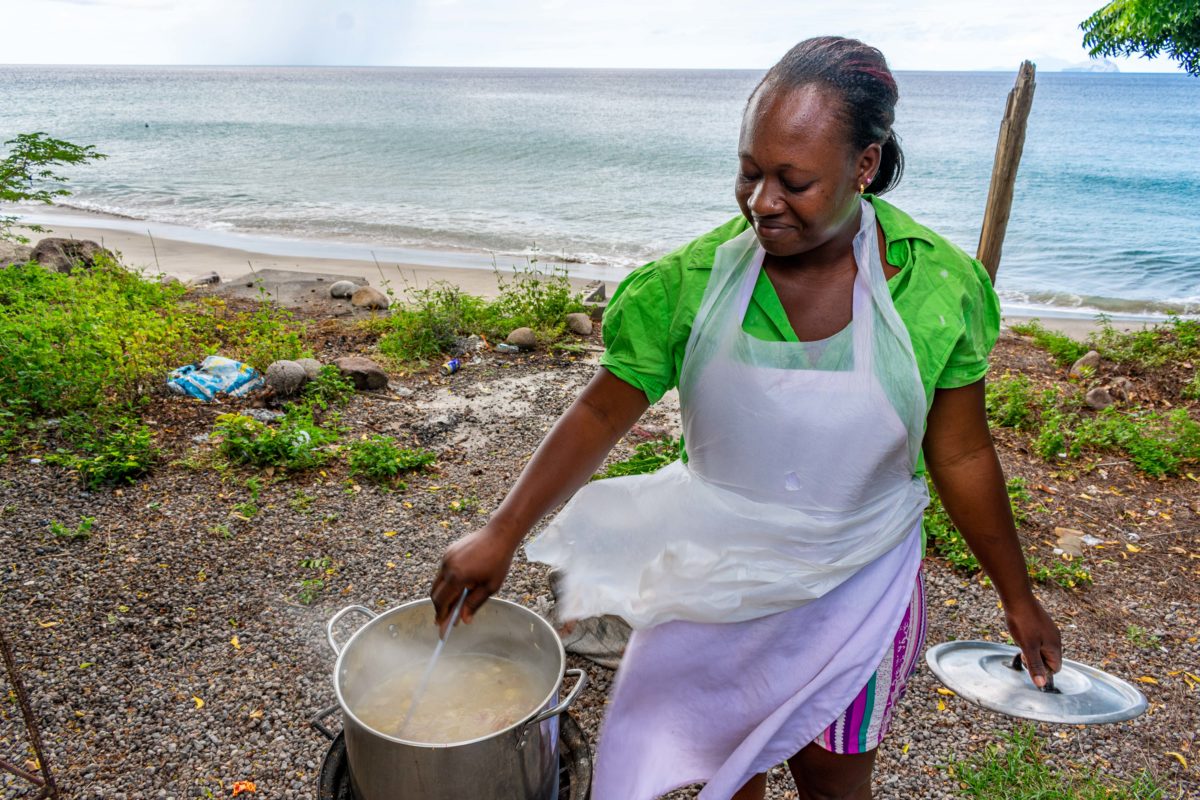 Nice price and amazing taste aside, though, I have a feeling that a lot of Shericka's customers visit her twice each Saturday because she's so sweet. Limin and chatting with her was easily among the highlights of my fall 2019 visit to Montserrat.
Her "kitchen" right along the shore in Carr's Bay isn't too shabby either.
Indeed, I could easily see myself making multiple trips to savor Shericka's amazing soup when next I'm in Montserrat. At the very least, I have to return to discuss the origins of Saturday Soup with her. Yeah, in all the euphoria of meeting her, sampling her soup, and soaking in the amazing Carr's Bay atmosphere, I forgot to ask Shericka about the tradition as it came to be in Jamaica.
Oh well, just another great reason to return to Montserrat soon…
If You Go…
While Shericka is famous for her Saturday Soup, she also makes and sells additional West Indian fare on Fridays as well. She sets up and gets to cooking at 8am on both days, continuing into the afternoon. Her spot on the beach in Carr's Bay directly across from the Roots Man Beach Bar is impossible to miss.
Related Posts