Compass Point Resort – The Uncommonly Cool Place To Stay in Nassau
For anyone traveling to Nassau, the prospect of finding accommodations at the type of special hotels that cater to our special style of travel can be daunting to say the least. The place is just so synonymous with humongous, one-size-fits-all resorts that it's easy to think you might be better off somewhere else. That thinking, however, would be wrong. Compass Point Resort is why.
Compass Point Origins
The first time I visited Compass Point was also the resort's grand opening in September 1995. It was my first time in Nassau. I was staying at one of the ritzy resorts on Cable Beach for a big tourism industry conference. As those types of business trips go, I guess it was okay. I can't say, though, that I remember anything else about it but the few hours I spent at this very special hotel.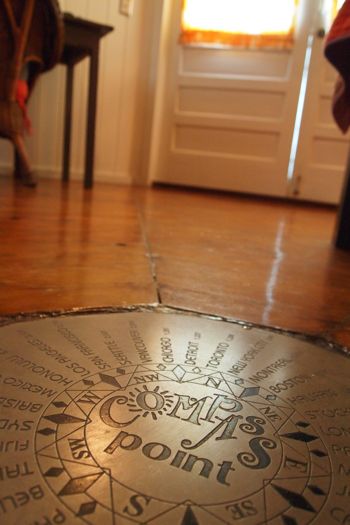 Back then, Compass Point Resort was owned by Chris Blackwell of Bob Marley/Island Records (and more recently, Blackwell Rum) fame. The property was paired with Blackwell's Compass Point Recording Studio, located directly across the street, to create an exclusive retreat for music industry jet-setters, and the like. As you might imagine, the resort's grand opening party was a big to-do.
The place was packed with celebrities. A live concert featured Spanner Banner. At the time, the reggae artist was virtually unknown, having just signed with Island Records as part of a region-wide talent search.
Everything about the evening was fun (aside, perhaps, for the bus ride back to Cable Beach). The most memorable thing to me, though, was the property itself. I'd never really seen such a distinctive collection of brightly colored cottages sprinkled about a dramatic seaside bluff. I hoped to return someday, though I doubted I'd ever sport the level of celebrity seemingly required for admittance.
Return Visit to Compass Point Resort
Sixteen years and one ownership change later, I finally got a chance to check-in at Compass Point. (Turns out they don't check your Q-Rating at the door.) My overall impression: This place rocks.
Literally!
Okay, Compass Point literally rocks insofar as it retains its musical heritage. Homages to notable stars who recorded at Compass Point Studios are prevalent throughout the property. In my cottage, a framed notice touting Jimmy Buffett's (*shudder*) recording of Fruitcakes (1994) and Banana Wind (1996) at Compass Point hung on the wall. Other remembrances cover the likes of Bob Marley, The Rolling Stones, U2, David Bowie, Eric Clapton, and AC/DC, who recorded Back in Black (1980) right here.
One of my big regrets over this latest trip to Compass Point is that I didn't have enough time to sit and visit with the staff. Many of them were around during the resort's rock-and-roll heyday. Like the Angels of Olveston House in Montserrat, their stories alone are likely worth the trip.
Also worth the trip, the cottages themselves…
Colorful Compass Point Cottages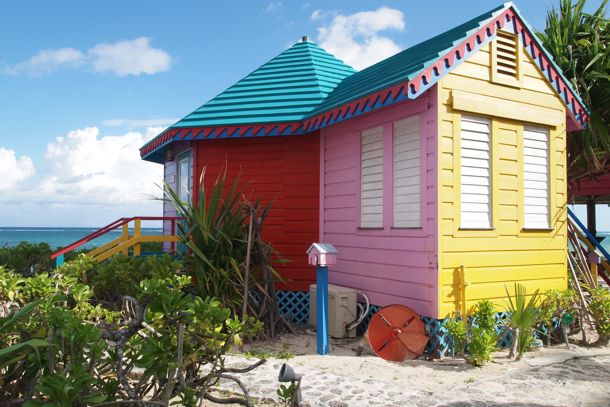 From the outside, they entice you like so many bright and shiny gumballs in a candy store. Inside, they pamper your senses with style, comfort and amenities worthy of the resort's star-studded past.
After my little adventure on Arawak Cay, I sank into the elevated platform bed in my cottage and instantly fell asleep. This was no small miracle for me, as those who know me, or read this, will attest.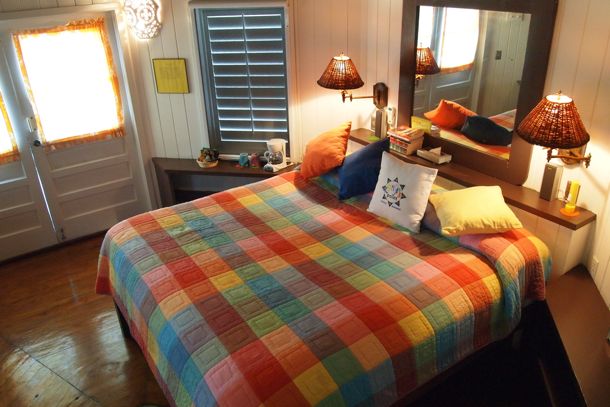 The ultra-comfy bed definitely played a big part in my easy sleep. The crashing surf hitting the rocks at the base of the cliff outside my cottage, though, certainly helped as well. The resort sits atop a bluff, as I mentioned above, with a steady offshore breeze persistently cooling and buffeting the property with steady waves. At my cottage, that meant I could get soaked just sitting on my porch. Even at the bar/restaurant, the waves crashed so hard that anyone sitting against the wall above the sea ran the risk of getting wet.
(This, however, is a small price to pay for Compass Point's scrumptious cracked conch and tasty libations.)
Where's The Beach..?
The resort's pretty perch means that you have to make a short walk to find a beach. Love Beach is literally right next door, conveniently accessible to Compass Point guests by an easy path located at the far west end of the property. During my stay, the surf was kicking up pretty good, leaving the water at Love Beach fairly cloudy. This, however, also created some nice waves for early-morning body-surfing after my restful night's sleep.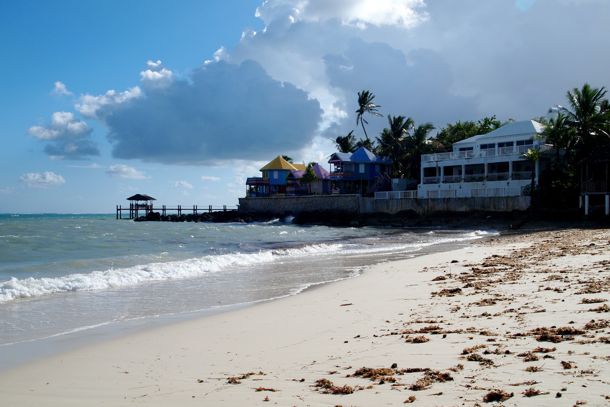 You Won't Want to Leave
Those not wishing to brave the waves can always opt for the pool at Compass Point. It's right next to the bar/restaurant, so getting a little refreshment is quick and easy. It was here that I met a nice young couple from Germany. They had been vacationing in Miami, but quickly grew tired of the high-rise hotels and 24/7 party scene. A travel agent recommended they hop over to Nassau to check out Compass Point. How were they liking it…?
We extended our stay five extra days!
Their knowing, relaxed smiles said it all. Once you're here, you won't want to leave…
Compass Point Resort Odds & Ends
Compass Point is located about five minutes from the airport in Nassau. Cable Beach, Paradise Island and the hustle and bustle of downtown Nassau are about 15-20 minutes away, depending on traffic. Believe me, though, you'll feel like they're a whole world away.
There are 18 total cottages spread around the property. Cobblestone paths connect them to the main building and pool, as well as Love Beach. Kids are okay here, but it feels so secluded, romantic and relaxed, I'd say it's best-suited for couples seeking an escape.
For reservations and more info, visit Compass Point online.
Related Posts