On-Site Nassau: My One Night Stand on Arawak Cay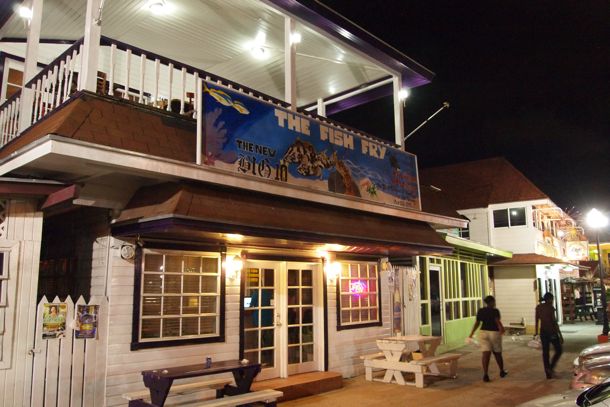 What would you do if you only had one night to enjoy the most developed and commercial (read: touristy) of Bahamas islands? I posed that question to our Facebook fans ahead of a one-night business trip I had planned to Nassau a few weeks ago. The responses were so unanimous, so fervent in their insistence that I just had to obey. Indeed, if I was to have just one night in Nassau, there would only be one place for me: Arawak Cay.
Prior to my trip, all I knew about Arawak Cay was that locals referred to it simply as The Fish Fry, though it's not a weekly one-off party like the fantastic Smith's Point Wednesday Night Fish Fry I encountered last year in Grand Bahama. Arawak Cay is actually comprised of a series of bars and eateries with regular business hours easily found along Bay Street just west of downtown Nassau.
It all sounded pretty good, but I only had one night! Could this really be the place for me?
As trusting as I am of the sage advice provided by you, our ever-faithful readers, I thought it'd be a good idea to seek out some expert, local input and guidance. I found just that in the form of our good friend, Bahamas Dread (real name: Fabian Christopher), the man behind the Sandy Slipper blog.
A proud native of Nassau, Fabian has shared tips and advice on his special island home with us before. Of course, he shares a lot more on his blog (click here to check it out), but would be agree with all of you who suggested Arawak Cay to me? His answer:
Hey Steve, you definitely want to try big ten lounge on fish fry.
Not only did he agree, but even better for me, he was kind enough to take me there! We stopped at Big Ten first, of course, and it did not disappoint.
Real down-home West Indian-style fried snapper (eyeballs and all!) with seasoned rice and a cold Strong Back Stout, one of my favorite brews from the Sands Brewery on Grand Bahama. Delicious!
After dinner, we walked around Fish Fry checking out a few of the other bars. It was a Wednesday night in October, so I wouldn't say the place was jumpin'…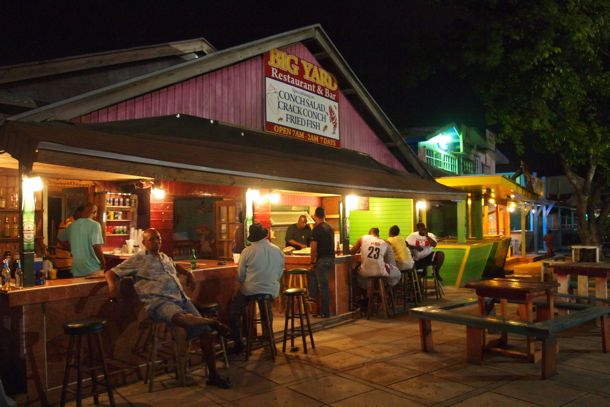 Still, the potential for a good party lime here was evident all around. Soca, reggae and R&B music spilled out from several spots; a range of sporting events flickered on TV's in others. In some corners, men played dominoes. Everywhere people chatted amiably and laughed. The vibe was very casual, cool and laid-back; no stress, no strife and very, very local.
In fact, the only place running counter to the subdued atmosphere on Arawak Cay that night was also the smallest joint in the area…
The tiny, little King Restaurant & Bar not only had the loudest sound system, but it all also had the biggest crowds. People were pouring in and out of here all night. The reason, according to Fabian, is that King's just happens to be the preferred watering hole for Nassau's local politicians and government staff. If you're looking to move up in the Bahamian government ranks, or garner support for whatever cause or legislation you might be pushing, there's apparently no better place to hang out in Nassau and enjoy a dance and a few drinks.
All-in-all, my first visit to Arawak Cay Fish Fry was a pretty good one (THANKS, FABIAN!), though I can't wait to see what it's like when it's really jammin'…
Related Posts