Get Married at Nisbet Plantation & Your Love Will Grow – Literally!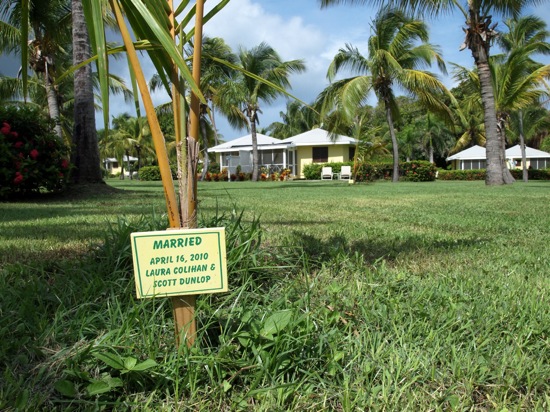 As those of you who follow us on Facebook and twitter already know, I just returned from my first-ever trip to Nevis, where I was fortunate enough to stay at the fabulous Nisbet Plantation Beach Club. As I remarked in an earlier post, Nisbet ranks among the premiere spots for romance in the Caribbean, ideal for honeymoons, anniversaries (I was celebrating my 10th), destination weddings, or any other reason to steal away to the islands with the one you love.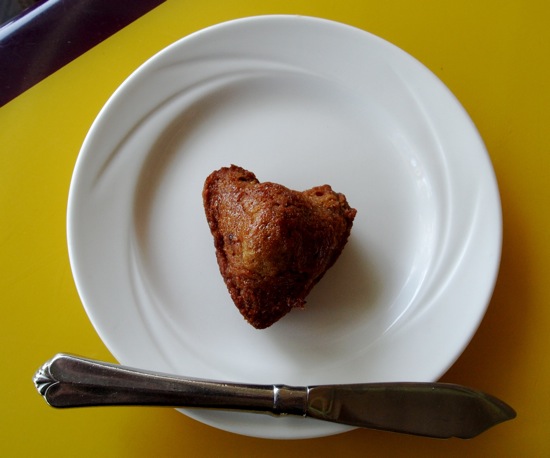 Even the muffins they serve at breakfast are shaped like hearts, so you can tell that romance is always a priority here.
If you choose to get married at Nisbet, you can also rest-assured that your love (or at least a living symbol of it) will continue to grow long after you've checked-out. That's because the property plants a new coconut palm like the one pictured above for every wedding they host.
The Wedding Palms program, which started back in 2008, underscores Nisbet's romantic allure, while also enhancing one of the property's signature features, the Avenue of the Palms.
A strikingly beautiful stretch of lawn extending from Nisbet's 18th-century Great House down to the beach, the Avenue of Palms guides visitors along one the most scenic routes to any beach I've ever enjoyed. Strolling here, in and amongst the trees with the sea breeze blowing in your face, it's impossible not to think back to the royal dignitaries and other notable historic figures who once trod the same ground over the centuries.
If you appreciate history like I do, it's an incredible walk.
This is the place where the British Navy hero Horatio Nelson met Frances "Fanny" Nisbet, niece of the President of Nevis and widow of a Dr. Nisbet, who owned the Plantation. Nelson and Nisbet were married  in 1787 at the nearby Fig Tree Church. Prince William Henry, who was then the Duke of Clarence, but later became King William IV of England, gave the bride away.
Okay, so the Nelson-Nisbet marriage didn't end so well; you still have living, breathing romantic history here in a gorgeous setting that's tough to match. Who wouldn't want to have their blessed union preserved in such a storied place for the ages?
At the very least, you'll always have a reason to return to Nevis to make sure your tree's health matches that of your marriage…
For more on info on getting married at Nisbet Plantation, click here.
Related Posts