Hard Wine: Crossing Paths with Naked Boy (aka Bois Bande) Again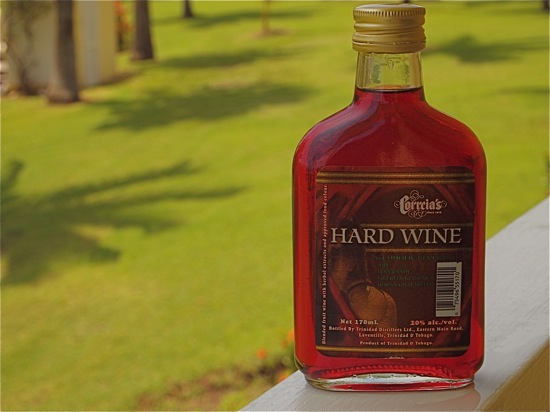 I know we usually reserve the booze discourse for our Friday Happy Hour series, but yesterday's Facebook discussion over the correct spelling of wining (or whining as the case may be) reminded me of this stuff. I found it in a gas station during our Nevis adventure earlier this year. Befitting its suggestive name and label, the bottle was perched high on a shelf behind the check-out counter. Of course, I just had to check it out.
From the minute I asked the cashier for it, our cab driver started shaking his head. "You don't want to mess with that stuff; too potent," he laughed.
I was curious, though. Could this contain the same bois bande Caribbean natural viagra I had encountered in Martinique and Tobago (where it's also known as Naked Boy) earlier this year?
A quick glance at the ingredients confirmed my suspicions – bois bande, Siberian ginseng, and horny goat weed… Hard Wine, it seemed, was one drink that could live up to its name!
Now as faithful Uncommon Caribbean readers already know, I chickened out on trying the Naked Boy in Tobago and I still have an unopened bottle of bois bande from the Covered Market in Martinique sitting in my fridge. This time, though, would be different.
After all, I was alone in Nevis with my wife (no kids) trying to make up for missing our 10th wedding anniversary due to a trip to Martinique the previous year… What better time could there be to experiment with some Hard Wine? My only question: could I trust it?
Online info on Hard Wine is scarce, though the drink has a small following on Facebook. Certainly, it's made in Trinidad and it appears to be an Angostura brand, so what's not to like?
Hmmm, how about the taste? Yeah, that's not to like. That's not to like at all.
It's not so bad that I had to spit it out, but Hard Wine definitely earns a big blech in my book. Sort of reminded me of Mad Dog 20/20 or Boone's Farm, not that I ventured out to procure bottles of these nefarious characters from my past to do a taste test. Over-fruity and boozy in a bad way that means business, I could now see why Hard Wine holds top-shelf status at the gas station…and likely nowhere else.
Bad taste is one thing, but the real question is does Hard Wine deliver as its name implies?
Well, let's just say that my lack of conditioning wasn't the only reason why I struggled along The Source hike on our last full day in Nevis…
Related Posts