Nevis to St. Kitts Cross Channel Swim, Here We Come!
I can do that.
Who hasn't thought, uttered or loudly boasted those four words while standing on a beach like Cockleshell Bay in St. Kitts and gazing at a nearby island like Nevis off in the distance? Many sister islands in the Caribbean appear so close together that it's easy to think that you could swim from one to the other with little or no problem. Many of us have shared this same thought, only to quickly revert our attention back to sipping rum and enjoying less strenuous seaside pursuits.
On March 27, 2011, all that will change for us…
That's right, we're making plans to compete in the 9th annual Nevis to St. Kitts Cross Channel Swim! Our history of competitive swimming as pre-teen and teenage members of the St. Croix Dolphins many years ago, combined with our knee ailments (I've got a similar knee problem to the one Patrick outlined here) better position us for success in this athletic test than the Montserrat Volcano Half Marathon. Still, this won't be a walk in the park…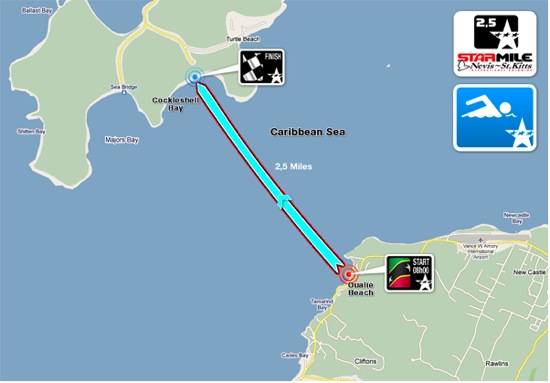 The race starts at Oualie Beach on Nevis and finishes at Cockleshell Bay on St.Kitts, a  distance of 2.5 miles (4km). That's about 176 laps of the 25-yard pool at your local YMCA. Hmmm, better pack some extra Lucozade…
Last year's race saw 96 swimmers (the most ever) cross the finish line, with a new event record set by Rhian Purdy who conquered the course in just over an hour (1:05:21).
Not sure that we'll challenge for the top spot, but I am sure that we'll have a great time trying and telling you all about the experience.
If you're interested in joining us for the race, click here for event registration.
*Lead photo credit: Flickr user Hiral Gosalia.
Related Posts