On-Site Nevis: Kicking Back with Some Killer Bees at Sunshine's Beach Bar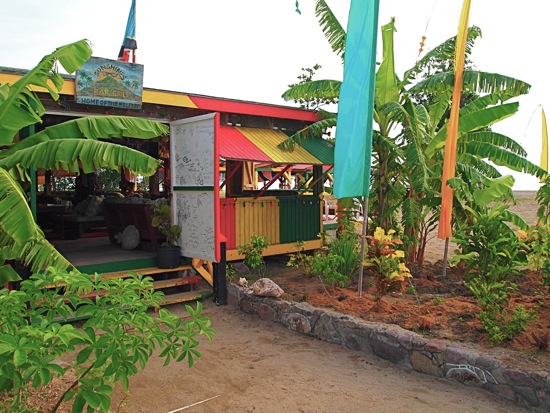 Remember the fire in my wife's eyes when she heard about The Source hike during our recent trip to Nevis? Well, I'm guessing that was nothing compared to the look of absolute glee that graced my face when we pulled up to this place an hour or so after our four-hour adventure in the Nevis rainforest.
Behold Sunshine's Beach Bar, one of the Caribbean's most legendary beachfront watering holes. A humble, colorful and incredibly welcoming shack in the sands along Pinney's Beach, Sunshine's is located at the end of what is surely the worst road in Nevis. Locals say that the bar's owner purposely keeps the road in disrepair to prevent patrons short of cash from making a quick getaway when attempting to skip out on unpaid tabs. Yeah, the colorful nature of the place extends far beyond its bright walls.
Sunshine's legendary status is reflected by the faces on its walls. Everywhere you look, there are snapshots of the rich and famous who've made their way here over the years – Oprah, Travolta, Kelly Ripa, Kevin Bacon, Jay Z & Beyonce, Roger Daltry and Brittney Spears, who according to our bartender, Maureen, was sans panties during her visit (shocker!), are just a few of the celebs photographed having the time of their lives at Sunshine's.
What pulls people here? Two words: Killer Bees.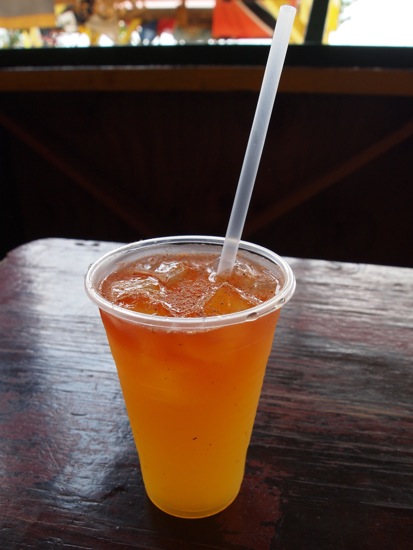 Sunshine's signature drink, the Killer Bee does, indeed, pack quite a potent sting. No one is giving up the drink recipe, but essentially the Killer Bee is a seriously revved-up rum punch. Sunshine's is so secretive about the drink's contents, that Maureen mixed ours under the bar, safely hidden from my prying eyes. I'm guessing the secret kick is some sort of overproof rum, but after a couple of these you really won't care what's in it, or why you ever wanted to know in the first place.
Any visit to Sunshine's is sure to be memorable, but ours was even more so because we just happened to arrive as the U.S. soccer team was squaring off against Ghana in the World Cup quarterfinals. Though several locals in attendance were wearing T-shirts adorned with varying symbols of America, none were backing our boys in red, white and blue that day. It was all about Ghana at Sunshine's that day, and everyone from the bartender, to the cook and the cleaning lady let us know it with some good-natured trash talk throughout the game.
When the U.S. scored to tie the game and eventually send it into extra time, Maureen threatened to charge me double for my Killer Bees. I don't think I would've noticed if she tripled the price, though, as I had already enjoyed quite a few of them at that point.
There were many wonderful surprises for us at Sunshine's (including the food, which was excellent), but the biggest surprise was meeting someone who was actually from Ghana! That's him standing next to me (I'm the guy at the far left) in the photo below. Pretty hard to believe that a chance encounter like that could occur in a tiny beach shack like this on tiny Caribbean island like Nevis, but that's what can happen when you travel the Uncommon Caribbean way.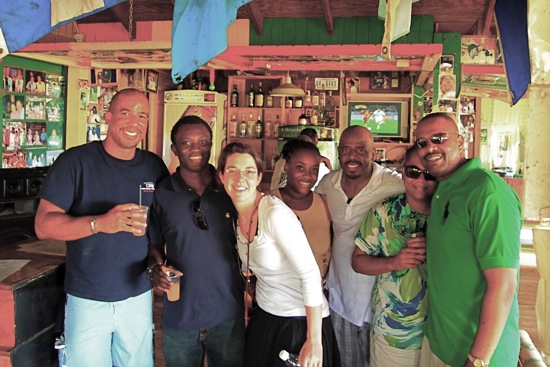 The crew in the photo is comprised of people from different parts of the U.S. and the Caribbean who regularly make a pilgrimage back to Sunshine's to enjoy the vibe and, of course, the Killer Bees. They were downing pitchers of the stuff, laughing loudly and cheering every surge toward goal by the Ghanan squad.
My wife and I had a great time getting to know the group, and just about everyone else in the bar that afternoon. Among our new friends was a young English chef from Barbados' posh Sandy Lane Resort, who was there with his wife and their toddler son, a precocious ball of energy who kept busy by coloring and dancing with the bar staff.
We also met a young couple from the Midwest United States that sailed away from society a couple years ago when they couldn't get pregnant. A few months in the Caribbean was just what the doctor ordered, though, as they welcomed their first child during a stopover in St. Croix earlier this year. Between the boy's mom, my wife and Maureen, this beautiful Cruzan baby had no shortage of dance partners either.
It was stifling hot and there were some very persistent black flies that seemed eager to "befriend" us as well, but everyone at Sunshine's was happy and pleasantly oblivious to any negative vibes. Being there really felt like coming home and hanging out with old friends, which means that we'll definitely be back before too long.
Related Posts