Dinner at Nisbet Plantation's Great House: A Taste of the Caribbean
As noted in previous posts stemming from my trip to Nevis with my wife back in June, St. Kitts' sister island is a seriously romantic place. Lush and exotic tropical surroundings, charming plantation inns, warm smiles, and a Killer Bee or two can have a profound effect on even the most boorish of blessed unions. I know from experience, of course, since the whole purpose of our trip was for me to make up for missing our 10th wedding anniversary the year before.
Hiking The Source trail went a long way toward mending the marital fences, but I knew that if I was to get all the way back into my wife's good graces nothing less than a truly memorable dinner would do. Lucky for me, our choice of hotel, Nisbet Plantation Nevis, specializes in just such types of dining experiences.
Originally built in 1778, the Great House at Nisbet Plantation has long been celebrated as one of the finest restaurants anywhere in the Caribbean. From our experience there I can tell you that its reputation is well-deserved.
From the moment you walk in the door, it's clear: you're in a truly special place. Everywhere you look, a rich mix of furniture – mahogany, wicker, and colorful fabrics – combines with stark white wood beams and framing and various plantation-era artifacts to transport you back in time. The sitting area extends from the bar at one end of the building, around the front, and clear across to the other side, creating multiple nooks for visiting with other guests, or hiding from them. Whimsical lamps reflecting the island's famous monkeys, palm trees, and pineapples are all dimmed slightly, casting a warm glow throughout. Historic wall hangings, including a photo of Prince Charles strolling down the property's famed Avenue of the Palms, give credence to the restaurant's special heritage.
The dining area is exactly what you'd expect from such an exclusive place – white linens, fine china, and most importantly, attentive, friendly service. Personally, I don't really care how many gold-plated somethings comprise the table setting; when it comes to a luxury dining experience, to me, it's all about the service. In this area, The Great House at Nisbet Plantation Beach Club excels.
All the servers knew the guests by name, greeted them warmly, and seemed sincerely interested in how everyone was enjoying the property and the island. A young couple we met from the UK were treated more like family than hotel guests because the husband's parents had visited Nisbet several times in the past. Not sure if the server knew that simply by looking at the guy's face and noting his name, but either way the interaction was genuine and wonderful to see.
Also wonderful: the food.
We started with the Carpaccio of Beef Tenderloin below. Nice flavor with baby greens, caper peppercorn, and parmesan crisps.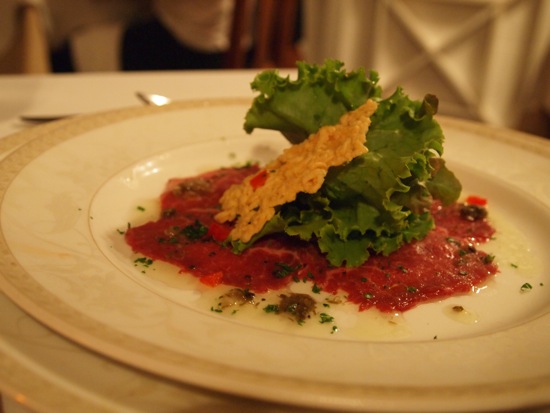 Next up, this amazing and somewhat spicy Island Conch and Dumpling Soup. This was my favorite with just the right amount of fire!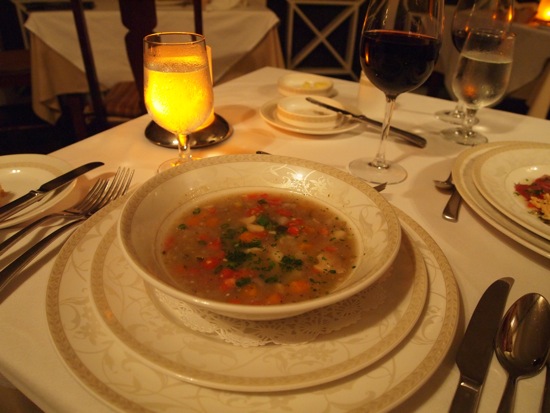 For the entree, I went with the Crushed Roasted Plantain Filled Pork Loin Roast, Dasheen Lyonnaise, and Mango Sweet Chili Glaze.
And what fancy romantic dinner would be complete without dessert! This is called the Chocolate and Almond Decadence. Paired with pistachio ice cream, the name really fits.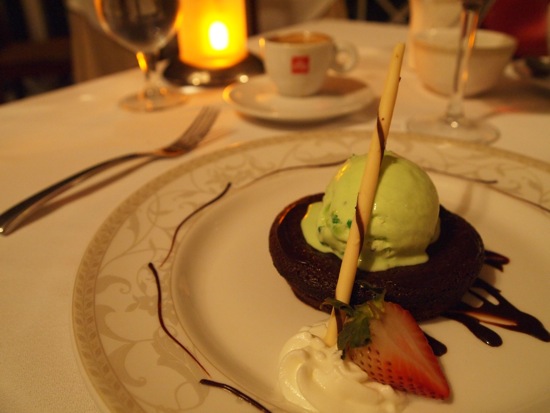 Of course, we shared it all, along with some nice wine, capping the perfect romantic Caribbean escape.
The beer and hot wings I'm sitting down with now to watch Monday Night Football are nice, but I'm REALLY missing The Great House right about now.
Thankfully, though, I'm not missing my wife!
Can't promise I won't miss another anniversary (I do work in the travel biz, after all), but if I do, at least I know where to go to make things right.
Related Posts