The Incredible Island Conch & Dumpling Soup at Nisbet Plantation: Taste of the Caribbean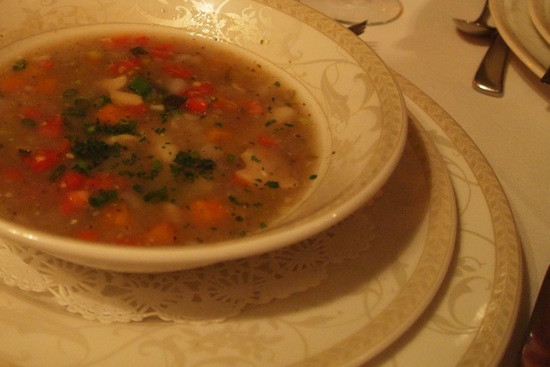 I recently read an article entitled Sick of Winter? Tips for Improving Your Mood. In it, a well-meaning PhD postulates that your wintry bad mood isn't determined by the wind, snow and cold, but rather by what you do with yourself in spite of the weather. Among the "helpful" tips: exercise, play in the snow, or shovel a neighbor's sidewalk.
With all due respect, me thinks the old doc may have thrown back a few too many glasses of the same hairy stuff that brought Patrick to his knees during a recent trip to Montserrat.
The article fails, IMO, because it ignores the one, simple, immutable fact about winter that makes it so miserable: IT'S FREAKIN' COLD!
Sure, it'll warm my soul to relive old times by organizing long-lost photos, but if I can't feel my fingers whilst crafting my latest "Precious Memories" masterwork, then I'm still gonna' be crabby. I'm still gonna' wish I was somewhere back in the Caribbean. And if I can't get there, I'll still need the taste of a warm Caribbean treat, like Island Conch Soup, to get me through the cold.
Ingredients for Dumplings:
1 cup White Flour
1/2 cup Coconut Milk
1 Tbsp Vegetable Oil
Salt and Pepper to taste
Followers of our stories stemming from my trip to Nevis last summer may remember that I enjoyed the soup as part of an incredible dinner at the Great House at Nisbet Plantation. I loved it so much, in fact, that I begged the folks at Nisbet to share the recipe with me so that I could share it with you.
Now, Nisbet Plantation is no ordinary resort. In fact, over the past few years, the resort has earned so many accolades that I wouldn't be surprised if they had to devote one of their posh cottages to a new trophy case. Just this past December Nisbet was named the #1 resort in the Caribbean, Bermuda and Bahamas on its debut on the prestigious Travel + Leisure 500 list. The resort and the Great House have separately earned AAA Four Diamond awards each of the past five years. Nisbet has also been named one of the Top 10 Hotels for Service in the Caribbean & Mexico, 2011.
Ingredients:
2 lbs Cleaned Conch Meat
½ Gallon Water
1 cup Diced Carrots
1 cup Diced Red & Green Peppers
½ cup Diced Celery
1 cup Diced Tomatoes
2 cups Diced Breadfruit (or Potato, Tanya or Yucca)
4 Bay Leaves
1 Onion, medium-sized, diced
2 Tbsp Chopped Garlic
3 Tbsp Olive Oil
Pinch of Hot Pepper Flakes
2 Lemons, juiced
Sprig of fresh Thyme
Salt and Pepper to taste
2 Chicken Bouillon cubes
Pinch of cornstarch
Chopped Fresh Cilantro (optional)
Chopped Scallion
You get the idea, right? This is a very special place. You know, the kind of place that doesn't give up its great recipes all that easily…
Still, I persisted, prodded and pleaded until finally Chef Tony relented, affording all of us with the unique opportunity to warm our winter nights at home with a nice and spicy taste of this truly amazing resort.
Step #1: prepare the conch. You want to dice the meat to 1/3" size, then soften it in a pressure cooker. Definitely be sure the conch meat is soft before proceeding.
Next, fill a large pot with the 1/2-gallon of water. Transfer the softened conch along with the diced carrots, red and green peppers, celery, tomatoes, breadfruit (or substitutes as noted) and bay leaves into the pot. Bring to a boil and simmer for one-to-two hours.
In a separate bowl, combine the ingredients for the dumplings. Roll into small balls and add 'em to the pot.
Next, sauté garlic and onion in the olive oil until translucent. Then add to the pot. Now it's time to add the hot pepper flakes, lemon juice, thyme, and chicken bouillon. Continue to boil and add salt and pepper to taste. To thicken the soup, dissolve a little cornstarch in water and add to the pot.
Finally, place the soup in a serving bowl, garnish with cilantro and scallions, and watch the winter blues melt away.
Bon Appétit!
Related Posts