Tuesday 2 Cents: Jenny Mullen's Five-Star Family Vacation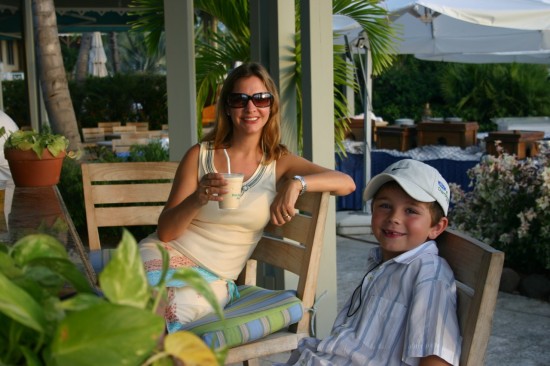 Most top-10 lists of the Caribbean's best family vacation destinations would not include Nevis. Small and wonderfully sleepy, Nevis takes pride in offering vacation experiences that "take you back to a time when things were simpler" (think 1950's Caribbean before the development boom). This fits perfectly for couples and nature lovers enticed by the island's ultra-luxury resorts, historic plantation inns and exotic flora and fauna. But for short attention span 21st century kids; not so much.
Enter the Mullen's, a South Florida-based British family of four who vacationed in Nevis recently. For them the Queen of the Caribees was perfect. Why? We sat down with Jenny Mullen, mother and chief vacation-planner, to find out.
Why Nevis?
We wanted quintessential Caribbean pampering, and we weren't willing to sacrifice and opt for one of the more traditionally kid-friendly mass-market destinations to get it. My research turned up the Four Seasons Nevis as offering a nice kids club, so we went for it.
How was the kids club?
To be honest, my kids never took to it. I mean, I'm sure it's great, but as a family we were more interested in spending quality time together. Nevis really has so much to offer that you don't need a kids club.
Like what?
Rocks, shells, sand, water, nature; your imagination is all you need to bring. Some of our best memories were made hiking and soaking in the incredible natural beauty. For my husband, the golf was a highlight. My massage down at the water's edge was also heavenly. But our nature explorations together as a family will never be forgotten.
Any advice for other parents considering a Caribbean family vacation?
I would encourage parents to live their dream vacations with their kids, not in spite of them. You might be surprised how well they step up and meet the challenge of new, more typically adult situations. The Four Seasons has this just incredible formal dining hall where we enjoyed several wonderful meals with our sons. They were only four and seven at the time, but each sat up and ate like perfect gentlemen. They felt great about themselves, which just made the trip all the more special.
Jenny and her boys will embark on their next Caribbean vacation later this month when they travel to Nassau. We'll check back with her in April to see if they can re-kindle the magic in The Bahamas.
Related Posts