Flor de Caña 7 – Dry, Smokey and Mature Beyond its Years
Remember the 2011 Samsung Galaxy S II commercial The Way We're Wired commercial? The one that starts: "Nobody ever set their sights on second place. Who aspires to be almost remembered? There's a reason there are no giant foam fingers that say "We're number three." It's a pretty neat ad that tugs at the heart of that essential American need to always win. To never settle. To be #1. If they decided to re-shoot the ad and include a rum, I wouldn't be surprised if the featured bottle was Flor de Caña 7.
World's Most Awarded Rum, 2000–2010
Throughout the 2000s, no other rum brand garnered more awards than this legendary distiller from Nicaragua. You can see five gold medals right there on the label of Flor de Caña's 7 Year Old Grand Reserve. Overall, though, the brand has hauled off with more than 100 international awards from 2000 to 2010.
Even spread over 10 different blends, that's quite the impressive collection of hardware.
Flor de Caña is made by Compañía Licorera de Nicaragua, S.A, (CLNSA). The main business of the company was originally sugar production, but everything changed in 1937 with the development of Flor de Caña.
A good bit of what makes Flor de Caña so special today is that not much has changed about it since those earliest days. Take the cane, for instance.
Closeness of the Cane Makes the Rum More Better
Flor de Caña uses cane cultivated in the CLNSA fields located adjacent to the distillery. This is important as the highest quality cane used in rum production is always the freshest; the cane that's traveled the shortest distance from field to production. That shorter distance and consistent growing conditions yield the highest consistency of flavor.
Both benefits are in full effect with Flor de Caña as the cane used here is also grown here. This ensures that your first taste of this magical rum will certainly equal the last.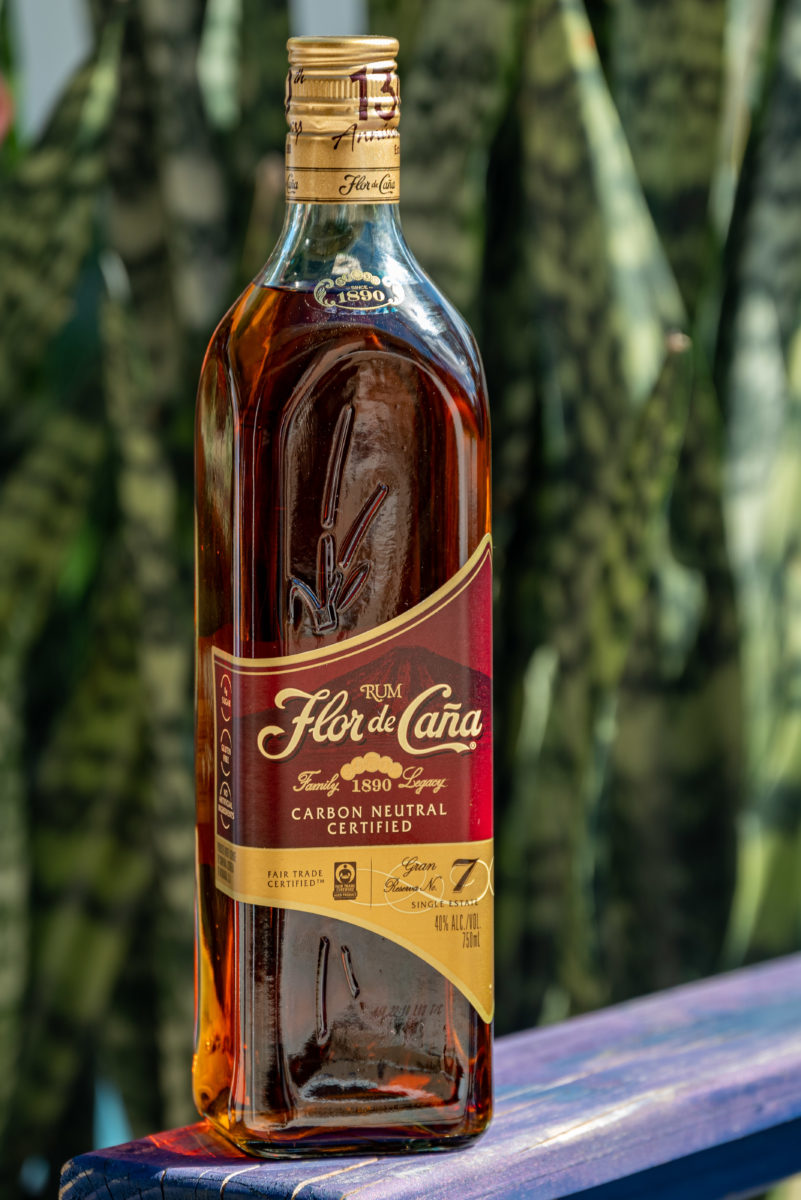 Another time-honored advantage of Flor de Caña rum is the brand's trademark slow aged process. It's a process emphasizing natural elements, with no additives or accelerants used to manipulate the aging process. Flor de Caña takes its time, a fact that will only benefit yours.
So, what can you expect if you do take the time to enjoy Flor de Caña 7?
A Taste of Flor de Caña 7
It's a bit harsh for me neat, so I've got a few ice cubes in my tumbler to help smooth things out. The flavor is dry and mature beyond its stated seven years. Flor de Caña 7 is also distinguished by a smokey and enduring draw. It's the kind that easily melts away the stress of any workweek. ¡Maravillosa!
We all aspire.
If you want a rum that aspires too, then definitely give Flor de Caña 7 a try. Look for it at your local liquor store, or order a bottle online here.
¡Salúd!
Related Posts