Ostra Cosa in Old San Juan: Taste of the Caribbean
Ostra Cosa will make you blush. Fine art and aphrodisiac eats are said to be the order of the day at this stylish eatery set in the heart of Old San Juan. I knew nothing of this, though, when I agreed to meet one of the wife's best friends here for lunch a few weeks ago…
*Blush*
I don't think that she knew anything about Ostra Cosa's reputation. I certainly didn't since it opened sometime after my last visit to the ancient city almost 10 years ago. Immediately upon walking in and gauging the scene, though, the sexy vibe was impossible to ignore.
All of Ostra Cosa is open to the city, the main dining/bar area essentially one big breezeway. Street sounds mix sweetly with suggestive salsa setting the mood. Not even half of the tables were taken during our lunch (date?). Even so, the place could hardly have felt more alive.
Just sitting in Ostra Cosa felt special. I wondered: Could the food and drink match the sensual setting?
Ostra Cosa Drinks
The cocktail menu at Ostra Cosa does not overwhelm. Nor does it overdo things trying to impress with vapid, unnecessarily "inventive" offerings. Usual suspects – Mojito, Frozen Daiquiri, Margarita, Piña Colada – are all there, of course. So too is something called la Espinoza.
I read somewhere that this tipple is meant to be Ostra's answer to the traditional Mojito. To me, though, it was something altogether different. Made, as it is, with homemade lemonade and white rum, it's much closer to this Switcher than el Mojito to me.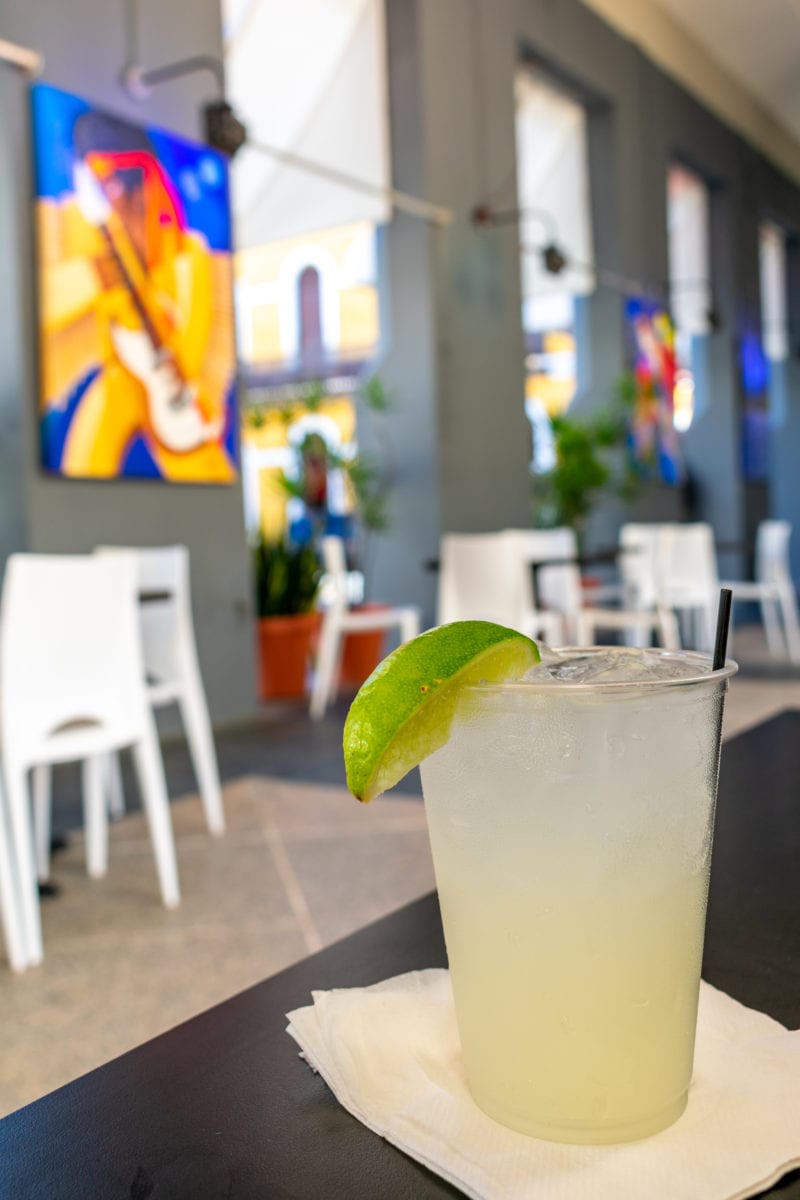 All the same, la Espinoza proved a nice and refreshing gateway to a glass of Barrilito.
What I wish I hadn't missed here, though, is the Coco Loco – fresh coconuts filled with coconut water and your choice of rum, vodka, tequila, bourbon, or whiskey.  Once your drink is gone, bartenders here are happy to split open your coconut so you can eat the booze-soaked meat… Nice!
Ostra Eats
Food options at Ostra Cosa are much more extensive, though no less pleasing. Nearly 20 entree options are complimented by a choice of 14 different appetizers. Such a nice, wide selection of apps begs diners to share and eat tapas style; to get closer together…
Most everything on the menu has loving roots in traditional Puerto Rican cuisine. Seafood choices are abundant, with lobster, prawns, octopus, scallops, calamari, shrimp, and oysters (of course) prepared in a variety of styles.
Everything we tried was great, though the simplest dish, a side of rice and beans, really sticks in my memory.
Ostra Art
All the while you're dining at Ostra Cosa, tuning into the rhythm and soul of Old San Juan while getting your fill of inspired cuisine Criollo, you're also sitting among fine works of art. Colorful paintings adorn many of the interior pillars lending an open-air art gallery feel to the place.
Indeed, there's very little not to like about Ostra Cosa. Personally, I can't wait to get back, though it will probably be best to bring along the wife next time…
Visit Ostra Cosa on Facebook for more.
Related Posts