Friday Happy Hour: A Panama Red Toast to TheRumCollective.com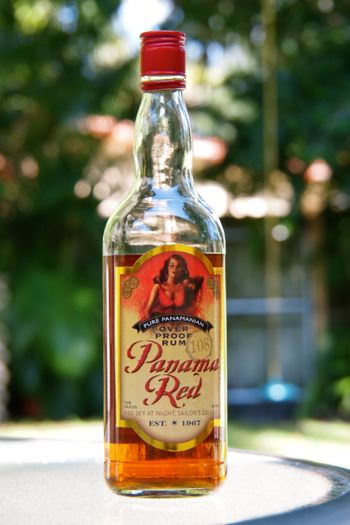 Of all the uncommon places we've touted for learning about, gaining an appreciation for, and, most importantly, sampling great rum, none can match the utter incongruity of the destination in our crosshairs today.
The location: Seattle, Washington.
Wait… WHAT?!!
Yes, I know it's a good 3,000 miles from Seattle to anywhere in the Caribbean, a chasm that no doubt explains rum's relative irrelevance throughout the upper left-hand corner of the Continental U.S. over the years. For one Seattle native, though, distance has only made his love for rum grow stronger, eventually leading him to successfully pave the way for the introduction of the world's finest rums in his home state. That man: Nicholas Feris.
I first met Nick at last year's Caribbean Rum & Beer Festival where he was among the judges who endured the marathon 40 rums in four hours tasting session I outlined here. A pharmacist by trade, Nick grew up on a farm in the foothills of Mt. Rainier; definitely not the kind of beginnings you'd expect for a noted rum expert.
Despite his surroundings and the attendant paucity of fine rum, Nick somehow developed a true passion for the quintessential Caribbean spirit, as well as the region itself. So far, his rum journeys have taken him to Jamaica, Barbados and Puerto Rico multiple times, with Grenada on the docket for the end of the month.
Like a lot of us rum lovers, Nick turned his passion into a blog, TheRumCollective.com, chock-full of insightful reviews. Unlike a lot of us, his mission to turn people on to rum didn't stop at words and pictures.
Nick started organizing The Rum Collective events in Seattle, which not only enhanced awareness of available brands, but also helped to create local demand for the many great rums still unavailable in the region.
Nice, but Nick didn't stop there.
In the days prior to July 2012 when liquor sales in Washington were controlled by the state government, Nick forged relationships between rum manufacturers and state liquor stores, helping to bring more than 20 new brands to the state!
With all that he's accomplished, it's hard to believe that the Pacific Northwest's Pied Piper of Rum is only 34 years-old!
For all he's done to spread the good gospel of rum, I'd like to propose a toast of Panama Red to my good friend Nick. It's fitting as The Rum Collective will be celebrating its second anniversary later this month (October 22nd) with a special event featuring several premium rums from Panama, including the overproof red beauty pictured above.
I'm pretty sure Nick will be cool with my choice. Here are some of his recent tasting notes on Panama Red…
Eyes: The color appears golden brown with reddish-orange highlights in certain lighting. Upon swirling, the rum condenses forming slender, brisk moving, long legs.
Nose: An immediate, but not dominant, sweeter brown sugar and vanilla bean scent is noticeable. (An aside: reminds me of the initial aroma at the beginning point of mixing ingredients in making oatmeal raisin cookies). Oak, spices (cinnamon and clove) mingle. After a little dilution with room temperature (10%) some deeper hints of maple syrup, leather and cocoa come out.
Palate: At first sip, I find the flavor is rich and concentrated. It's medium bodied and surprisingly smooth texture coats the mouth offering a taste of lush vanilla brown sugar smelled earlier. Its overproof quality is noted, but always surprsingly pleasant for 54%. As the rum moves across the palate, a rather distinctive hot cinnamon flavor follows with subtle notes of orange peel, leather and wet oak. Nutmeg, clove linger with appearances of banana nut bread as the rum moves to the back of my throat.
Finish: Remarkably smooth with a soft resonating buttery mouth feel and medium long heated finish leaving no questions. Overall, it's the best aged overproof rum I have tasted to date, no question.
High praise from a guy who really knows his stuff!
If you're planning to be in the Seattle area later this month and want to glean some of Nick's rum knowledge, while also enjoying some great Panamanian rums, check out The Rum Collective's Second Anniversary event on October 22nd at Rumba, the city's one and only rum bar. For pricing info and more details, check out the event page on Facebook.
Cheers!
Related Posts