Get Bettah With Belizean Bittas
The Caribbean has a long history of bush remedies that mix the potent powers of the region's many medicinal herbs, roots, and barks with the equally potent powers of the region's strongest rums.
Steve has had his many run-ins with "naked boy" and, of course, I've been held in the loving arms of mamajuana on the shores of the Dominican Republic. Both Steve and I have also had our fair share of Bush rums everywhere from Dominica to Anguilla, Haiti and Montserrat. (In fact, I may still be recovering from that night in Montserrat…)
So, I guess it shouldn't be a surprise that Belize, a Central American country bordering the Caribbean Sea with a decidedly West Indian vibe, would also employ bush in the betterment of booze.
Here, bush rum comes under the noms de guerre of "bittas" or more conventionally pronounced bitters. (Although I doubt anyone would understand what you're after if you actually pronounced the "r" at the end.)
OK, so we know bittas is bush, but what is it exactly?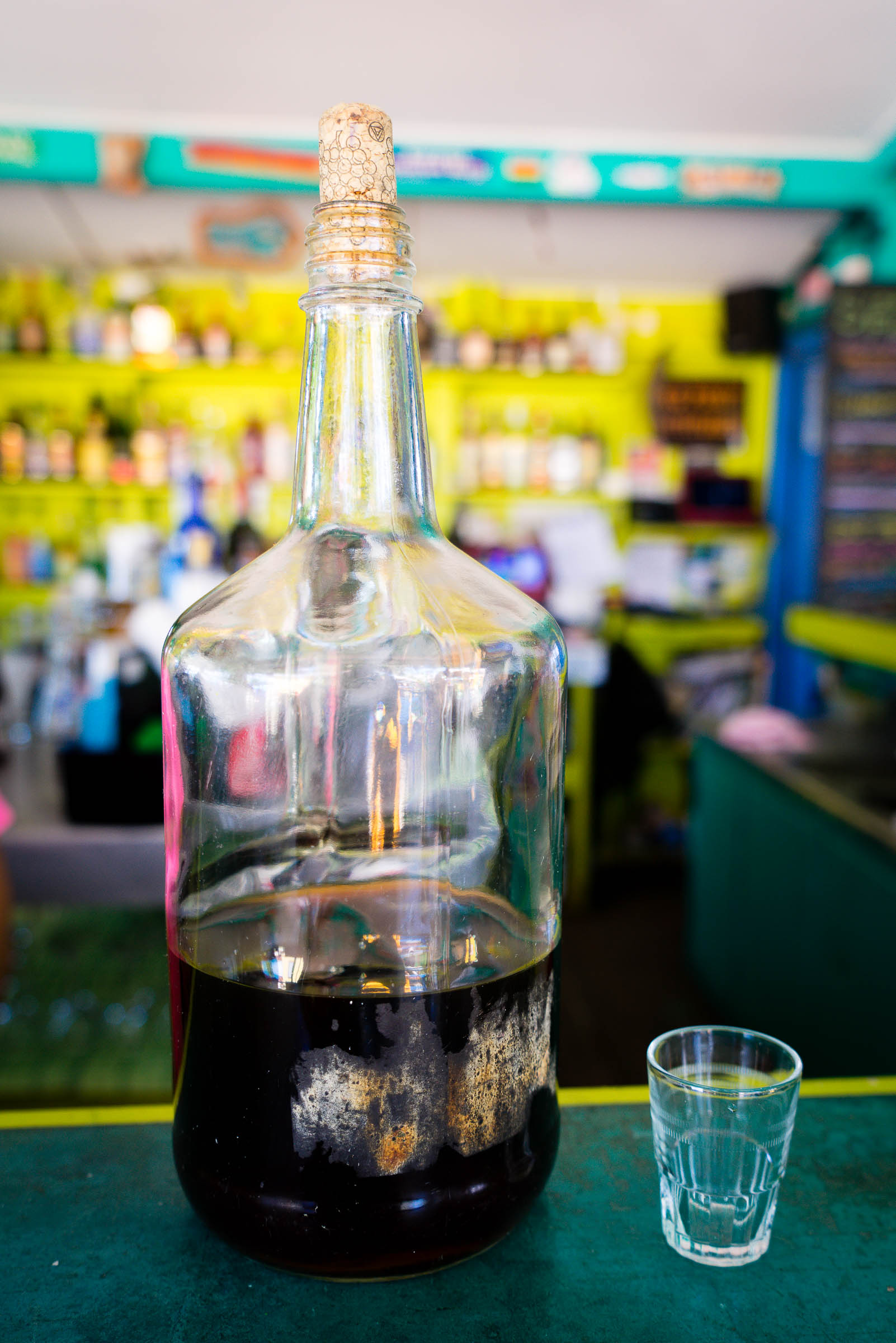 First, there's contribo bark. You'll know this plant in the rainforest by its huge, pitcher-like flower that smells like rotting meat. In Belize it's a popular remedy for colds.
Then there's billy webb bark. Again, this usually finds its way into teas to generally detoxify the blood.
Finally, there's jackass bitters, a plant resembling overgrown ragweed (it can grow up to six feet tall) which is said to treat cancer, diabetes, dysentery, and malaria through antibacterial properties.
So, you take those three main ingredients, clean them, generally mash them up, add a couple additional miscellaneous herbs, soak it all in a bucket of overproof rum for about a week, strain everything, and finally mix in anise to sweeten up what starts out as a very bitter brew.
What you end up with is a brown batch of Belizean bittas that's said to settle the stomach, pull out colds, cleanse the blood, and, as with most West Indian concoctions, put some bite in your sexual bark.
My first run-in with Belizean bittas was in Placencia.
There I was weaving around potholes as I rode through town on a bicycle borrowed from Chabil Mar Resort, when I noticed the best sign:
IT'S DIRTY THURSDAY! TELL A DIRTY JOKE + GET THE SHOT OF THE DAY! (Limit – 1 shot/joke per Thursday)
How could I resist?
I marched right into Barefoot Bar determined to win myself a free shot through illicit comedic stylings.
While I won't tell you what my joke was (we like to keep it classy up in here, you know), I will tell you that the shot of the day was authentic Belizean bittas by way of some old guy from nearby Silk Grass village.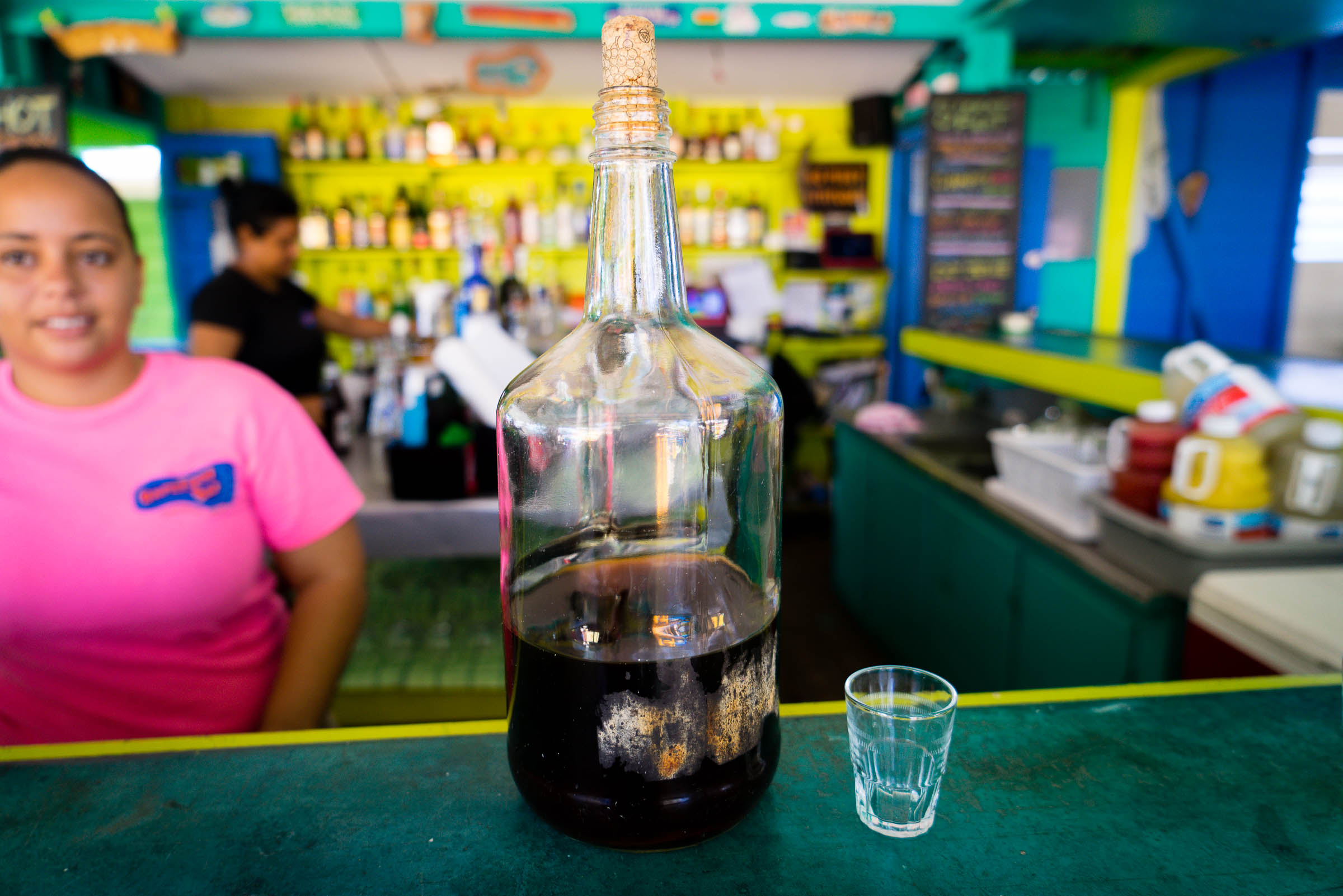 Surprisingly, likely thanks to the anise, the taste was very reminiscent of digestifs you might get in Germany like Underberg or even Jägermeister—though with a decidedly West Indian twist.
Was my blood cleansed? Did it… Uhm… Stimulate me?
All I'll say is this: learn some dirty jokes and find out for yourself!
Cheers!
Related Posts