Friday Happy Hour: Caliche Aged White Rum de Puerto Rico
Now this is a white rum of a different color!
That was my surprisingly enthusiastic initial impression of Caliche when I got a first taste of it at its official launch party during the 2011 Miami Rum Renaissance Festival. I tend to prefer dark, sweet sipping rums best enjoyed with a modicum of ice and not much else. White rums generally best-suited for mixers don't usually do very much for me.
Caliche, however, was different. I could taste it right away, though it wasn't until I had enjoyed a few more sips and done a little homework that I figured out what makes this white rum so special.
Caliche's story starts with two men – Rande Gerber and Roberto Serrallés. Rum aficionados will recognize Roberto's surname as that belonging to the celebrated Destilería Serrallés, Inc., the second largest rum producer in Puerto Rico. (DonQ, anyone?) Mr. Gerber's Midas touch is no less notable, though his fame was gained in the nightlife industry. If you've ever enjoyed a night of partying in swank and stylish hot spots bearing the brand names The Whiskey Bar, The Penthouse, Midnight Rose, and Stone Rose, then you have Mr. Gerber to thank.
Somehow these two got together and dreamed up this uncommonly cool white rum adding sweet, modern sex appeal to the rich Serrallés family tradition for exceptional rum-making.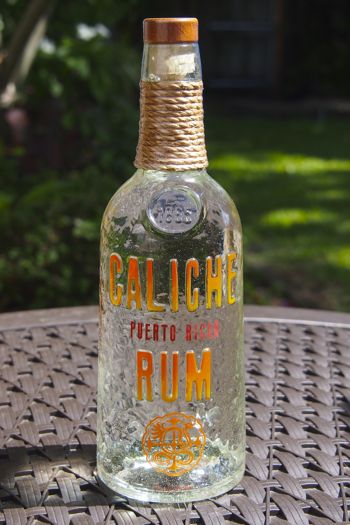 I mean, just look at the bottle! The dimpled glass glistens in the sun. The raised lettering furthers the elegant antique look, while the rope accent at the top adds some flair. About the closest thing to a work of art as I've seen in a discount rum, it's a bottle you'll want to keep in your collection and reuse again and again long after the sweet stuff inside is all gone.
As for that sweet stuff, it's every bit as nice as the bottle, and for me, a notch or two above most other white rums primarily because it's aged. White rums generally aren't, of course, their time not spent maturing in a barrel explaining their crystal-clear color. Caliche, on the other hand, is actually comprised of a blend of four different aged rums. There's three, four, and five year-old rums in there, plus a small amount of Solera-aged rum to add what Caliche calls "a particular character aroma and depth."
No argument here, though what really stands out about this rum to me is its smoothness and crisp, clean flavor. Remember Bambu, the quadruple distilled rum from Antigua tailor-made for vodka drinkers? Serrallés and Gerber up the purity ante by distilling Caliche five times! The rum is then filtered through charcoal to remove the color.
The result, a truly pleasant, easy-drinking white rum with nice hints of oak and vanilla.
I like Caliche on the rocks with lemon or lime, and it also makes a mean mojito, more robust than the traditional version made with Havana Club Tres Años. I haven't tried it yet, but I'm sure it will sing in a daiquiri as well. At a price of around US$20, you simply can't go wrong.
¡Salud!
Save
Related Posts