The Gallery Inn Old San Juan, Puerto Rico: My Night in the Museum
Stay in special places and you'll meet special people. It's a rule I've followed over the years that has spawned many great friendships and brushes with fame. Case in point, my last trip to Puerto Rico where no more than 10 minutes after checking into The Gallery Inn Old San Juan, I met Anton Kuerti.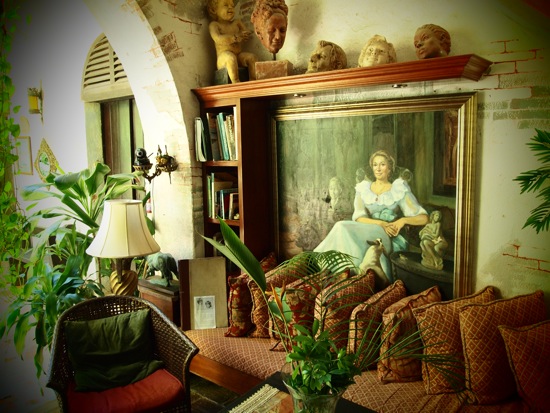 Who's he? Oh, only one of the most accomplished classical pianists of our time; a master in the works of Beethoven who initially rose to fame after performing with the Boston Pops in 1949… at the tender age of 11. Most of us guys will remember age 11 as a time when we were still riotously amused by games like Pull My Finger. Yeah, Anton's special.
Anyway, I had just checked in and was climbing the stairs to my room when I heard the most amazing piano playing emanating from the second-floor Music Room. I quietly intruded, not knowing who was at the keys. Kuerti continued to play as I wandered into the room, seemingly oblivious to my presence. I got nervous. Maybe I didn't know who he was, but it was pretty easy to tell the guy was a gifted artist working hard at his craft. No doubt, he was working alone in there for a reason… and I had just peed in his pool.
"Very nice," I managed awkwardly as Kuerti drew in a deep breath. I awaited the verbal guillotine.
"Thank you," he said warmly. Thankfully, he was friendly and nice. I got to keep my head.
Introductions followed, with Kuerti playing down his celebrity once I realized who he was. "Google me and you'll only get 40 or 50,000 hits," he deadpanned. Kuerti was in town to perform at a concert in Ponce, a small town on Puerto Rico's southern coast less than two hours drive away. He opted to stay so far away at the Gallery Inn for the same reason I was there: the place is just amazingly special.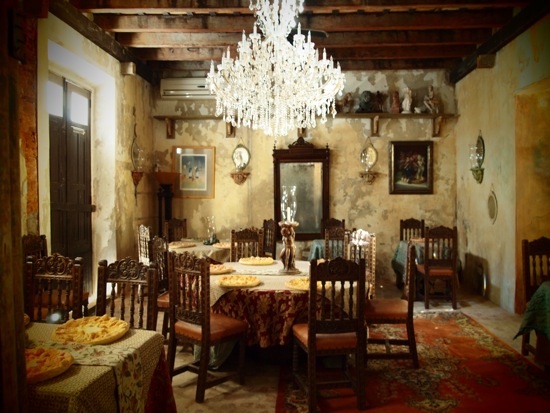 Originally dating back to the 1700's, the six adjoining buildings that comprise the Gallery Inn became the private home and work studio for esteemed local artist, Jan D'Esopo in 1961. Back then, Old San Juan was far from the tourist haven it is today. In fact, it was pretty seedy and grimy. But, Jan had a vision for the city's potential, put her roots down and has lived to see Old San Juan regain much of her former glory.
Before converting her home into a boutique hotel, Jan and her husband, Manuco, worked tirelessly to restore the old buildings, while also creating a treasure trove of unique art – paintings, sculptures and other works that quickly captured the imagination of the city, the island, and art lovers around the world. When the posh El Conquistador Resort was planning its gala re-opening back in 1992, they turned to Jan to produce 225 silk screens within a week. Take a quick walk around Old San Juan and you're bound to see Jan's statues, commissioned by the Government of Puerto Rico, on display.
Put simply, Jan has been one of the most prolific and highly acclaimed artists in Puerto Rico for almost half-a-century. Somewhere along the way, though, Jan and Maunco started splitting their passions between art and hospitality. Naturally, the evolution came about as a by-product of art. As Jan, herself, writes on The Gallery Inn website:
Year by year we have hosted the art people: many of them are quite famous today. The classical music you hear throughout our spaces are the CDs of our visiting musicians, some of the world's best, all of whom have played chamber music in our candle light concert series. These are only some of the many reasons that the Gallery Inn is a special place. Every corner has a story; every room its special flavor, all of them checker block full of prints, paintings, sculpture and memories from five decades of D'Esopo/Gandia style.
What started out as an art retreat, of sorts, for creative types and musicians soon became one of the Caribbean's most uncommon boutique hotels, open even to art-challenged schmoes like me who can barely draw a straight line.
Clearly, I wasn't there to create any masterpieces. All I wanted was pure and simple relaxation, which is surprisingly easy to come by at The Gallery Inn, despite its location near the heart of bustling Old San Juan. Thick outer walls block out much of the street noise, yielding a relative peace amidst the gardens that skirt in and around the hotel's many comfy lounging areas. My favorite spot was definitely the daybed down at the pool. It's literally impossible not to nap there. As if by magic, a constant cooling breeze seemed to sneak over the walls and descend down into the pool area, lulling me into the most restful midday nap I've had in a long, long time.
Really, it's amazing: you feel like you're miles away on Luquillo Beach or something, but you're actually just steps away from the old city's numerous bars, restaurants, shopping and historic attractions.
As you'd expect, art is everywhere at The Gallery Inn. On every wall, in every nook, on ceilings, floors, inside, outside and even in the pool, you'll find original works of art, the vast majority of which were produced by Jan within the hotel. Actually, I shouldn't term that in the past tense as Jan continues to produce new pieces today. It's an amazing collection rivaling any museum in the region. Unlike at a museum, though, here you get to really live with the art during your stay. This affords visitors a chance to gain a deeper appreciation for favorite pieces and the special lady who created them.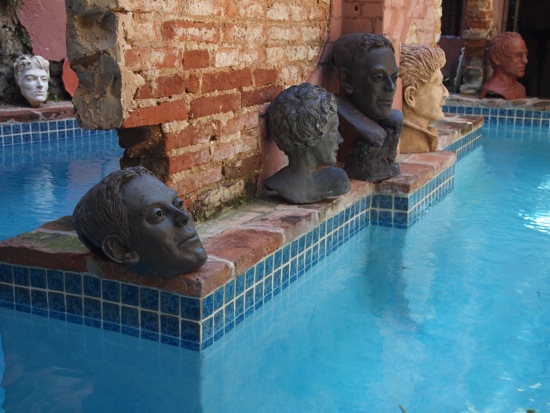 "It's almost too saturated with beautiful artwork that you almost miss some of it," said Kuerti. "Jan should call it a museum and charge admission."
It's an idea, but I prefer to make a return visit… and live with the art a bit more.
Related Posts