Reggae Night at La Sombrilla Rosa: On-Site Old San Juan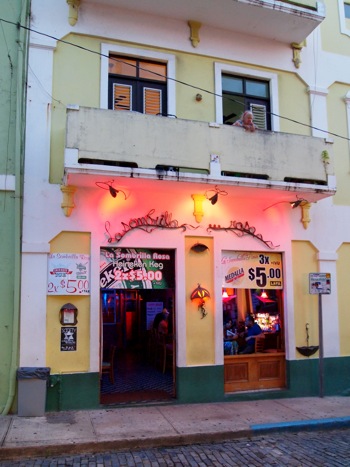 Anyone who likes to party would absolutely love Old San Juan. If you haven't been there in awhile, though, take note: it's now illegal to wander the streets of the old city with drink in-hand.
No really, take note! This party-pooping precept doesn't fall under the broad and nebulous category of illegal activities that aren't necessarily enforced with vigor in the region. They're actually serious about this, something I learned first-hand when I happened upon the bar pictured here during my most recent trip to Puerto Rico last September.
This is La Sombrilla Rosa, a small, out of the way bar located in the back streets along the northern section of Old San Juan. It's not quite La Perla, the infamous low-income barrio just a few blocks further north, but it's night and day different than the ritzy, tourist-trap bars, stores and eateries near the cruise port in the southern part of town.
I happened upon La Sombrilla Rosa, which translates to "The Pink Umbrella", while heading back to The Gallery Inn Old San Juan, also located on the north side of the city, after dinner and dominoes with some locals. It was pretty late (around 12:30am) on my first night of a very brief trip. I was tired and anxious for some sleep so I could get an early start on exploring the city… but I couldn't resist stopping here.
Actually, I had no choice but to stop here. You see, the crowd of sexy, young locals partying here were spilled outside the bar and into the street. Definitely my kind of roadblock.
What was drawing such a large crowd on a Thursday night to this remote part of Old San Juan? A reggae band, of course!
I'm not sure who they were, or where they came from, but their music was surprisingly good, all things considered. They covered a lot of well-trod territory, with a heavy emphasis on Bob Marley mixing nicely with some classic Dawn Penn (No, No, No), Tenor Saw and more. Navigating smoothly from roots reggae to extended dub improvisations, ska and back again, the band kept the crowd swaying to sweet riddims well into the wee hours.
The vibe, the atmosphere, everything – incredible. A businessman I met named TJ who was visiting from Atlanta summed it up well: "Lots of different types of people from all over here… doesn't matter who you are, everyone fits in."
Truly, everyone had to fit in, as in inside, whenever the cops happened by. It didn't happen often, but no one took any chances with the aforementioned no booze outside law.
Just across the street, a Crucifix kept watch over the revelers. No one went to jail that night, and the good vibes kept flowing…
Related Posts