Plantain Chips, a Sign of Good Parenting: Taste of the Caribbean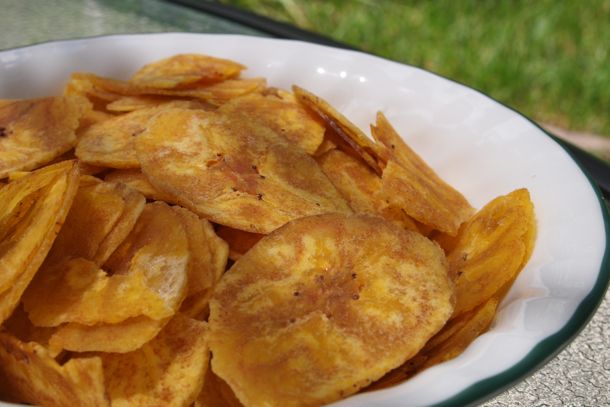 Like a lot of West Indian parents living outside the region, I go to great lengths to ensure my kids know and appreciate their Caribbean roots. Hosting pig roasts on Christmas Eve help. So do "Bush Doctor" elixirs and beating on Bobolees at Eastertime. All these things work to give my kids a good sense of a heritage that, though foreign to them in many ways, represents a healthy share of who they really are.
Most of the time my efforts are met with success, a result owing as much to the fact that my kids are way more amazing than I have any right to deserve, as to my careful adherence to one of the most tried and true rules of parenting:
The harder you push your kids, the harder they'll pull away.
So, imagine my elation when I offered my kids their choice of treat during a recent grocery shopping excursion and they specifically asked for one of my childhood favorites: plantain chips!
I supplied no prodding. No hints. We weren't even standing in the chips and snacks aisle!
No, they knew what they wanted… and they could've hardly made a better choice.
Ingredients:
2 Green Plantains
Oil for Frying
Salt to Taste
Known as platanutres in Puerto Rico, mariquitas or chicharitas in Cuba, or bannan fris in Haiti and other French islands, plantain chips, like the tostones we told you about awhile back, are simply fried slices of the starchy, green-skinned cousin of the sweet, yellow-skinned banana.
Unlike tostones, though, these fried favorites are thin and crispy, like potato chips.
Unlike most potato chips, plantain chips are actually quite the healthy snack.
Plantains are rich in potassium, and are good sources of vitamins A and C, so they're a snack you can feel good about letting your kids enjoy, whether you're advancing an at-home agenda of Caribbean cultural enlightenment, or not.
Popular brands of plantain chips, like Chifles, are widely available across the U.S. and online, but it's almost as easy to make your own as it is to pick up a bag at the store. Here's the recipe…
Directions:
Begin by heating your cooking oil in a large pot. If you have a deep fryer, even better. You'll want to get it up to 375 degrees F. Next, make your plantain slices. Peel the skins and start cutting. You'll want 'em to be pretty thin; no more than 2mm (think Lay's potato chips). Slice 'em round or lengthwise – they're your chips, so make 'em your way!
Now, time to start frying! Throw in a good 10-12 slices (less if you cut lengthwise) and let 'em cook 'til they're golden brown. Drain in a large bowl lined with paper towels. Sprinkle salt to taste while your chips are still warm.
Enjoy!
Related Posts