Mark Yokoyama Introduces us to Scuba Diving in Saba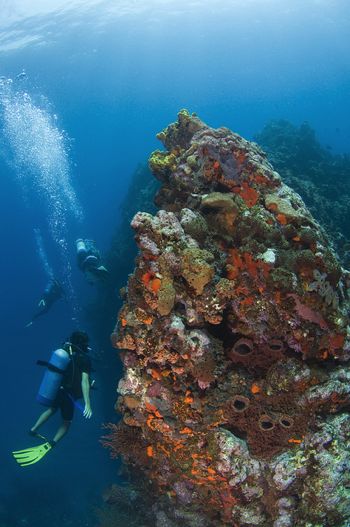 Earlier this year, we made a case for Saba being a truly UNCOMMON destination (bold, all-caps required) by shining our spotlight on a few of its land-based curiosities – challenging topography, teeny-tiny airport, wondrous homemade Saba Spice rum, etc.
Today, we take a peek under Saba's surrounding waters and find that its scuba offerings are the equal of all those unique terrestrial treasures. Guiding us on our undersea exploration is none other than Mark Yokoyama, who you might remember from Patrick's recent rendezvous with the bats of La Grotte de Puits in St. Martin.
In addition to cataloging diverse insect, reptile and mammal species in and around St. Maarten/St. Martin for his Incomplete Guide to the Wildlife of St. Martin, Mark is also a big scuba enthusiast. His dive log includes the likes of Belize, Roatan, The Bahamas, Bermuda, St. Martin, Saba, Costa Rica, and the British and U.S. Virgin Islands. He ranks Saba as his #2 or #3 best dive destination in the Caribbean. Why?
The underwater topography makes Saba really unique, specifically the pinnacles, which are basically underwater mountains that rise up to 80-100 feet below the surface. It's something you can't really find in other places. Diving a beautiful wall is terrific, but it's something that you can do in many places.
Saba is, in essence, the peak of a dormant volcano rising steeply from the sea floor, so the water gets very deep closer to shore here than in most Caribbean islands. Depths approaching 1,000 feet are found within a half-mile of the shoreline in some areas. This makes Saba extra special for deep-sea diving, but it has its pluses for shallow dives as well…
As much as anyone going to Saba should dive at least one of the pinnacles, they do have the drawback of only about 15 minutes of bottom time. Another reason why Saba is so fantastic is the abundance of marine life and the pristine quality of the reefs in shallow waters. Once you've had the chance to dive a pinnacle, taking your time on some of the shallower sites can be even more rewarding.
When choosing a dive operator in Saba, Mark tells us you really can't go wrong. There are three main options – Sea Saba, Saba Deep and Scout's Place. Mark has been out with the first two with no complaints, though one stands out in his book, and with good reason…
If I had to suggest one, I would choose Sea Saba because Lynn, one of the co-owners, was incredibly helpful in arranging everything we needed on our first visit, and totally flexible when WinAir took the liberty of bumping us from our flight so we had to go a day later.
Any other tips, or suggestions?
I highly recommend doing a night dive. They're always special, but the sheer abundance of sea life makes them even more astounding on Saba. Also, being a relatively recent volcanic island, you can do things like stick your hands in the sand in certain places where it is warmed by geothermal energy, which is a really unique experience.
Uncommon indeed. Thanks, Mark, for all your great insights! We hope to see you in and/or around Saba real soon.
Related Posts